A radical LGBTQ group is under fire after distributing event materials that advertise a decidedly anti-Semitic, anti-American, and anti-police stance.
The group, known as the "Chicago Dyke March," is planning to hold its annual march in Chicago's Palmer Square Park, this Saturday.
The group's flier for the event features an overweight woman squatting on the hood of a burning police car clad in underwear that says ACAB (All Cops Are Bastards), and holding two burning flags; an Israeli flag, and an American flag.
The ACAB phrase became a far-left rallying cry during last summer's George Floyd riots. In the caption, the Chicago Dyke March lists several far-left themes: Abolish CPD (Chicago Police Department), Abolish ICE (Immigration and Customs Enforcement), and "Abolish the Isra*li Occupation Forces." The organizers ask that participants wear masks for the outdoor event.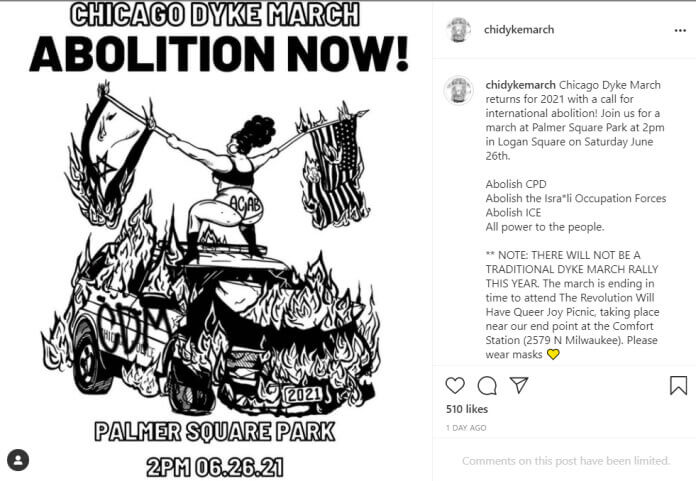 After some pushback on social media, ChiDykeMarch deleted the picture and replaced it with one in which the flags are completely covered in flames.
Update: photo has been deleted, now a new one is up with flames covering the flags. The post reads: "Tired of Social Media Censorship?"

I'm noticing a familiar trend where the antisemites do something antisemitic, get confronted, and then say they're being silenced. pic.twitter.com/C0nrUOeQQF

— Blake Flayton (@blakeflayton) June 21, 2021
The group also posted onto social media a graphic explaining to potential participants the various roles they can play in this year's march, from the "peaceful protesters" they put on the front lines, to the violent rioters who attack the police and do property damage later at night.
One group of violent protesters "who come prepared to set fire to barricades and throw flammable projectiles" are called "FIRE MAGE" in the poster.
The group also also hopes to who enlist those who "use laser pointers to to obstruct surveillance cameras, drones, and police visors," according to the image. A "range soldier" is said to be someone who throws "water bottles, umbrellas, and trash" at the police.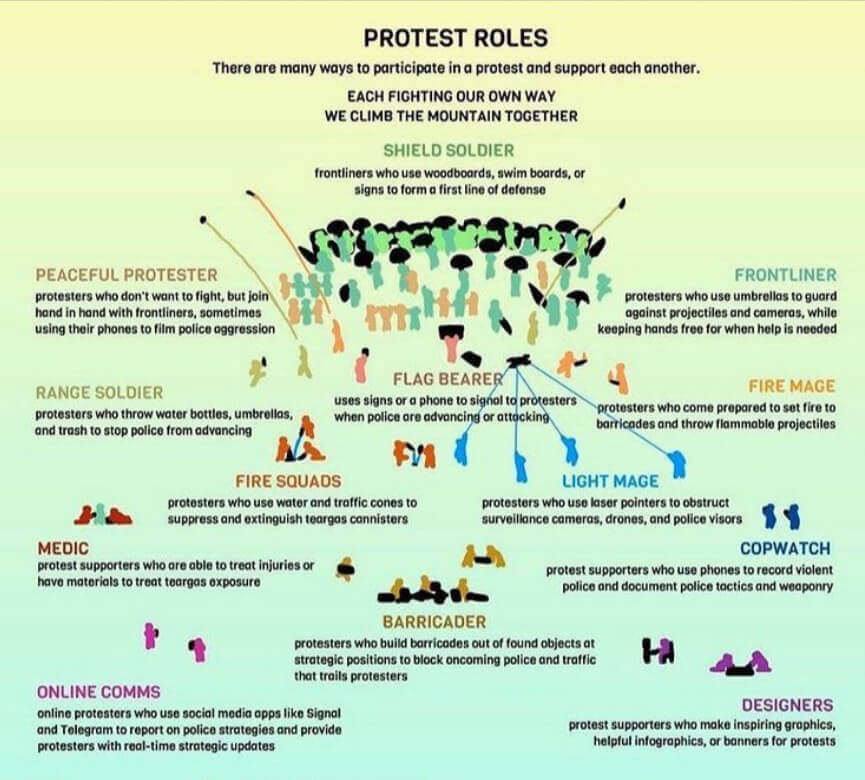 Based on the group's own description of "protest roles  a "criminal conspiracy"—"an agreement between two or more persons to commit a crime at some time in the future"—appears to exist within the group to obstruct police officers from doing their jobs.
Another flier the group is distributing features a raised fist, along with a rifle accompanied with the messages "Queers for Palestine," and "Zionism is queerphobic."
And if that wasn't enough, they doubled down on a call for violence against Israel by the barrel of the gun, and fomenting hatred by calling one of the most gay friendly countries in the world (23 out of 198), queerphobic. pic.twitter.com/ZLKCGof5Rd

— Ari Ingel (@OGAride) June 21, 2021
On its website, the Chicago Dyke March Collective describes itself as, "a grassroots mobilization and celebration of dyke, queer, bisexual, and transgender resilience. It is an anti-racist, anti-violent, volunteer-led, grassroots effort with a goal to bridge together communities across race, ethnicity, socio-economic status, age, size, gender identity, gender expression, sexuality, culture, immigrant status, spirituality, and ability. We challenge fatphobia and are body positive."
In 2017, the group made headlines for banning Jewish symbols because they "made people feel unsafe."
Three members who were carrying Jewish Pride flags — rainbows with a Star of David—were forced to leave the parade route. They were reportedly told that the Dyke March was an "anti-Zionist, pro-Palestinian" space.
Section 152 of the penal code in Gaza criminalizes same-sex sexual activity and makes it punishable by up to 10 years' imprisonment. Reportedly, homosexual Palestinians habitually seek refuge in Israel fearing for their lives. The Palestinian Authority announced in 2019 that LGBT groups were forbidden to meet in the West Bank on the grounds that they are "harmful to the higher values and ideals of Palestinian society."