Within weeks of the first confirmed cases of COVID-19 in Washington state in January of 2020, infectious disease expert Dr. Anthony Fauci knew that there was a good chance that the deadly virus leaked from a lab in Wuhan, China, newly released emails show. In January and February of 2020, Fauci was hearing from colleagues that the emerging coronavirus global pandemic looked potentially engineered. The emails were obtained by BuzzFeed News and the Washington Post through a Freedom of Information Act lawsuit
Before the outbreak, the Wuhan Institute of Virology had been conducting risky gain-of-function experiments on bat coronaviruses with funding from Fauci's National Institute of Allergy and Infectious Diseases (NIAID). Fauci had for years been an enthusiastic advocate of gain-of-function research, which involves "juicing up" viruses to make them more infectious and deadly in humans. In 2012, Fauci wrote in a paper for the American Society for Microbiology that gain-of-function experiments were "important work," well worth the risks.
Before COVID-19 dominated the news cycle in early 2020, Fauci was faced with the possibility that those risks he spoke of had the potential to become a deadly global pandemic.
"The unusual features of the virus make up a really small part of the genome (<0.1%) so one has to look really closely at all the sequences to see that some of the features (potentially) look engineered,"  Kristian Andersen, a professor in the Department of Immunology and Microbiology at Scripps Research, wrote to Fauci on Jan. 31, 2020.
Andersen was reacting to a Science magazine article titled, "Mining coronavirus genomes for clues to the outbreak's origins," which Fauci had sent him to read. "The problem is that our phylogenetic analyses aren't able to answer whether the sequences are unusual at individual residues, except if they are completely off," Andersen responded.
"We have a good team lined up to look very critically at this, so we should know much more at the end of the weekend," Andersen added. "I should mention that after discussions earlier today, Eddie, Bob, Mike, and myself all find the genome inconsistent with expectations from evolutionary theory. But we have to look at this much more closely and there are still further analyses to be done, so those opinions could still change."
Fauci thanked Andersen for his message in an email response the following day, and said they would "talk soon."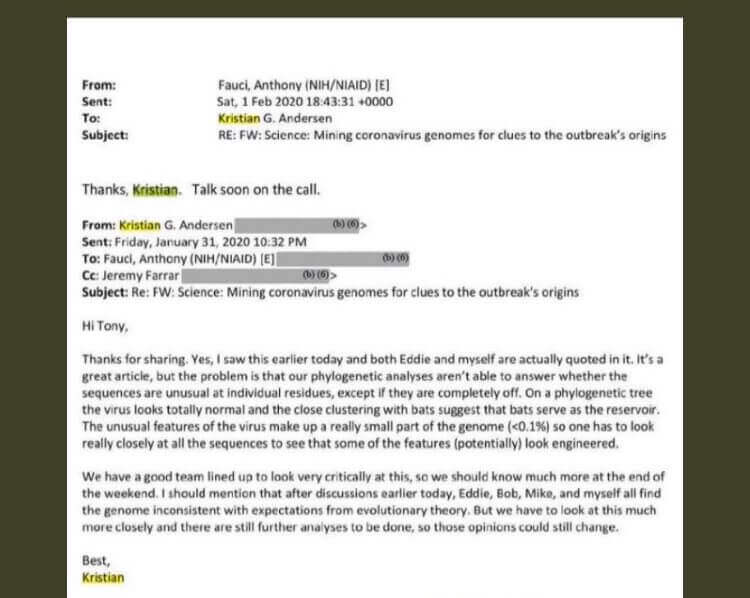 On Feb. 1, Fauci emailed NIAID Principal Deputy Director Dr. Hugh Auchincloss with an urgent message. The subject line was "IMPORTANT," and attached was a 2015 paper from Nature Medicine describing the risky gain-of-function research on coronaviruses at the Wuhan Institute of Virology.
"Hugh, it is essential that we speak this AM," he wrote. "Read this paper… You will have tasks today that must be done."
Fauci emailed in Feb 2020 about gain of function experiments "abroad" pic.twitter.com/iayqJN7AYw

— Wendell Husebø (@WendellHusebo) June 2, 2021
Fauci did not elaborate on what specific "tasks" needed to be done.
Later that day, Fauci held a conference call with Dr. Andersen, Dr. Auchincloss, and a number of other virologists to discuss a document called "coronavirus sequence comparison," according to heavily redacted emails from Feb. 1 and 2 of 2020.
Soon after the conference call and email exchanges, Anderson appeared hostile to the notion that virus was "somehow engineered," the Daily Caller noticed.
In a Feb. 4, 2020, email discussing a draft letter to the National Academies of Sciences, Engineering and Medicine, Anderson derided "crackpot theories" that COVID-19 is "somehow engineered with intent and that is demonstrably not the case."

"If one of the main purposes of this document is to counter those fringe theories, I think it's very important that we do so strongly and in plain language," Anderson wrote in the email, which was obtained by the watchdog group U.S. Right to Know. "'[C]onsistent with' [natural evolution] is a favorite of mine when talking to scientists, but not when talking to the public – especially conspiracy theorists)."

Andersen's Feb. 4 email was addressed to EcoHealth Alliance President Dr. Peter Daszak, who worked closely with the Wuhan Institute of Virology prior to the pandemic.

Daszak's group funneled $600,000 in taxpayer funds to the Wuhan lab between 2014 and 2019 as part of a project to study bat-based coronaviruses and he played a central role at the onset of the pandemic in suppressing debate about the possibility that the WIV could be connected to the COVID-19 outbreak.
Andersen went on to publish a paper in the science journal Nature in March 2020 alleging that SARS-CoV-2, the virus that causes COVID-19, lacks features that would point to lab manipulation.
Andersen wasn't the only virologist who suspected the virus was engineered in a lab.
A virology professor at Rockefeller University and a dermatologist who teaches at Cornell University's medical school warned Fauci on February 21, 2020 that the coronavirus may have leaked from the Wuhan lab, the emails show.
"[W]e have been following the corona virus pandemic closely, and a few days ago became alarmed at the news that the chinese [sic] government is sterilizing their paper money from [Hubei]," Michael Jacobs, the Cornell-affiliated doctor said.
Alexander Tarakhovsky, a virologist and professor at Rockefeller University, was copied onto the email.
[W]e think there is a possibility that the virus was released from a lab in wuhan [sic]," Jacobs added. The pair said they would like to discuss the issue further with Fauci and said "immediate action" must be taken to "neutralize this threat."
Fauci forwarded the email to NIH program officer Cristina Cassetti and said "please handle."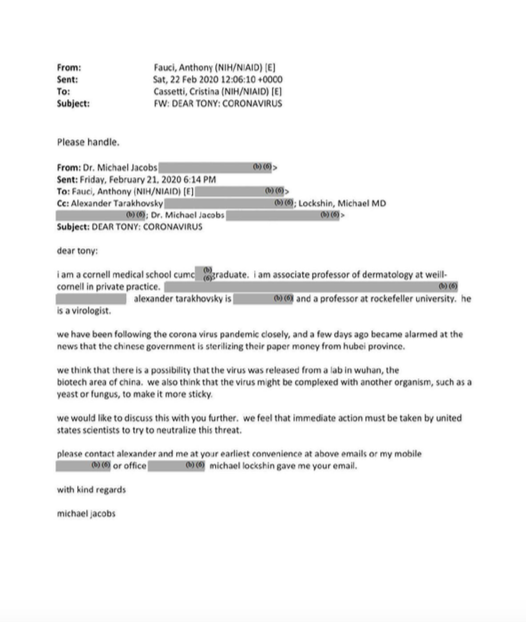 Two weeks later, Peter Daszak organized a letter in The Lancet "debunking" the lab-leak theory, without disclosing that he had a professional relationship with the Wuhan Institute of Virology.
Fauci soon made a point of publicly downplaying the possibility that COVID-19 leaked from a lab.
On April 18, 2020, Daszak sent Fauci an email thanking him for combatting the lab-leak "myths."
"I just wanted to say a personal thank you on behalf of our staff and collaborators, for publicly standing up and stating that the scientific evidence supports a natural origin for COVID-19 from a bat-to-human spillover, not a lab release from the Wuhan Institute of Virology," Daszak wrote to Fauci.
"From my perspective, your comments are brave, and coming from your trusted voice, will help dispel the myths being spun around the virus' origins," Daszak added in the redacted email.
"Many thanks for your kind note," Fauci told Daszak.
Peter Daszak, who was deeply involved both in Wuhan coronavirus research & in misleading the public about the likelihood of a lab leak, thanked Fauci for helping "dispel the myths" around COVID origins and blamed Fox News for targeting his grant. From the @JasonLeopold FOIA batch pic.twitter.com/LgloFVaFZX

— Sarah Westwood (@sarahcwestwood) June 1, 2021
Daszak went on to become a member of WHO's team of ten international experts that traveled to China to investigate the theory, and concluded that it was "extremely unlikely" COVID-19 leaked from the Wuhan lab.
Update:
In his opening monologue Wednesday night, Fox News Host Tucker Carson tore into Fauci, saying his "utter fraudulence is obvious now."
"Are Peter Daszak and Tony Fauci under criminal investigation? We can only hope they are. They certainly deserve it," Carson said.
#Thread Full Tucker Carlson Monologue About Dr. Fauci's Emails

"Are Peter Daszak and Tony Fauci under criminal investigation? We can only hope they are. They certainly deserve it." pic.twitter.com/T6iIF8cuA3

— The Columbia Bugle 🇺🇸 (@ColumbiaBugle) June 3, 2021