Texas Governor Greg Abbott declared war on anti-Semitism this week, tying Gab, a free speech-centric social media network, to the issue. 
"Anti-Semitic platforms like Gab have no place in Texas and certainly do not represent Texas values," he said, flanked by Republican State Representatives Craig Goldman and Phil King in a video released Wednesday. With the American, Israeli, and Texas flags looming in the background, Abbott pledged to support legislation introduced by Goldman and King aimed at "fighting anti-Semitism." 
At first glance, Abbott's intentions may seem sincere but the move is misguided and, frankly, stupid. The Republican Party of Texas has had an official Gab account since January 2021. Therefore, the governor connected his own party—and every Republican voter on Gab—to anti-Semitism.
Why single out a growing social media network friendly to Republicans? Twitter and Facebook, after all, have no shortage of vitriolic users, and they regularly marginalize Abbott's constituents on their platforms. Moreover, the GOP insists on portraying itself as the free speech party with a vision of "America Uncanceled," as this year's Conservative Political Action Conference was called—though the conference did cancel a speaker and eject individuals. 
An Enemy of Free Speech
The bill recently introduced by Goldman concerned the Texas Holocaust and Genocide Advisory Committee and would have no impact on Gab. Abbott, then, seemingly flamed his party and his constituents just to virtue signal—which is how some observers on the Right and Left read the move.
"Gab is not an 'Antisemitic platform'—there are plenty of antisemites on Twitter," tweeted David Reaboi, an expert on national security and political warfare. "What you're doing is allowing the Left to bully you into demanding viewpoint discrimination and content moderation," he added. "I hate this stuff too, but you either live with it and be free—or not." 
Glenn Greenwald, a journalist, and co-founder of The Intercept, called Abbott an "enemy of free speech." He cited Abbott's support for a bill containing language so sweeping, "that some victims of Hurricane Harvey, which devastated Southwest Texas in late 2017, were told that they could only receive state disaster relief if they first signed a pledge never to boycott Israel."
There could, as well, be a corporate angle. Abbott is warm with Silicon Valley, which he hopes to relocate to "Silicon Hills" and "Silicon Prairie," otherwise known as Austin and Dallas. Apple, Amazon, Google—all of which have attempted to crush Gab and Parler, another conservative-friendly platform—continue to see their growth and influence in Texas rise under a welcoming Abbott. Indeed, the Texas governor wrote a part op-ed, part love letter to tech companies for the California-based San Jose Mercury News. The Lone Star State, he crooned, is "the new tech mecca."
Abbott insists that Texas can and should attract tech giants more easily than other states. "We don't need to offer as much because of the other benefits we have. Basically, we are paying for moving expenses," he said. Abbott went so far as to lobby former president Donald Trump to not ban TikTok in the United States but instead move the platform's headquarters to Texas. The app is owned by a Chinese company, ByteDance, and there are concerns that users' data could end up in the hands of the Chinese Communist Party.
The governor looks confident about using his constituents' political capital to do the bidding of tech companies. Therefore, it wouldn't be a surprise if he were to do the dirty work of corporations by taking a swipe at an independent and ideological competitor like Gab at the expense of all the Republicans on the platform.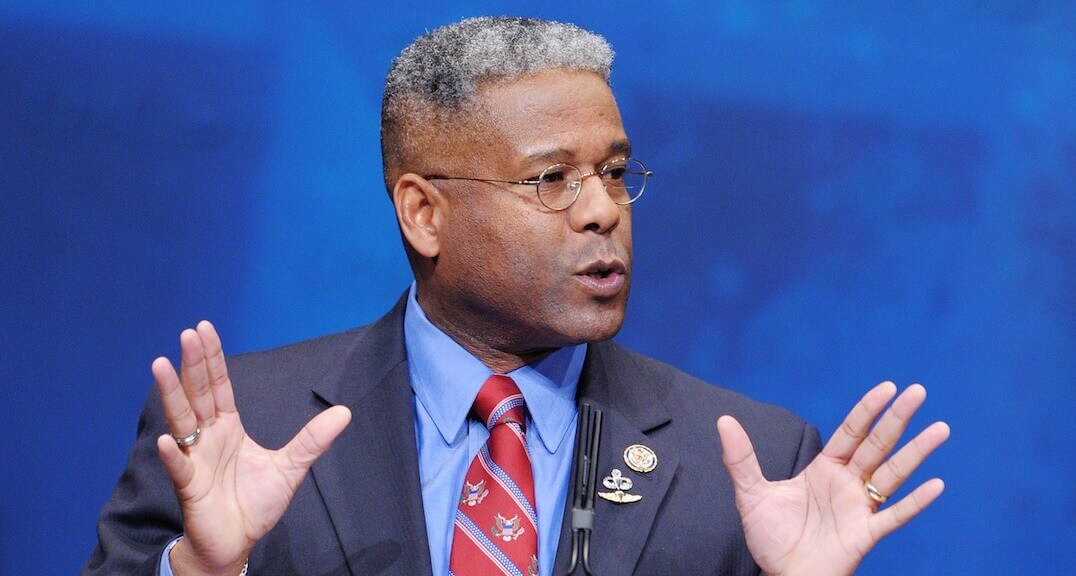 A Primary Challenge from the Right?
But there is another, perhaps more likely explanation. Sources close to the Texas GOP told American Greatness that this is a play by an embattled Abbott to consolidate control over the party and protect himself from future gubernatorial challengers. Specifically, Abbott is worried about being primaried by Allen West, the chairman of the Republican Party of Texas.
"A lot of Texans are very frustrated with Greg Abbott right now, and Allen West seems to be the voice of that rising dissent," Chris Betts said in an interview with American Greatness. Betts is an activist with True Texas Project, a conservative grassroots organization. He suspects Abbott is attempting to bait West into defending Gab; thus, the governor hopes, tainting a would-be challenger with anti-Semitism.
Following Twitter's permanent banning of Trump—and after Apple and Google removed Parler from their app stores and Amazon announced it would boot the site off its web-hosting services—West led the Texas GOP's entry onto Gab's platform and encouraged others to follow.
"I think Abbott is trying to bait West to make a statement against what he is doing," Betts said. "And they're going to try to spin it as anti-Semitism."
Abbott, in other words, appears desperate and is lashing out with threats, even if that means making the entire Texas GOP and every Republican voter on Gab look bad. 
"There is a power struggle within the Texas Republican Party," one source told American Greatness. The divide is between an "America First" faction led by West and the establishment wing led by Abbott and Texas GOP vice chairwoman Cat Parks.
West is phenomenally popular with the grassroots Texas scene. Abbott, on the other hand, recently received zero percent of the vote from CPAC attendees in a presidential straw poll. Former President Trump led with 55 percent, and Florida Governor Ron DeSantis came in second place with 21 percent, which might explain why Abbott has attempted to mimic DeSantis, albeit in a counterfeit way, in gestures such as making token, toothless statements against online censorship to lifting COVID-19 restrictions. Conservative voters think Abbott went too far with restrictions, while liberals don't think he did enough. His job performance disapproval rating soared to 46 percent in October from 29 percent last April.
Cat Parks vs. the Grassroots
Most recently, rolling blackouts left millions of Texans without power amid freezing weather, an ongoing scandal at the center of which is the Electric Reliability Council of Texas (ERCOT).
ERCOT manages the flow of electricity for most of Texas. Abbott repeatedly has criticized the council for its handling of the power grid during a deadly winter storm. This appears to be, at least in part, a diversion. An analysis of state campaign finance records by the KSAT 12 Defenders revealed three current members of ERCOT's board contributed thousands to Abbott's campaigns, with some donations dating back to his time as Texas Attorney General. Abbott doesn't seem to have a problem throwing even long-time allies under the bus to save his own skin.
The day before Abbott took his shot at Gab, and in a "complete breach of protocol," a source said, Parks unilaterally issued a statement condemning the site, demanding the Texas GOP deactivate its account. "Gab is not a viable or healthy outlet for [Republican Party of Texas] to share our message of opportunity, liberty, and personal empowerment," she wrote. Yet the state GOP refused to back down from Gab. 
Notably, Parks cited then-president Trump's decision at the behest of Jared Kushner to not get on Gab. In other words, Trump's deference to Kushner empowered establishment figures against self-identified "America First" Republicans like West. And despite Parks' newcomer status on the Texas GOP scene, she is as establishment as they come. 
Betts said he used to think otherwise of Parks, but in time his impression of her soured.
"Cat Parks has actually spoken against people supporting the Texas GOP's platform," Betts said. "Parks claims that she's for unity yet undermines the party itself so she's actually doing a lot of damage while getting high-fives from left-leaning newspapers like the Texas Tribune." 
Indeed, the Tribune recently gave Parks a glowing profile, putting her in favorable contrast to West. The profile begins with her "taking over as vice-chair of the state party, a swift rise in a world of Texas GOP politics that tends to reward players with much longer résumés inside the party." In fact, her swift rise is not unusual at all in today's GOP. 
"We should be the party of diversity," Parks told the Tribune. "We should be the big-tent party." Parks oversaw a task force, she said, that recruited the "highest number of women, minorities and people under the age of 40 in Republican Party of Texas history." She also attacked the state GOP's stance on "traditional marriage," pushing Republicans to embrace LGBTQ ideology. 
Embracing Diversity Clichés
Parks rose swiftly through the Texas GOP because she is the ideal candidate for an establishment that doesn't actually want to conserve anything but donor rolls and an old consensus with new, "diverse" faces. For her part, Parks is in pursuit of higher office above all else, and she has made it clear West's seat is on her mind.  
After Representative Drew Springer (R-Muenster) defeated fellow Republican Shelley Luther, a Dallas salon owner who refused to comply with Abbot's COVID-19 orders, West withheld congratulations. When asked why he had remained silent, West said he "doesn't need to offer his congratulations since Texas Democrats beat him to it," pointing to a Facebook post from a Democratic activist in the Senate district cheering Springer's victory over Luther. A little while later, Parks congratulated Springer over Twitter and took a shot at West. "When Republicans win, Texans win," she wrote. "Time . . . for someone to step up and Lead Right."
Writing in the Tribune, Patrick Svitek also sees the Gab incident as "another chapter in tensions between Abbott and West, a potential primary challenger to the governor in 2022 who has been critical of his response to the coronavirus pandemic." He notes that the "episode also shows more daylight between West and Parks, who has sought to pave her own path at the party as West's sharp-elbowed leadership has miffed some fellow Republicans." The Tribune may not be a fan of Republicans, but it will take Abbott, and certainly Parks, over West any day.
In the background of all this is a crisis escalating by the day on the border, where illegal aliens, some of whom are infected with COVID-19, enter the country in droves to join Parks' big, diverse tent. Abbott continues to do what he is wont to do: grandstand to distract from his failures. 
Speaking to the press near the banks of the Rio Grande, Abbott said President Joe Biden "does not care about Americans." Biden, he said, "cares more about people who are not from this country." That is probably true—but Abbott cares more about Abbott than Americans, and he'll do whatever it takes to look after Number One—small business tech entrepreneurs at Gab, the Texas GOP, grassroots organizers, and Republican voters be damned.