Rush Limbaugh, aka "El Rushbo," aka "the Great One," aka "America's Anchorman, aka the "Doctor of Democracy," died on Ash Wednesday at age 70 after a year-long battle with lung cancer.
Limbaugh's wife, Kathryn, made the announcement on his radio show. "Losing a loved one is terribly difficult, even more so when that loved one is larger than life," she said. "Rush will forever be the greatest of all time."
The Rush Limbaugh Show posted a tribute to the conservative icon, calling him "The Greatest Of All Time."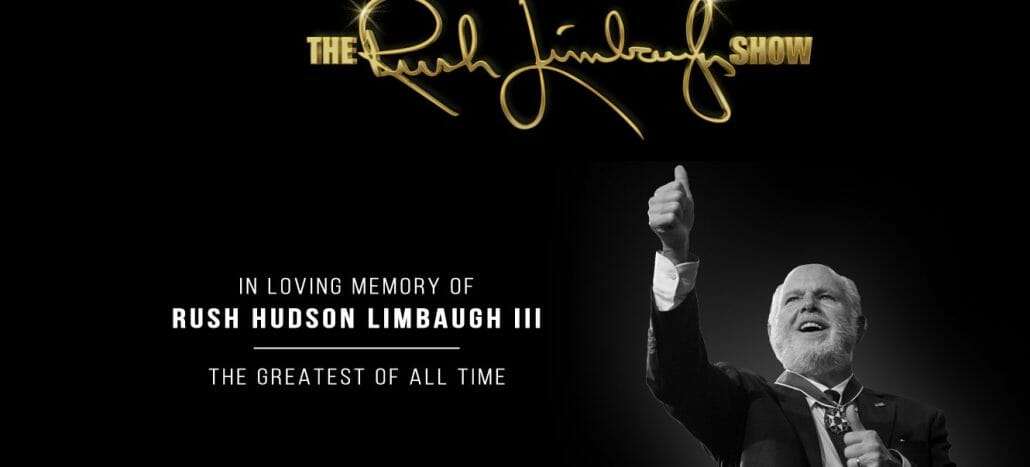 President Trump, during his 2020 State of the Union address, awarded the visibly stunned Limbaugh with the Presidential Medal of Freedom—just one day after the talk radio legend announced he was diagnosed with cancer. "Rush Limbaugh: Thank you for your decades of tireless devotion to our country," Trump said at the time.
In his first interview since leaving office, the former president called into Fox News to discuss Limbaugh's media legacy. Trump said he had last spoken to Limbaugh only three or four days ago and that he was fighting heroically right up to the end.
Trump told Fox News' Harris Faulkner and Bill Hemmer that Limbaugh's fight "was very, very courageous and he was very, very sick."
"Rush is irreplaceable," the President said. He went on to say Limbaugh was "unique," "a fantastic talent," and a "legend."
"Rush is irreplaceable, unique. He had an audience that was massive. … He would get up in the show and just talk. He wouldn't take phone calls, where people would call in every two minutes. That's sort of easy to do. He would just talk for two hours or three hours, just talk," Trump said. "That's not an easy thing to do. I once asked him, I said, 'Do you study for the show?' He said, 'Actually, I study very hard,' which a little bit surprised me. He was a fantastic man, a fantastic talent. People, whether they loved him or not, they respected him. They really did."
Trump told the hosts that Limbaugh agreed with his protests about the rigged election. "Rush felt we won, and he was quite angry about it,"  he said.
Following his Fox interview, Trump issued a statement with Melania Trump offering their "deepest condolences."
"His honor, courage, strength, and loyalty will never be replaced. Rush was a patriot, a defender of Liberty, and someone who believed in all of the greatness our Country stands for," Trump said. "He will be missed greatly."
CNN reporter Jim Acosta dinged Fox News for neglecting to query Trump during the interview about "the insurrection he caused."
Fox News had Trump on but didn't ask him about the insurrection he caused.

— Jim Acosta (@Acosta) February 17, 2021
A host of conservative celebrities, politicians and media pundits took the opportunity to pay tribute to Limbaugh throughout the day Wednesday.
Former Vice President Mike Pence also called into Fox News to discuss the talk titan's legacy, noting that "he gave voice to a movement and to the ideals that have always made America great."
"When I served in the House of Representatives, he was our greatest champion when we were fighting a rearguard action for conservative values in Republican and Democrat administrations. … When I was governor of Indiana and when I served as vice president, he was the anchor of conservatism," Pence said. "He gave voice to a movement and to the ideals that have always made America great and have been making America great again."
Trump's oldest son, Donald Trump Jr., called Limbaugh "a true American legend" on Twitter.
Meanwhile, former Fox News host Bill O'Reilly reflected on Limbaugh's iconic career.
"The legacy of Rush Limbaugh is clear: the most successful radio broadcaster in history. Mr. Limbaugh provided a conservative balance against the dangerous left wing corporate media machine," he tweeted.
Kellyanne Conway, former senior counselor to the president, offered praise to Limbaugh and condolences on Twitter.
"Rush Limbaugh was an architect of the center-right movement, defined & dominated political talk radio for decades & gave daily voice to millions of pro-freedom Americans. Rush's inimitable influence inspires his listeners & inflames his critics," she wrote.
Former Fox Business Network host Lou Dobbs called Limbaugh as a "great American" on Twitter.
"His legions of fans will miss him, and his powerful and bright contribution to our national dialogue is a treasure that will endure for decades to come," Dobbs tweeted.
"Life, Liberty, and Levin" host Mark Levin called Limbaugh a patriot who "refused to accept the attacks that came against this country from within. He refused to accept the ideological changes in this country."
Fox News host Sean Hannity credited Limbaugh for carving out a niche for "opinionated cable networks" and for doing "something that nobody at the time ever thought was possible."
"There's never been anybody like this man. And on a personal level, I know stories (of his generosity), I'd probably get in trouble … if I told them because he never wanted people to know," Hannity said on Fox. "But I knew. And that side of him, you know, we see it once a year. He raised tens and tens and tens of millions of dollars, the leukemia society in the course of his life and defeating that. … It's just a shock to the system. I can't really imagine the next political battle without him."
Fox News said in a press release that Trump will appear on Hannity's prime-time show Wednesday evening, "to discuss the life and legacy of radio pioneer Rush Limbaugh."
Predictably, corporate media outlets and reporters heralded the Great One's death with insult-laden smears and snark, meanwhile, their liberal fellow travelers flocked to social media to ghoulishly celebrate. One notable example (out of too many to count) features PBS White House correspondent Yamiche Alcindor calling Limbaugh "both a racist and misogynist."
Rush Limbaugh, who became one the nation's most popular conservative radio talk-show hosts and who was often criticized by many as being both a racist and misogynist, died today at 70. https://t.co/AQfg9408DM

— Yamiche Alcindor (@Yamiche) February 17, 2021
The conservative humor site "Babylon Bee" poked fun at the left's predictable ghoulishness and hypocrisy.
Party Of Love And Progress Rejoices Over Death Of Political Opponenthttps://t.co/6vz3869yTu

— The Babylon Bee (@TheBabylonBee) February 17, 2021
Limbaugh began his career in talk radio in 1971 after dropping out in college, taking a four-year break between 1979 and 1983 to work as director of group sales and special events for the Kansas City Royals.
When the Rush Limbaugh Show premiered in 1988 at its flagship station WABC (AM) in New York City, Limbaugh quickly became the highest rated radio show host in the United States.
His decades behind the EIB microphone  transformed talk radio and politics, helping to shape the Republican Party into the more populist conservative party that elected Trump.