A Christian school in Idaho that recognizes males can't be females and females can't be males is now leveraging its sex-segregated bathrooms in a clever advertisement to recruit students. New Saint Andrews College, a Protestant college offering Classical Christian education in Moscow, Idaho, recently released a 22-second video advertisement showing something that used to be mundane but is now so controversial that it distinguishes their school from the mainstream: male and female bathrooms.
In the advertisement, a young man and a young woman approach a bathroom. The male walks into the male bathroom. The female walks into the female bathroom. That's it. That's the whole story. And that's now the pitch for why students should attend New Saint Andrews College instead of a mainstream university.
The ad proclaims: "We're not science majors, but we know science even better than the Supreme Court." They could have added: "And we'll protect your daughters by keeping female spaces female-only."
Besides keeping their bathrooms sex-segregated, schools that reject gender ideology and instead recognize the binary nature of human sex differences have an opportunity for their sports programs to stand out in the competitive college recruitment market, especially for female athletes. All these schools need to do is refuse to participate in athletic conferences that have adopted transgenderism in sports. One athletic conference that is now increasingly pro-transgender is the dominant National Collegiate Athletic Association (NCAA), with 1098 members.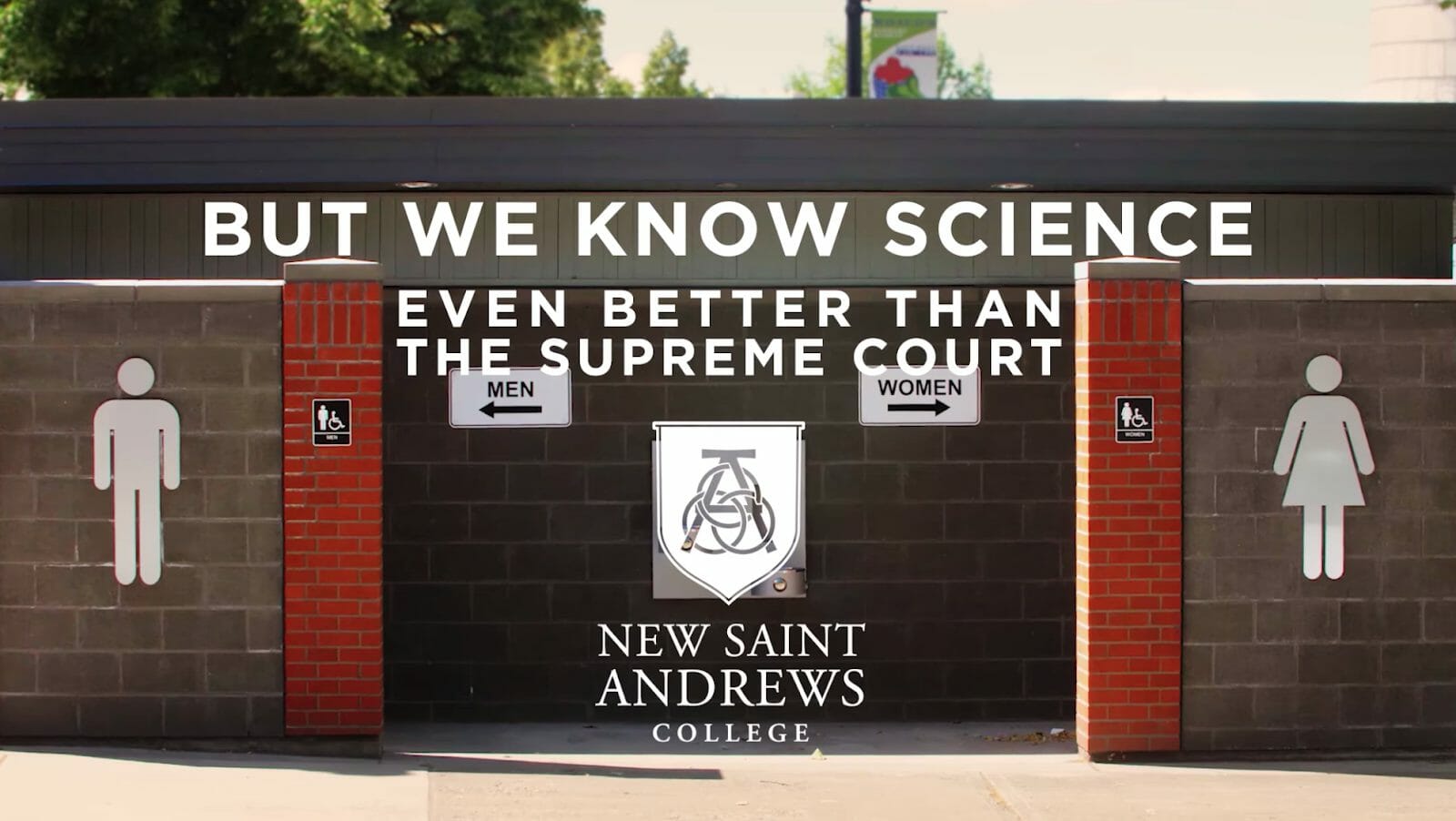 NCAA now largely allows males to take victories and records in female sports away from women. Watch this video from 3:02 to 3:19 as a male "identifying as" a female trounces female athletes in the NCAA Big Sky Conference Championship women's mile race in 2020 and steals the top of the podium from them. 
With athletes now allowed to compete in much of the NCAA based on self-proclaimed "gender identity" rather than sex, colleges that reject gender identity should leave the NCAA. One alternative conference is the smaller National Association of Intercollegiate Athletics (NAIA), with 250 members. If NAIA differentiates itself from the NCAA by refusing to cave to the genderization of sports, it could recruit schools looking for a way to keep male and female sports separate. However, if the NAIA caves to the gender mob, schools refusing to be bullied into adopting transgenderism will likely need to form their own separate athletic conference.
For some mid-and large-sized schools, leaving the NCAA will involve sacrificing the prestige of NCAA competitions. But that's how it is today in America: their choice is between their values or secular elite prestige. Which will they choose?
In 2019, a Catholic all-girls high school in northern Virginia, Oakcrest, took the principled option to withdraw from an athletic conference that adopted transgenderism. This almost certainly reduced the opportunities for girls at their school to seek athletic prestige, even scholarships. But at the same time, it sent a clear message to the public and students that this school prioritized its faith, as well as fairness and safety for girls in sports, over secular prestige.
Whether the issue is bathrooms, sports, locker rooms, or dorms, Christian and other schools recognizing the existence of male and female sex differences have a choice now whether to be on Team Reality or Team Gender. Taking a public stand as part of Team Reality is an avenue of evangelization—"to bear witness . . . to reality itself"—and now also a selling point for why students should attend their schools.