As New York Governor Andrew Cuomo embarked on a self-congratulatory book tour this week, the U.S. Department of Justice requested additional data from his administration on coronavirus deaths linked to nursing homes.
According to the New York Post, the DOJ's inquiry could reveal if the state significantly undercounted the number of COVID-19 fatalities among the residents of more than 1,000 private nursing homes.
New York records provided in response to an August Justice Department inquiry indicated that a quarter of deaths in the state's roughly two dozen public nursing homes weren't disclosed to federal health officials, administration sources said.

New York indicated that about 400 residents of the state's public facilities died from COVID-19, according to federal sources, who said that state facilities had only disclosed about 300 deaths to the Centers for Disease Control and Prevention.

In total, the New York Health Department publicly reports about 6,720 deaths from the serious respiratory bug in nursing homes and adult-care facilities. But the true scope of New York's tragic toll in nursing homes is expected to be much higher.
According to the AP, the state only counted residents who passed away on the nursing home premises but not those who were sent to the hospital. An AP analysis in August estimated that the state was likely undercounting such deaths by thousands.
With over 33,000 fatalities, New York leads by far all of the other states in the number of deaths by the coronavirus, while it is number four on the list of total COVID-19 cases in the United States.
The Democrat governor has denied accusations that his administration's now infamous directive mandating that nursing homes accept patients diagnosed with the coronavirus contributed significantly to NY's disproportionately large number of deaths.
Even so, evidence of Cuomo's ill-fated March 25th nursing home order has been deleted from the New York State Department of Health's website.
The webpage relating to the order gives a message saying the document is "not found" when you try to access it, but the document can still be found on the Internet Archive's Wayback Machine, according to the Daily Caller News Foundation.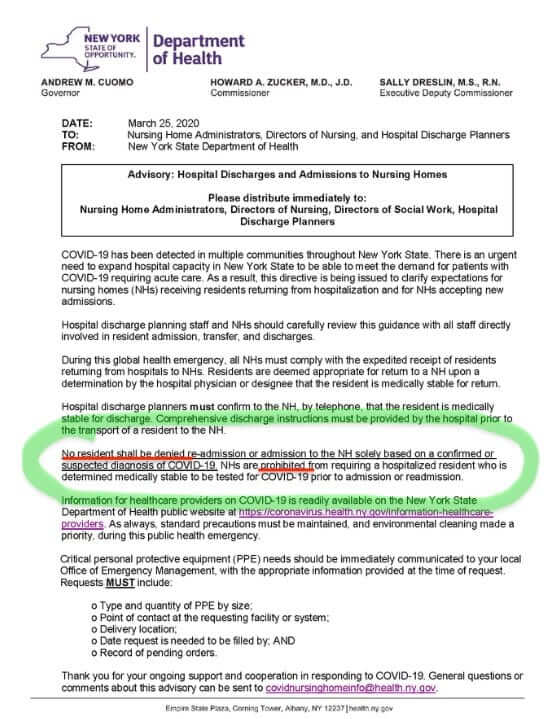 In his new book American Crisis, the governor praises himself for his allegedly successful response to the pandemic.
This galling, self-congratulatory narrative has detractors like Fox News weather anchor Janice Dean seeing red.
Dean, who lost both of her husband's parents to the coronavirus as a result of the state's disastrous nursing home policy, fumed on Twitter in reaction to Cuomo's appearance on ABC's "the View," Thursday.
Cuomo, in response to questioning from host Sunny Hostin, called criticism of nursing home deaths in NY a "conspiracy," and argued that people are dying in nursing homes in every state.
"What a shock that the 'Department of Injustice' sends a letter a few days before an election trying to advance a political theory," he said, going on to attack President Donald Trump, saying, "They have done a terrible job on Covid from day one, and they want a counterdefense, and what they were saying was, well, a lot of people died in nursing homes in Democratic states."
"The truth is people are dying today in nursing homes in Republican states," he continued, "It's just that Democratic states had the disease worse and earlier, and older people are more vulnerable to Covid, right?"
"Omg @TheView you are such a disappointment," Dean tweeted out as she watched the show. "Also @sunny with the "such a great book governor!" Beginning to the question made me throw up in my mouth," she added.
"Won't answer the question. Blaming older people. Blaming the staff. Conspiracy theories. Using bad statistics. Brutal rambling on. No follow up," Dean railed in a subsequent tweet.
"It would've been great television and a good switch to see @TheView actually ask hardball questions of @NYGovCuomo. He had the highest deaths of any state and literally infected nursing homes with Covid. Instead he rambled on, blamed others for his mistakes and lied. Huge fail," she tweeted.
"There's a whole bunch of evidence this tough guy hasn't told the truth, wrongly infected nursing homes with Covid patients by listening to hospital lobbyists' advice (instead of science) and is actively hiding the real death toll. I'm behind the @TheJusticeDept on this one," she wrote.
Cuomo's office called the the Justice Department's initial August request for data "nothing more than a transparent politicization of the Department of Justice."