A Virginia man filed an IRS complaint on Tuesday accusing a left-leaning national security non-profit of violating tax law by failing to disclose a business relationship between two of its board members—Hunter Biden and Sally Painter—and Burisma Holdings.
A copy of the Tax-Exempt Organization Complaint Form  (Form 13909) which raises questions about the Truman National Security Project's compliance with the Internal Revenue Code is embedded.
The complaint reads, in part: "Organization did not disclose existence of business relationship via a shared client and coordination with that client."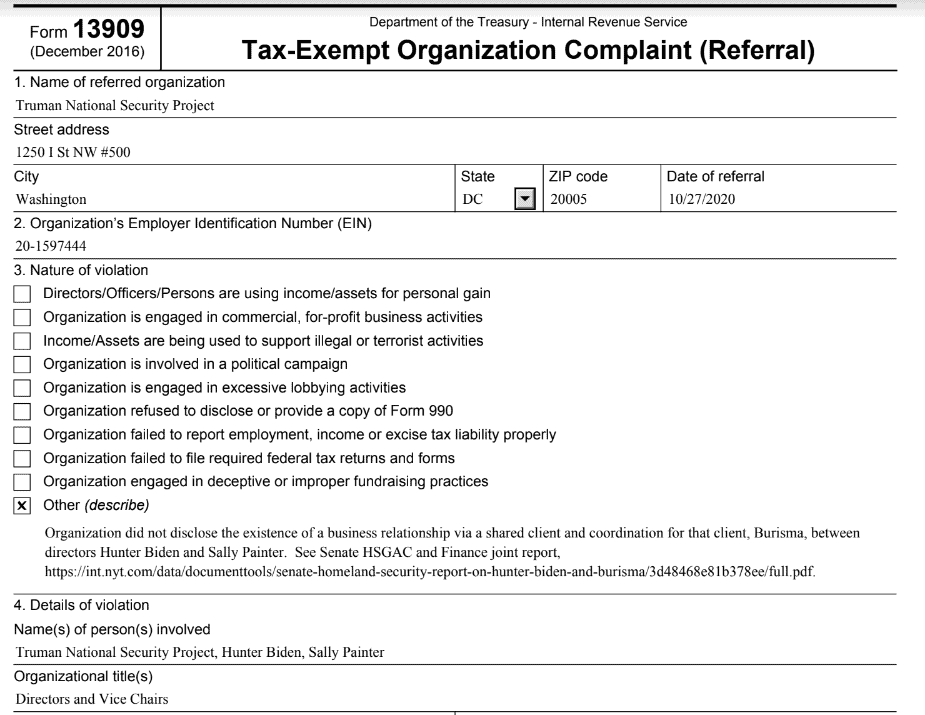 The 13909 form was submitted to the IRS by Kurt Christensen, a 63-year-old tree farmer who is a former staffer on the Committee on Natural Resources in the U.S. House of Representatives.
"The National Security Project has a duty to review financial relationships among directors and disclose those relationships to the IRS. Biden and Painter served together on the Truman Board (each as Vice Chair) while both were financed by Burisma. During that time, under Biden and Painter's supervision, Truman National Security Project engaged in activities to promote Obama administration efforts toward Ukraine and then conduct political activities against the Trump administration," the complaint states.

Hunter Biden was tapped to sit on the Truman National Security Project's board of directors in 2011, two years into his father's term as vice president under Obama.
According to the Washington Free Beacon, Hunter was "at the time, one of just six members of the governing board, where he served alongside the organization's founder and CEO, Rachel Kleinfeld, and a handful of corporate leaders."
As in his other board appointments, Hunter Biden had no obvious qualifications for the position.
In December of 2015, Joe Biden threatened to withhold loan guarantees from Ukraine unless the government fired its top prosecutor, Viktor Shokin, who was investigating corruption at Burisma, including his son's lucrative position on the board.
Sally Painter, the chief operating officer of the Washington, D.C., lobbying firm Blue Star Strategies, served on the Truman National Security Project's board of directors while she was being paid by Burisma to improve the company's image in the United States. Burisma hired Blue Star Strategies in November of 2015 while Biden was a member of the board.
Furthermore, Hunter Biden reportedly served on the Blue Star Strategies Board of Directors at the same time he was on the Burisma board—while Burisma was paying huge sums of money to Blue Star for its services.
Blue Star Strategies is owned by Painter and Karen Tramontano, two former Clinton administration officials.
Last November, the Wall Street Journal reported that Tramontano used Biden's name in an effort to secure meetings with senior State Department officials, though the paper said it was not clear "whether the younger Mr. Biden knew his name was being used by Blue Star in its contacts with State Department officials on Burisma's behalf in early 2016."
A State Department email dated February 24, 2016 was obtained pursuant to a FOIA request. In the email, a State Department official wrote:
"Karen Tramontano of Blue Star Strategies requested a meeting to discuss with [Under Secretary] Novelli [U.S. government] remarks alleging Burisma (Ukrainian energy company) of corruption. She noted that two high profile U.S. citizens are affiliated with the company (including Hunter Biden as a board member). Tramontano would like to talk with U/S Novelli about getting a better understanding of how the U.S. came to the determination that the company is corrupt. According to Tramontano, there is no evidence of corruption, has been no hearing or process, and evidence to the contrary has not been considered."
As the Truman Project expanded, Democratic national security heavyweights including Jake Sullivan, Hillary Clinton's foreign policy guru who ran the Department of Policy Planning during her tenure at Foggy Bottom; Matthew Spence, a Defense Department veteran who served as a senior aide to Obama national security adviser Tom Donilon; and Steve Israel, the former Democratic congressman and head of the Democratic Congressional Campaign Committee, eventually joined Biden on the board.
According to the Free Beacon, "Truman fellows can now be found throughout the D.C. foreign policy establishment," and left-wing luminaries such as former secretary of state Madeleine Albright; Senators Chris Coons (D.-Del.), Tammy Duckworth (D.-Ill.); former undersecretary of defense for policy Michele Flournoy, and Joe Biden's running mate Kamala Harris (D.-Calif.) are board members of its sister organization, the Truman Center for National Policy.
A cached version of the organization's website shows that Biden rose to the position of vice chairman of the board, serving there until at least March of 2019. It is not clear precisely when—or why—Biden stepped down from the board, and the Truman Project did not respond to requests for comment. But during his tenure on the board, according to the New Yorker, he was in and out of drug rehabilitation facilities several times and, in 2014, joined the board of the Ukrainian gas giant Burisma and was discharged from the U.S. Navy after he failed a drug test. He later claimed that cigarettes he had smoked outside a bar may have been, unbeknownst to him, laced with cocaine.
According to the Free Beacon, during Hunter and Painter's time on the board, the Truman Project joined a network of other left-leaning national-security in decrying the Trump administration's foreign policy initiatives and calling for Attorney General William Barr to resign.
Defend American Democracy, which identifies the Truman National Security Project as a "partner organization," ran a national ad urging Americans to "hold the president accountable for abusing his office and risking national security for his own gain."
Biden and Painter served together on the Truman National Security Project board while Blue Star Strategies was working for Burisma.
Because it's a tax-exempt organization, the Truman National Security Project should have filed tax returns indicating that two of its officers had a "business relationship" with each other, the complaint alleges.
According to the Free Beacon, the Truman Project did not. The organization reportedly indicated that its officers had been briefed on their duty to disclose any conflicts of interest and that it was "regularly and consistently" monitoring compliance with the policy.