In March, as governors across the country first issued coronavirus restrictions, the Democratic Party began taking steps to make universal vote-by-mail its top priority in 2020. The stated reason for this strategy was to avoid vast voter disenfranchisement as Americans headed to the polls in November. Democrats argued that coronavirus presented an insurmountable obstacle to voters, and requested that the trillion-dollar coronavirus relief bill in March include a federal vote-by-mail mandate. 
Nationwide, Democrats filed an unprecedented number of vote-by-mail lawsuits, further adding to the general impression that voters face an unusually burdensome set of obstacles in the 2020 election.
Yet despite their concerns, Democrats and their lead election attorney—Marc Elias of Perkins-Coie LLC (yes, that Perkins-Coie)—chose to pursue an eight-months-or-less timeline to implement voting by mail nationwide. Even as Elias himself stated USPS would struggle to meet this framework, as the five states with universal vote-by-mail prior to 2020 had all required several years to implement and refine their programs.
While Democrats turned a blind eye to the logistical difficulties of their new priority, Republicans claimed Democrats intended to cause chaos in November with widespread vote-by-mail. They also claimed Democrats intended to blame Trump's handling of USPS—in particular his refusal to implement vote-by-mail on a scale and timeline (nationally, in eight months or less) that has never been done before—for any ensuing chaos.
These Republican accusations—that Democrats are primarily interested in voting-by-mail because of the fraud and tampering opportunities it presents, and secondarily because it enables Democrats to accuse President Trump of attempting to disenfranchise voters should he fail to go along with their national vote-by-mail agenda—are supported by new information.
It appears Democrats blatantly misrepresented the financial solvency of the USPS in an attempt to accuse President Trump of withholding coronavirus relief funds so that he might steal the election. 
Democratic Party leaders began to allege in March that USPS finances may cause problems with November's election. They made similar claims in April, May, June, and July.
It is clear, however, that they had access to USPS annual reports and revenue statements showing these claims to be inaccurate as early as April 19.
Preparing the Ground
Marc Elias had a historically notable role in the 2016 presidential election. In April 2016, Elias hired Fusion GPS on behalf of the Hillary Clinton campaign and the DNC; this engagement would produce the infamous "Steele dossier" that was at the heart of the Russian collusion hoax. When the Washington Post reported this on October 24, 2017, Times' reporters Ken Vogel and Maggie Haberman claimed Elias had "lied about it" to them, "vigorously," "with sanctimony, for a year." Elias was subpoenaed by the House Intelligence Committee and testified that December.
Today, Elias is the leading election law counsel for Democrats nationally. On March 14, he claimed USPS would suffer "massive delays" in key battleground states.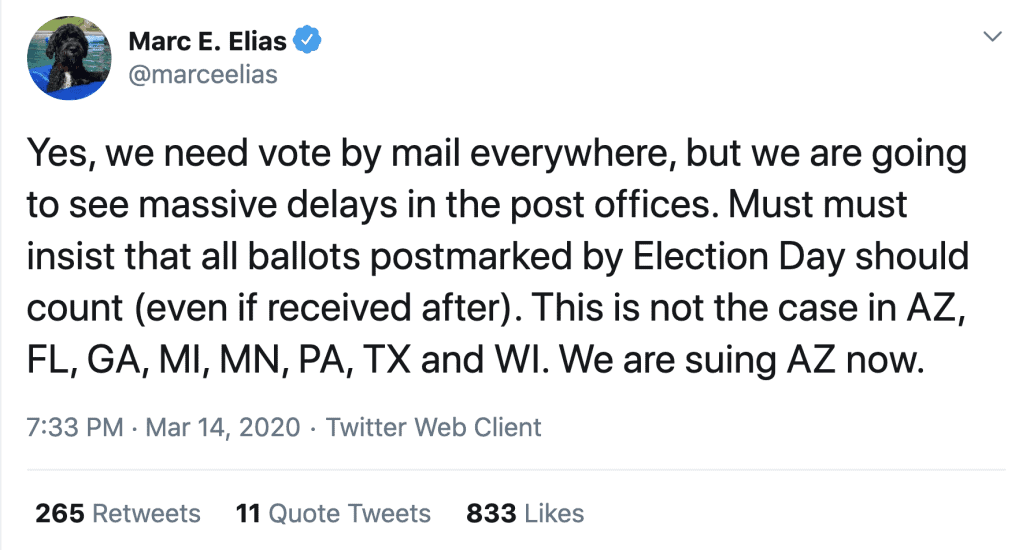 On March 16, outgoing USPS Postmaster General Megan Brennan—she had announced her impending resignation in October 2019—briefed Congress. Brennan claimed USPS required a massive grant to remain solvent: $25 billion. She projected "a possible 50% decline in mail volume between now and the end of the current fiscal year."
That day, the Washington Post published a timely opinion piece by Elias. He contended the Postal Service would struggle with vote-by-mail in November, causing an "avalanche of ballots" to arrive at election offices after November 3.
Elias added: "[W]ithout careful, realistic planning, confidence in the system will fall":
Most important, for this system to work, states must be prepared to process and count the avalanche of ballots that will be postmarked by Election Day but arrive at election offices in the days afterward. A push toward voting by mail will flood postal facilities with a surge of last-minute mail-in ballots. Post offices will have to handle these while dealing with the effects of COVID-19 on their own workforces. Mail delivery times will grow in the wake of the pandemic, and frustrations will mount. Without careful, realistic planning, confidence in the system will fall. . . . Unfortunately, many states do not currently count ballots received after Election Day, regardless of when voters mail them. These laws are profoundly unfair to voters who did everything right but whose ballots were delayed because of the post office. (Emphasis added.)
The timing of Elias' article with Brennan's briefing is notable.
But according to the Postal Service's 2019 annual report, Elias' claims were simply incorrect.
If solvent at or near current staffing levels, USPS should hardly notice an increase in volume even if every voter uses vote-by-mail: "On a typical day, [USPS's] 633,000 employees physically process and deliver 471 million mailpieces."
In the 2016 presidential election, 136,669,276 votes were tallied. Suppose a high estimate of 175 million voters this November: If they all use vote-by-mail for both receipt and delivery, USPS would only register several above-average days over a few weeks.
November 2020 problems do appear likely to arise with USPS. Yet vote-by-mail volume—for a solvent USPS at or near current staffing levels—is an unlikely one.
Far more likely challenges include general, year-round reliability problems with USPS; vote-by-mail's inherent added risk of error and fraud; and states' inability to coordinate with USPS in eight months or fewer.
In March, congressional Republicans and Treasury Secretary Steven Mnuchin contested Postmaster General Brennan's $25 billion request. They claimed USPS revenues described a far less dire situation. House Democrats sided with Brennan.
On March 23, as Congress legislated the CARES Act, Representatives Carolyn Maloney (D-N.Y.) and Gerry Connolly (D-Va.) released a statement about including the $25 billion request in a coronavirus relief bill:
House Democrats Act Rapidly to Save Postal Service from Bankruptcy As a Result of Coronavirus Crisis . . . A halt in Postal Service operations could have grave consequences across the country. For example, the Postal Service delivered more than a billion shipments of prescription drugs last year, and that number is expected to grow rapidly as a result of the coronavirus crisis. . . . In addition, more than 25% of votes cast in recent elections are distributed through the mail and are critical to America's democracy. (Emphasis added)
This March 23 statement appears to be congressional Democrats' first attempt to conflate the Postal Service's funding claim with vote-by-mail. It suggests an unspecified connection between vote-by-mail and the $25 billion request. It expresses vote-by-mail as a secondary argument for the $25 billion.
The argument disappeared the next day. Maloney and Connolly seem to have excised the vote-by-mail reference from their otherwise similar letter addressed to Senate Majority Leader Mitch McConnell (R-Ky.).
Senate Republicans ultimately removed the Democrats' $25 billion request from the CARES Act, replacing it with a $10 billion loan. On March 27, President Trump signed the bill into law.
On April 3, Reps. Maloney and Connolly—now joined by Rep. Tom Carper and Rep. Gary Peters—sent a letter to Secretary Mnuchin to discuss the $10 billion loan's terms. This third letter did include a vote-by-mail reference, again as a secondary concern.
Three days later, the Democrats' argument changed significantly.
As The Narrative Turns
On April 6, Reps. Maloney and Connolly—now joined by Representatives Brenda Lawrence (D-Mich.), Stephen Lynch (D-Mass.), A. Donald McEachin (D-Va.), Andy Levin (D-Mich.), and Donna Shalala (D-Fla.)—sent a new letter insisting the $25 billion be included in a future coronavirus bill. The letter more strongly emphasized, though again without substantiation, that the $25 billion was critical for November:
The Postal Service is more critical to our nation's success than ever. The Postal Service will provide Americans the ability to vote in the upcoming presidential election. In the 2018 midterm elections, nearly 26% of citizens voted through vote-by-mail options. Voting-by-mail will likely grow in the coming election, particularly for the elderly, those with underlying health conditions, and Americans who wish to avoid large crowds at polling locations. Without a fully functioning Postal Service, vote-by-mail options will be degraded in November. (Emphasis added)
Two days later, the New York Times published a story headlined, "Republicans Pursue Limits on Voting by Mail, Despite the Coronavirus." Republicans mentioned in the article express concerns about practicality and fraud; Democrats mentioned in the article accuse Republicans of "voter suppression."
The following day, the USPS/vote-by-mail volume claim appeared to become the Democrats' primary case for their grant request.
Also, Democrats had raised the request from $25 billion to a stunning $89 billion:
Today, Postmaster General Megan J. Brennan provided a video briefing to Members of the Committee on Oversight and Reform on the devastating impact the coronavirus crisis has had on the finances of the Postal Service …"

"The Postal Service is fighting for its survival . . . ," Government Operations Subcommittee Chairman Gerald E. Connolly said. "We cannot allow the Postal Service to collapse. To do so would deepen our nation's economic crisis and eliminate an important lifeline for individuals who rely on the Postal Service's 1 billion deliveries of lifesaving prescription deliveries and eviscerate the very infrastructure we need to administer the upcoming elections."

 … "[T]he dedicated employees of the U.S. Postal Service are serving a critical role in our nationwide pandemic relief efforts—from delivering essential medical supplies and protective equipment to facilitating voting by mail in preparation for the 2020 election," National Security Subcommittee Chairman Stephen F. Lynch said. "As we develop additional stimulus legislation, it is imperative that we include robust funding for the Postal Service, our most trusted government institution, to ensure the continuation of vital services for the American people and protect the right of every citizen to vote in 2020."

"Every day, the dedicated employees of the Postal Service are on the front lines of the COVID-19 pandemic to ensure all Americans receive their mail and packages, as well as critical medical supplies that are being shipped across the country," Rep. Brenda L. Lawrence (D-Mich.) said. "During a Census and election year, it is imperative that we have a fully functional Postal Service to ensure Americans across the country can participate in our democracy." 

The bipartisan Postal Service Board of Governors—appointed by President Trump—asked Congress to provide the Postal Service with:

● a $25 billion emergency appropriations to offset coronavirus-related losses;

● a $25 billion grant to fund "shovel-ready" projects to modernize the Postal Service;

● access to $25 billion in unrestricted borrowing authority from Treasury. (Emphasis added)
Brennan added another $14 billion, not mentioned in the press release, for debt from USPS retirement programs.
"Our Most Trusted Government Institution"
For perspective, FedEx—one of several private-sector firms that have long outperformed USPS in expedited delivery—has a market capitalization of $59.24 billion. Democrats and USPS had demanded enough funding to purchase every share of FedEx, with enough remaining to purchase a firm the size of Prudential. (Current market cap: $27.54 billion.)
On May 6, NBC News reported that Senator Ron Johnson (R-Wis.) had written to Brennan requesting the Postal Service's latest revenue reports.
"Despite recent media reports suggesting that the COVID-19 pandemic has drastically hurt USPS, the revenue data provided to my staff for the first five weeks of the crisis shows a different story," Johnson wrote. "From March 16, 2020, through April 19, 2020, revenues for USPS were down 5.86 percent compared with similar dates last year. That was a far cry from the 30 percent that USPS had been publicly projecting. 
The Democrats' claim that USPS was in danger of being "underfunded" for November was based on a revenue loss projection that proved to be 500 percent too large. Per Senator Johnson's letter, this was clear by April 19.
In August, Democrats targeted the new Postmaster General, Louis DeJoy, with a claim known to be wildly inaccurate in April—five months earlier. 
Further, DeJoy was not even sworn in until June.
The Democratic senators, NBC reported, urged against "politicizing" USPS on May 6 in a letter to Secretary Mnuchin. The letter was signed by five senators who had run for the Democratic presidential nomination: Cory Booker (D-N.J.), Elizabeth Warren (D-Mass.), Kirsten Gillibrand (D-N.Y.), Kamala Harris (D-Calif.), and Bernie Sanders (I-Vt.). Also, Louis DeJoy had been announced as Brennan's replacement that day.
The letter to Mnuchin emphasized the vote-by-mail allegation, despite the USPS financial claims having been proved inaccurate several weeks earlier:
[O]ur democracy may very well depend on the ability of immunocompromised and other vulnerable people to vote-by-mail in a time where going to polls is risking their very lives.
The following day, the Washington Post published a 16-paragraph story headlined: "Under Fire From Trump, Postal Service Braces for Arrival of New Postmaster General Allied With White House." The inaccurate revenue projections are not referenced until the end:
Senate Republicans say they have data that indicates USPS's losses, propped up by surging package volumes, are far more tame than the agency portrays and that the USPS is not in desperate need of a bailout as some officials claim.
The Post did not include the long-available data in the story. Johnson's letter, and his name, also did not appear. Yet the inaccurate vote-by-mail claim shows up early in the article:
Postal advocates . . . also worry it will politicize the independent agency, leaving USPS wounded in the run up to a presidential election that in many states may be conducted through the mail.
On June 8, Johnson—joined by Representatives Jim Jordan (R-Ohio) and Jody Hice (R-Ga.)—asked the Postal Service to "revise its projections." They sent a letter which included, to the dollar, the latest USPS revenue data. Shockingly, the data revealed USPS was actually outperforming over the same period of 2019.
COVID-19 didn't generate a USPS "emergency," but a windfall: "USPS revenues were $330,414,152 higher than the same period last year, a much different result than what USPS projected."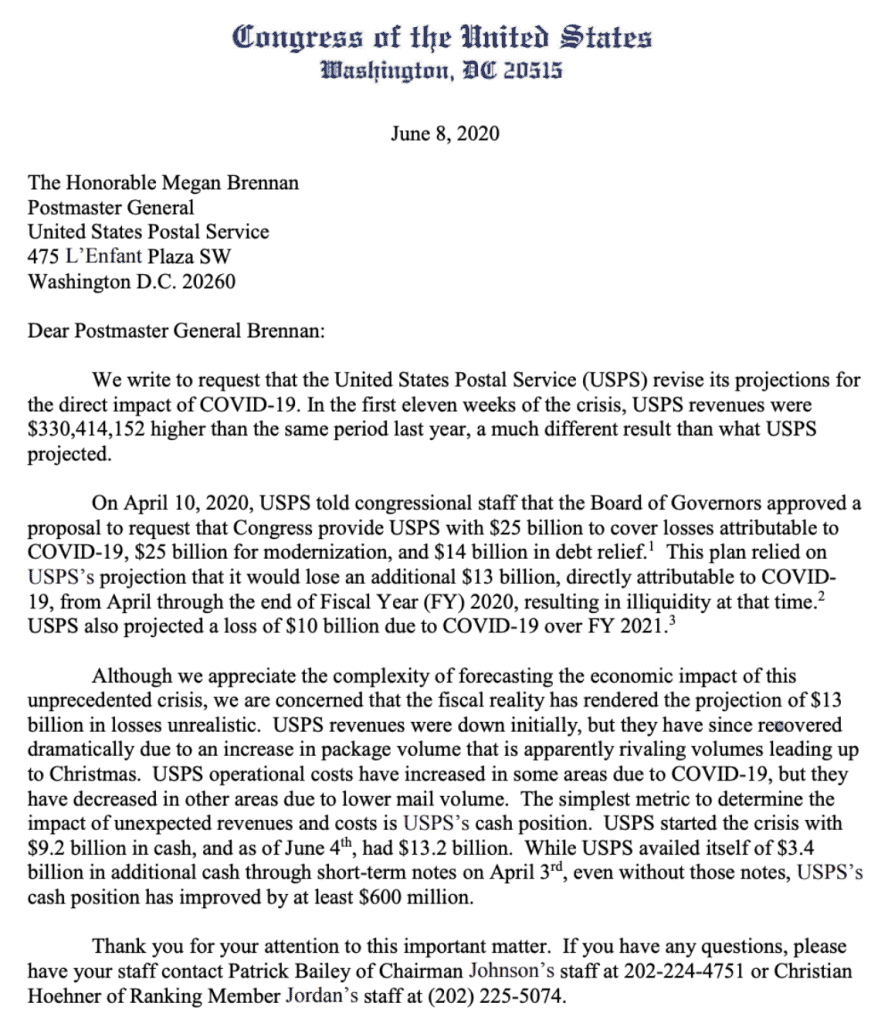 Though little noticed, the inaccurate funding allegations continued through the summer.
On July 1, Comedy Central host Samantha Bee led a social media campaign called #MailedIt. Along with figures from media and entertainment, Bee urged the public to target Mnuchin on Twitter with the inaccurate allegations, most notably that the post office would be in danger of closing in October without a government bailout. "If this happens, this will severely affect the upcoming 2020 presidential election due to the impact it will have on the delivery of mail-in ballots."
USPS was never "in danger of closing" in October.
Nevertheless, Rep. Connolly soon asserted in an op-ed for CNN: "[USPS is] in crisis, and one person is standing in the way of its salvation: President Donald J. Trump" 
From August 13 until the Democratic National Convention began on August 17, most major media reported, without evidence, a claim that President Donald Trump conspired to interfere with November's election by underfunding the U.S. Postal Service. House Speaker Nancy Pelosi (D-Calif.) called the House to order on a Saturday for a rare "emergency" session.
The story appeared to surprise everyone: the media, Democrats, Republicans, and the public. The topic dominated media coverage until the August 17 start of the Democratic convention.
Yet the USPS funding allegations were familiar to Democratic Party leadership, including Reps. Maloney and Connolly—who helped lead Speaker Pelosi's emergency Saturday session.
The allegations were also familiar to Washington Post, New York Times, NBC News, CNN, and Comedy Central. The claims had regularly appeared since March, when the Democratic Party started a nationwide vote-by-mail campaign led by "Russian collusion" keystone Marc Elias.
Maloney, Connolly, and Elias did not respond to repeated requests for comment on this story.