Members of the Biden family allegedly had a specific system for distributing the money they earned through influence peddling, President Trump's personal attorney Rudy Giuliani revealed on Wednesday.
According to a smoking gun text on Hunter Biden's hard drive, members of "the Biden crime family" were expected to give half of their profits to "pop"—aka Joe Biden.
Several members of the Biden's clan, including his brother James Biden, his sister-in-law Sara, and his son Hunter, landed lucrative positions or contracts with foreign countries while Joe Biden was a U.S. senator as well as when he served as vice president.
"In future days, you will see texts, emails and photos that demonstrate crimes committed by the Biden crime family in China (probably most of all), in Russia, and several other countries," Giuliani said, noting that America's foreign adversaries likely have the same scandalous photos of the former crack addict that he's seen—making the election of Joe Biden a massive national security risk.
Hunter Biden's emails come from an Apple laptop that was dropped off at a computer repair shop in Wilmington, Delaware for repairs and then abandoned.
John Paul Mac Isaac, the owner of the repair shop, took legal possession of the laptop after the person who dropped it off didn't come back within 90 days to claim it.
Isaac looked inside and discovered the trove of scandalous emails.  He told Fox News that he began "searching the emails by keyword in June or July of 2019."
"If I'm somebody that has no journalistic ability, no detective ability or investigative ability and I was able to find stuff in a short period of time, somebody else should have been able to find something to show," Isaac said.
He told Fox that he wasn't 100 percent sure that the person who dropped off the computer was Hunter Biden, but he figured it was him because the laptop had a sticker from the Beau Biden Foundation, which is named after his late older brother.
Isaac said he contacted the FBI out of concern.
"I just don't know what to say, or what I'm allowed to say," Isaac said. "I know that I saw, I saw stuff. And I was concerned. I was concerned that somebody might want to come looking for this stuff eventually and I wanted it out of my shop."
Isaac told Fox that the FBI first made a forensic copy of the laptop, then returned weeks later with a subpoena and seized it.
Photos of the Delaware federal subpoena that detailed the FBI's seizure of the laptop and hard drive can be seen in the New York Post's bombshell report about the scandalous emails.
Before turning over the computer and hard drive to the FBI however, the repairman made made a copy of the hard drive for himself. After several months went by and he didn't hear back from the FBI, Isaac said he contacted several members of Congress, who also did not respond. At that point, an intermediary reached out to Rudy Giuliani's attorney, Robert Costello.
Giuliani said in a special edition of his podcast "Common Sense," Wednesday, that Joe Biden repeatedly lied about what he knew about his son's business dealings in Ukraine because he was trying to cover up crimes.
"Because some of that money from Ukraine—illegal money for bribes—went to Joe Biden," he explained.
Giuliani held up a text from Hunter Biden to Joe Biden's granddaughter Naomi Biden discussing money, and claimed that Hunter made a "big mistake," because in it he revealed the "distribution scheme that the Biden crime family has had for years."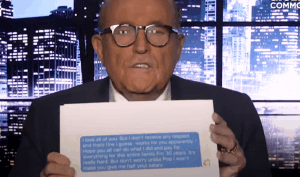 "I love you all but I don't receive any respect, and that's fine, I guess," Hunter wrote. "Works for you, apparently. I hope you all can do what I did and pay for everything for this entire family for thirty years."
Giuliani explained that the younger Biden was paying for everything in the family "because he was getting the money and they were keeping it from Joe so he wouldn't have to report it." As an example, he claimed that Joe Biden paid his half sister's entire college education.
In his text, Hunter added, "It's really hard, but don't worry, unlike pop, I won't make you give me half your salary."
Giuliani noted that in the Biden family's correspondence, "pop" refers to Joe Biden.
"Okay, left-wing press," Giuliani said after reading the email. "What are you going to do with that?"
As we have seen, the corporate media and tech industry have a tendency to ignore, censor, and/or suppress the information that is unfavorable to Democrats.
The former NY mayor noted resentfully that "numerous federal crimes" appear to have been committed "in the highest levels of our government, but rather than being prosecuted, the crimes have been "covered up for two and a half years."
In the fall of 2019, Giuliani said, a well respected Ukrainian lawyer gave a United States attorney in the Southern District of New York evidence of the Bidens' corruption in Ukraine but rather than investigate the evidence, he opened some "phoney investigations of a lot of people"— including a phoney investigation of himself, which never resulted in anything.
He said that he also provided an outline of the corruption allegations to the State Department in March of 2020 and it was ignored.
Additionally, Giuliani said, at the request of Attorney General William Barr, he provided the evidence to a U.S. attorney that he's not allowed to identify and the U.S. attorney did nothing but conduct one meaningless interview.
"And the hard drive at the core of this was delivered to the FBI at or about the same time, and the FBI has conducted none—zero!—investigation," he lamented.
Giuliani argued that the Democrat running for president of the United States is "a big time crook," and we've got "real problems" inside our government and the media for covering it up.
"Joe Biden's a crook—has been for years, and why are you so surprised?" Giuliani asked. "The man starts off by plagiarizing in law school. Cheats his way through law school, plagiarizes the first time he runs for Senate. Is it possible he's a fundamentally dishonest man? Well, it turns out he is," Giuliani concluded.