Within hours of Supreme Court Justice Ruth Bader Ginsburg's death Friday, assorted leftists began calling for violent protests should President Trump and Senate Republicans decide to fill her vacant seat before the election.
Unhinged Democrats are reportedly considering "total war and "armageddon" to fight the move, with Senate Minority Leader Chuck Schumer warning ominously that "nothing is off the table" to oppose Trump's Supreme Court nomination.
No member of Congress has been more vocal about the need for a "mass movement" to mobilize against the GOP than New York Rep. Alexandria Ocasio-Cortez (D-N.Y.).
"Let this moment radicalize you," Ocasio-Cortez said in a 41-minute Instagram video. "Let this moment really put everything into stark focus because this election has always been about the fight of and for our lives."
AOC made it clear that Ginsburg's alleged final request (that she "not be replaced until a new president is installed") must be honored—or else.
"If Mitch McConnell is not going to honor RBG's final wish, we will," she warned. "Mass movements are the answer," she added.
Here's what we're NOT gonna do: give up.

We don't give up when people need us most. That's not who we are.

Our democracy is at a faint heartbeat; it was broken even before Trump. But so long as we can save lives, I believe we have an obligation to do so as we build a new world. pic.twitter.com/QBGqflpihC

— Alexandria Ocasio-Cortez (@AOC) September 19, 2020
In a press conference Monday, AOC called for Democrats to act "in unprecedented ways" to thwart any nomination, warning Senate Majority Leader Mitch McConnell (R-Ky.) that "he is playing with fire."
UNHINGED: Democrat Rep. Alexandria Ocasio-Cortez: "we all must act in unprecedented ways…to tell [McConnell] that he is playing with fire"
pic.twitter.com/UsTzT0otSn

— Steve Guest (@SteveGuest) September 21, 2020
Oddly enough, CNN's left-wing legal analyst Jeffrey Toobin suggested that Democrats should encourage activists to be more like Republicans and take to the streets to protest the move.
"There is a difference between how Democrats and Republicans go about these fights," he said, accusing Democrats of being too weak and wimpy to protest like GOP activists do.
CNN's @JeffreyToobin calls Democrats "weak," "wimps," and "afraid" for not attacking Republicans more aggressively over SCOTUS; says party should encourage activists to engage in "street protests" pic.twitter.com/Mq6LiSsUPR

— Tom Elliott (@tomselliott) September 21, 2020
Bizarrely, Toobin went back 20 years to come up with with an example of Republicans taking to the streets to protest something, but forgot to mention the Democrat-endorsed demonstrations just two years ago that protested the nomination of Brett Kavanaugh to the high court, not to mention the countless left-wing protest/riots that have dogged Trump's presidency since his election.
Angry left-wing mobs have already "protested" in front of the homes of both Sen. McConnell and Sen. Lindsey Graham (R-S.C.) in recent days.
Multiple verified Twitter users, including the "loathsome" Reza Aslan, meanwhile, have called for the country to "burn down" or be "shut down" over the issue.
Attention @TwitterSupport — these verified users are calling for illegal violence, rioting, & arson attacks in the USA @rossacrosswi @nandelabra @EmmMacfarlane @LEBassett @BeauWillimon @rezaaslan

Clarifying how this does not violate TOS? Please comment, very concerned pic.twitter.com/Fo9bK8by3Y

— ELIJAH RIOT (@ElijahSchaffer) September 19, 2020
Emmett Macfarlane, a Poli Sci Professor at the University Waterloo, advocated for Congress to be burned down to prevent Trump from nominating anyone to the Supreme Court.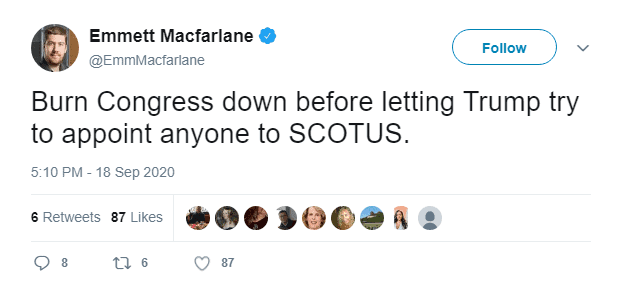 A NASA research scientist vowed on Twitter to riot herself if Republicans "ram through an appointment" before the election.
Sky News host Andrew Bolt expressed concern that the 2020 election "could push American into what is really beginning to look like a civil war in some American cities …"
And now because of the passing of RBG,  "there are threats from the left to ramp up this kind of violence against Donald Trump," he added.