A Cuban business owner in Louisville has accused local Black Lives Matter activists of threatening him and using "mafia tactics" after they presented him and other business owners with a list of "demands."
Fernando Martinez, a partner of the Olé Restaurant Group, was one of dozens of business owners in the downtown "NuLu" district who  received a letter from "local organizers and activists" in recent days that made a number of demands, including a requirement that they make "a recurring monthly donation of 1.5% of net sales" to local black organizations, and that they display a sign that shows support for "the reparations movement" or face "repercussions of noncompliance."
The complete list of demands below were included in the letter to NuLu business owners "RE: Reparations and Representation in NuLu Market District."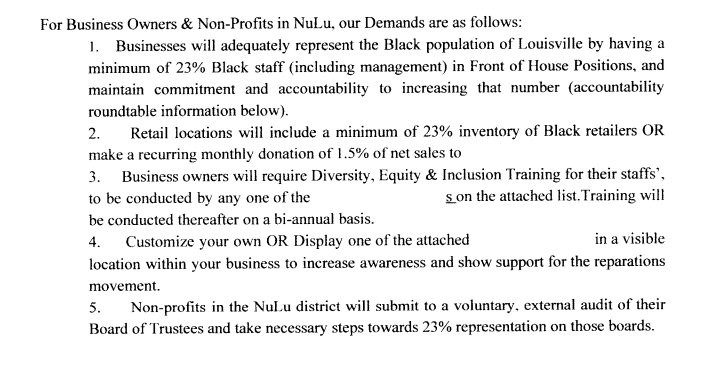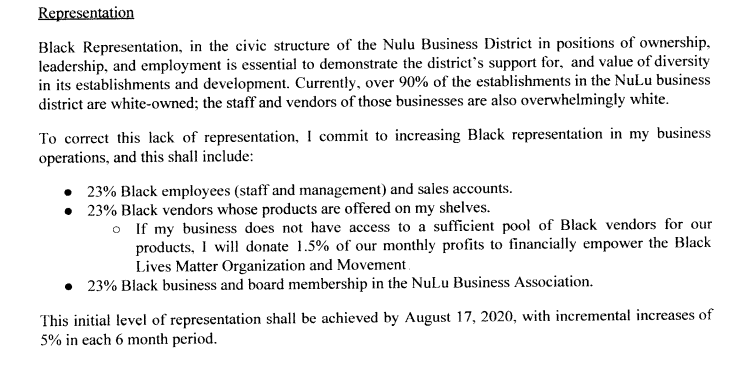 According to the Courier Journal, Martinez did not take the attempted shakedown sitting down.
The restaurateur publicly denounced the demands on Facebook, calling them "mafia tactics" designed to intimidate business owners.
And on Thursday, a small group of protesters confronted him outside his newest restaurant, La Bodeguita de Mima, on East Market Street.

"There comes a time in life that you have to make a stand and you have to really prove your convictions and what you believe in," Martinez wrote in his Facebook post. "… All good people need to denounce this. How can you justified (sic) injustice with more injustice?"
According to Martinez in a press release, La Bodeguita de Mima was forced to close on July 24 during a demonstration that shut down the entire street. He said several protesters presented him with the list of demands and told him he "better put the letter on the door so your business is not f*cked with."
Martin said in the press release that his restaurant "has been subject to vandalism and extortion in recent days."
The restaurant remained closed the next two days because "management and staff were concerned about safety," according to the release. "30+ staff members (mostly immigrants) were unable to earn a paycheck."

On Thursday, a small group of protesters returned to the restaurant after seeing Martinez's post about the demands on Facebook. While there, one protester smashed a flower pot outside the business, while the rest spoke with Martinez and other employees about why the demands are needed.
On Sunday, more than 100 members of Louisville's Cuban community gathered at La Bodeguita de Mima to rally in support of the restaurant.
Martinez gave an impassioned ten minute speech to the crowd with his mother and relatives standing alongside him, the Courier-Journal reported.
"People telling me than I'm a bigot, that I'm a racist?" Martinez said. "That's not right! It's not fair!"
"La Bodeguita is open to everybody," Martinez told the crowd of supporters. "If you're gay, this is your home. If you're Black, this is your home. If you're white, this is your home. If you're human, this is your home."
He also condemned the criticism his business had received over diversity concerns.
"How can I be called a bigot and a racist when my family is Black? When my son is gay?" he asked. "I'm the proud father of a gay son, and I'm gonna fight for him against anybody."
— David J. Kim (@_DavidJKim) August 2, 2020
Many black residents came out to support the restaurant.
"We need to stand together and fight against anyone who's trying to extort people who are just trying to make a way in this country," one man said.
"It's just unethical and that's not how you handle business," a black woman told WHAS 11. "And if you want help from someone, there's a way of going about that—you know, be diplomatic about it—but you don't threaten anyone."
Phelix Crittenden, a local activist who works with Black Lives Matter Louisville, told the Courier-Journal that the demands "were not meant to be a threat but were instead intended to start a conversation with owners about how their businesses can better reflect and support Black people."
Crittenden claimed several NuLu business owners had already volunteered to sign the contract and were open to "have a conversation" about their roles in the gentrification of the area.