"Virtue Signal: The Game of Social Justice," released earlier this year by Incel Riot Studios, is a humorous table-top card game of parody and snark about social justice activists. Petty power spats, microaggressions, and wacky plot twists abound as the Social Justice Warriors (SJWs) of the game spend more time fighting each other than for their supposedly glorious causes. 
Game creator William Dalebout is a commercial illustrator. He started developing the "Virtue Signal" game after he got canceled from the graphic arts profession in 2016 for designing a banner featuring Donald Trump. 
"Trump swept Super Tuesday and suddenly became the devil incarnate," Dalebout explained in a Facebook post last year. "And all my clients and all my designer friends . . . suddenly . . . stopped . . . talking to me. The graphic design industry is even more rabidly left than the gaming community, if you can believe that. So once you've committed a sin like this there's really no redemption for you. Even if you had so little self-respect as to make an apology it wouldn't do any good. You're just boned. So really this project happened because there was literally no other option. You won't work with me? Fine. I'll find people who will."
Dalebout's real-life "superpower," requiring more fortitude than the game Characters' silly SJW superpowers, has been standing up to cancel culture. Someone needs to tell Dalebout's epic story of defiance in the face of cancel-cancel-cancel. It didn't end in 2016. More recently, Incel Riot has been blocked from advertising "Virtue Signal" on social media, banned from gaming conventions, had social media accounts suspended repeatedly, and Amazon has repeatedly disallowed Incel Riot from establishing a seller account.
But the cancellation fanatics have not won. Even while social media and e-commerce platforms keep blocking Incel Riot Studios, you can do your part to help spread the word with your own social media accounts and you can still buy "Virtue Signal" directly from Incel Riot online for $29. 
Here's how to play. 
Social Justice War
Two to 12 players compete to be the first to get 15 followers for their social justice cause. The game works best with three or more players.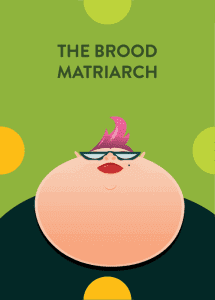 At the start of the game, each player selects one of several humorous SJW characters. That character leads the player's SJW crusade during the game. Each character has a unique superpower. 
Brood Matriarch's superpower is Genderfluidity and she can switch between male and female at "xir" turn, which comes in handy as the plots progress. (More on that in a minute.) The superpower of Burnout, who smokes a joint, is spanging; he can beg for and take a card from another player. The superpower of Marxist Academic is resource redistribution: on his turn, he can steal a card from another player. Other characters include Antifa Crusader, Twiggy Wiccan, and Captain Fedora.
Microaggressions vs. Virtue Signals 
You can slow the expansion of an opponent's activism network by tossing down a microaggression card. To remove a microaggression, the opponent needs to play a virtue signal card, or block the microaggression "against your fragile person" with a safe space card (crayons included!).
Each virtue signal card features a unique, often ridiculous, virtue gesture. One is "1/1024th Cherokee" and another is "creative gendering" (i.e., "Hello my pronouns are Ketchup Sandwich"). And then there's the hipster keffiyeh virtue signal; as the game makers explain, "you can [virtue] signal your way out of clown jail by wearing the keffiyeh you bought in Palestine." 
Plot Twists
Plot cards are meta-twists that tweak the rules of the game along the way. For example, when the Thermidorian reaction plot is played, the players gang up on the player in the lead. A mansplaining plot card restricts play to characters who identify as male. A feminist S.C.U.M. plot card, seeking to "fix" the world by "the complete eradication of the male sex," limits play to characters who identify as female. When the participation trophy plot card is played, everyone is reduced to the lowest-common-denominator and can add only one follower to their alliance at a time. 
The vicious cycle plot card requires players to play any microaggression cards in "xir" hand. For the Antifa Crusader, during a vicious cycle, he must play all of his microaggression cards at once, even against himself if there is nowhere else to play them. As the rules for this character say, "Live by the molotov, die by the molotov."
A set of special cards add other twists. "Triggered!" cards unleash individual or even cascading game-wide hysteria. 
If you are keen on annoying a particular opponent, you can play a job card that will make your opponent suddenly employed, forcing him, her, or xem to skip a turn—"We're adulting today, no time to justice," says the card.
Thanks to the plot and special cards, there's never a dull moment during your character's social justice jihad.
Game Play
I recommend the game for ages 17 and up. Some of the humor tends toward the risque. "Virtue Signal" is not suitable for family game night with young children.
The game pairs well with adult beverages, however. 
The game includes almost 200 cards, offering a great deal of variety for ways the game can unfold. A supplemental "problematic" pack, available separately, has an additional 16 cards. The full-color, glossy game cards are well made. The graphics on the cards are stylish and delightfully absurd (not chaste, but they are funny).
The game comes with a printed booklet of the rules—a.k.a. "Principles for Progressives"—and a slightly updated version of the rules is available online. An online "Card Wiki" provides a handy overview of some of the cards. 
The basic concept of "Virtue Signal" is easy to grasp. One doesn't have to be a microaggression grandmaster to enjoy the game. A few of the rules are a bit complicated, however this complexity is also an advantage: the more you play, the more fun you can have as you get the hang of the twists and turns of "Virtue Signal," mapping out a strategy to snatch Soros funding away from the causes of other SJWs through the strategic deployment of microaggressions and other forms of attack built into the game.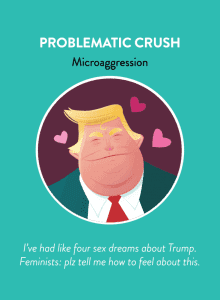 Before playing, I recommend watching some of the how-to videos on the Incel Riot channel on YouTube (not yet canceled). The most helpful video is the "playthrough" featuring the game makers playing the game and commenting along the way about how the game works, though sometimes they don't explain what just happened and, due to the camera distance, one can't see which card was just played.A new, more detailed playthrough video would be an improvement. 
Incel Riot might want to consider adding a glossary to the website for "Virtue Signal." For example, the rules and how-to videos refer to NPCs without ever explaining what these are. In gaming jargon, an NPC is a "non-player character." In "Virtue Signal," the NPCs are the followers the characters add to their alliance. But this is a minor problem.
Updates are at Incel Riot's Kickstarter page. Additional updates and occasional humorous posts are available on the Incel Riot Facebook page. Incel Riot is on Twitter, Parler, and Gab. They also sell "Virtue Signal"-themed T-shirts, phone cases, et al. (perhaps you'll want to snag a pouty Greta Thunberg "How dare you!" t-shirt for a climate-panicking sibling on your Christmas list?).
In response to the pandemic, Incel Riot made the game available online using a tool called Tabletop Simulator. At $19.99, however, the Tabletop Simulator is clunky and not user-friendly to those unfamiliar with online gaming. It is more fun to play the original game in person and to defy cancel-culture by supporting Incel Riot: buy the boxed version, put aside your devices, and hang out with friends to play. 
Whether you play online or in person, make sure at first to read each card out loud as you play. The fun of "Virtue Signal" lies not only in the dynamic of the game, but significantly also in the humor of each game card. 
The next project underway for Incel Riot Studios is a game called Deplorables poking fun at right-wingers, in which "deplorableness" will be "measured by the basket," and characters like "Tradcath Trevor" and "Hyperdox Harold," find something to do other than "slapfighting on the internet about Filioque or the Fourth Crusade."
Bring the Game to Election Night Parties
After Peter Thiel and I played "Virtue Signal," he observed: "With its menagerie of easily triggered SJW characters, 'Virtue Signal' is the definitive guide to the topsy-turvy America of 2020. You should only play this game if you are not an NPC and if you are ready to wake up from woke!"
This is the perfect game for your November 3 Election Night Party. No matter what unfolds that night, "Virtue Signal: The Game of Social Justice" has you covered. Here are some possible scenarios:
There will be disputes about ballots, so it might be a very long night. Have "Virtue Signal" on hand to keep the party going into the wee hours as we await the results.

If Orange Man wins, you and your friends can gleefully laugh about the SJWs by playing "Virtue Signal."

If Basement Guy wins, well, "Virtue Signal" has an aptly named plot card, called Race to the Bottom.

As for violent riots, the game's Antifa Crusader is already on the job.
By buying the game now, you can master the art of microaggressions before the November election, engage in an act of defiance against cancel culture, and, not least of all, tap into the much-needed humor-therapy the game provides.
In the words of Incel Riot, "May the wokest warrior win!"