For the past several days, the racing world has been transfixed by an alleged hate crime committed against black stock car racer Bubba Wallace, the only black driver in the circuit.
Both NASCAR and Wallace put out strong statements condemning the alleged racist incident, and a media frenzy ensued. Prior to the Talladega race on Monday, dozens of drivers helped push Wallace's car to the track in a show of support for the alleged hate crime victim.
My family. pic.twitter.com/031TvNDopA

— Bubba Wallace (@BubbaWallace) June 23, 2020
Federal investigators announced Tuesday however that no federal crime was committed against the 26-year-old.
The "noose" in question in Bubba Wallace's garage was a rope handle with a loop to pull down the garage door. Michael Bennett in Vegas, LeBron's gate, now Bubba's noose. The demand for sports racism far exceeds the supply: https://t.co/U4nAHUV3dQ

— Clay Travis (@ClayTravis) June 23, 2020
On Sunday, prior to a race at the Talladega Superspeedway in Alabama, the alleged "noose" was found in the garage stall of Wallace's Richard Petty Motorsports team.
"We are angry and outraged, and cannot state strongly enough how seriously we take this heinous act," NASCAR said in a statement Sunday night. "We have launched an immediate investigation, and will do everything we can to identify the person(s) responsible and eliminate them from the sport."
Wallace, a vocal Black Lives Matter supporter, put out his own statement, calling the alleged noose incident a "despicable act of hatred" that shows "how much further we have to go as a society" in the fight against racism.
— Bubba Wallace (@BubbaWallace) June 22, 2020
As Conservative Tree House first reported, all of the garage doors at Talladega Superspeedway have a pull rope with hand grips on the end. A picture of the rope on Wallace's and his neighbor's garage stall showed the looped ends cut off, while a November 2019 video shows his pull rope intact.
The FBI concluded that the pull rope had been in the garage for many months and no federal crime had been committed.
Town and FBI Special Agent in Charge Johnnie Sharp Jr. released this statement about the probe:
On Monday, fifteen FBI special agents conducted numerous interviews regarding the situation at Talladega Superspeedway. After a thorough review of the facts and evidence surrounding this event, we have concluded that no federal crime was committed.

The FBI learned that garage number 4, where the noose was found, was assigned to Bubba Wallace last week. The investigation also revealed evidence, including authentic video confirmed by NASCAR, that the noose found in garage number 4 was in that garage as early as October 2019. Although the noose is now known to have been in garage number 4 in 2019, nobody could have known Mr. Wallace would be assigned to garage number 4 last week.

The decision not to pursue federal charges is proper after reviewing all available facts and all applicable federal laws. We offer our thanks to NASCAR, Mr. Wallace, and everyone who cooperated with this investigation.
NASCAR also released a statement:
The FBI has completed its investigation at Talladega Superspeedway and determined that Bubba Wallace was not the victim of a hate crime. The FBI report concludes, and photographic evidence confirms, that the garage door pull rope fashioned like a noose had been positioned there since as early as last fall. This was obviously well before the 43 team's arrival and garage assignment. We appreciate the FBI's quick and thorough investigation and are thankful to learn that this was not an intentional, racist act against Bubba. We remain steadfast in our commitment to providing a welcoming and inclusive environment for all who love racing.
Wallace finished in 14th place, making it his best Talladega appearance ever.
He told reporters it had been a "hectic" week, adding that "whoever it was" that put the alleged noose in his garage is "not going to take away his smile."
Proud of you, @BubbaWallace. Keep on smiling!! pic.twitter.com/myTT2yOwUz

— Richard Petty Motorsports (@RPMotorsports) June 23, 2020
Hopefully, the fact that no "despicable racist" put a noose in his garage will make his smile even brighter.
Meanwhile, since allegations of hate crimes involving nooses turn out to be fake approximately 95 percent of the time, NASCAR and the media some explaining to do.
Auto Weekly's Matt Weaver in particular virtue-signaled in spectacular fashion.
History won't remember the racist and incorrigible act committed by someone on Sunday at Talladega.

Instead it will remember how the NASCAR community rose to the occasion to support one of their own. Here's how #IStandWithBubba was conceived and received.https://t.co/ciudf9W0G2

— Matt Weaver (@MattWeaverAW) June 23, 2020
When presented with growing evidence that the "noose" was in fact a pull rope, Weaver insisted on Twitter that NASCAR had already ruled that out.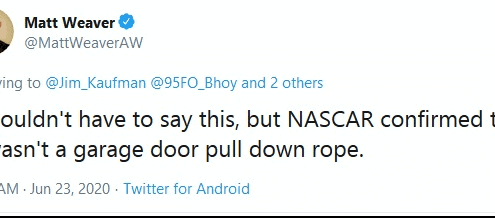 He later deleted his tweet as NASCAR President Steve Phelps had said no such thing.

As ESPN's Will Cain noted, virtually everyone was more interested in taking a politically correct position than in getting at the truth.
NASCAR didn't care about the truth.

Almost everyone in the media didn't care about the truth.

Curiosity, questions, and the search for the truth were dismissed as contrarian at best, racist at worst.

Media is broken. Society is broken.

— Will Cain (@willcain) June 23, 2020
Of course credibility, what little is left, is destroyed in the media.

But more importantly: Distrust is sowed in society. Real claims of racism are undercut. Divisions inflamed. People die.

All because personal, brand, & industry projection was more important than the truth.

— Will Cain (@willcain) June 23, 2020
UPDATE:
Was Wallace just an innocent victim of an colossal and embarrassing misunderstanding, or an active participant in a racial hoax?
In his appearance on ABC's the View Tuesday morning he comes off as an artificial and unsympathetic character, rejecting the idea that the noose incident could be "a hoax" or "staged by NASCAR to garner more support for the removal of the Confederate flag" as co-host Sunny Hostin put it.
Wallace said he was offended that people "would go to those measures" but was not shocked. "People are entitled to their own opinion to make them feel good or help them sleep at night," he said, adding, "Simpleminded people like that, the ones who are afraid of change, they use everything in their power to defend what they stand for."
.@BubbaWallace on those who believe the noose incident was staged: "It's simple-minded people like that, the ones that are afraid of change, they use everything in their power to defend what they stand up for… instead of trying to listen and understand what's going on." pic.twitter.com/FikMntalwO

— The View (@TheView) June 23, 2020