Since riots erupted in America at the end of May, flyers have started appearing in my neighborhood in northwest Washington, D.C. 
The residents of my neighborhood happen to be predominantly white, which is clearly well-known to the people (apparently a variety of people and groups) creating the flyers. With large, boldface type, usually in all capital letters, the flyers' visual tone conveys rage, as if the writers are screaming at residents.
What follows is a diary of the flyers I've seen. 
June 1:
"You are contributing to killing black people by not stopping the killing of black people do something you racist fucks since you want to live in DC so bad." (A number to text is provided to find out how to join the cause.)
A hand-written flyer, which begins: "No one is perfect but you can do one thing today to be anti-racist:
support a black owned business,

read something that makes you uncomfortable,

make a recurring donation to an org. seeking justice,

engage in dialogue! talk to your community about your fears, garner feedback on how you can improve" 
(Another term for this is "struggle session." Notice how this "struggle session" bullet point has a cute little heart next to it? How charming!)
"IT IS NOT YOUR CHOICE TO DETERMINE HOW AN OPPRESSED GROUP PROTESTS. #BLM #JUSTICEFORGEORGEFLOYD"
"Fund the national bail out. A black led and black centered Collective of abolitionists organizers, lawyers, and activists building a community-based movement to end systems of pretrial detention and ultimately mass incarceration." 
(A QR code is included for sending donations. Note: they are "abolitionists." )
"Donate to the Black Lives Matter LA Chapter. The Los Angeles chapter of black lives matter is currently supporting organizers, endeavoring to adopt a "People's Budget" that reallocates police funding to communities that needed it." 
(Another QR code is included for sending donations. It's curious that the Los Angeles BLM is organized enough to be fundraising in D.C. already. It raises a question, too, of just what a "People's Budget" would be. Turns out, there's a website for that.)
"Killer cops will not go free. do not live in ignorance. use your privilege for good."
"A man was lynched by the police. What are you going to do about it?"
June 4:
"Anti-racism reading list for white people and nb who are committed to unlearning anti-blackness and combating racism…" (A list of 14 works including "Wretched of the Earth" by Franz Fanon and Combahee River Collective Statement.")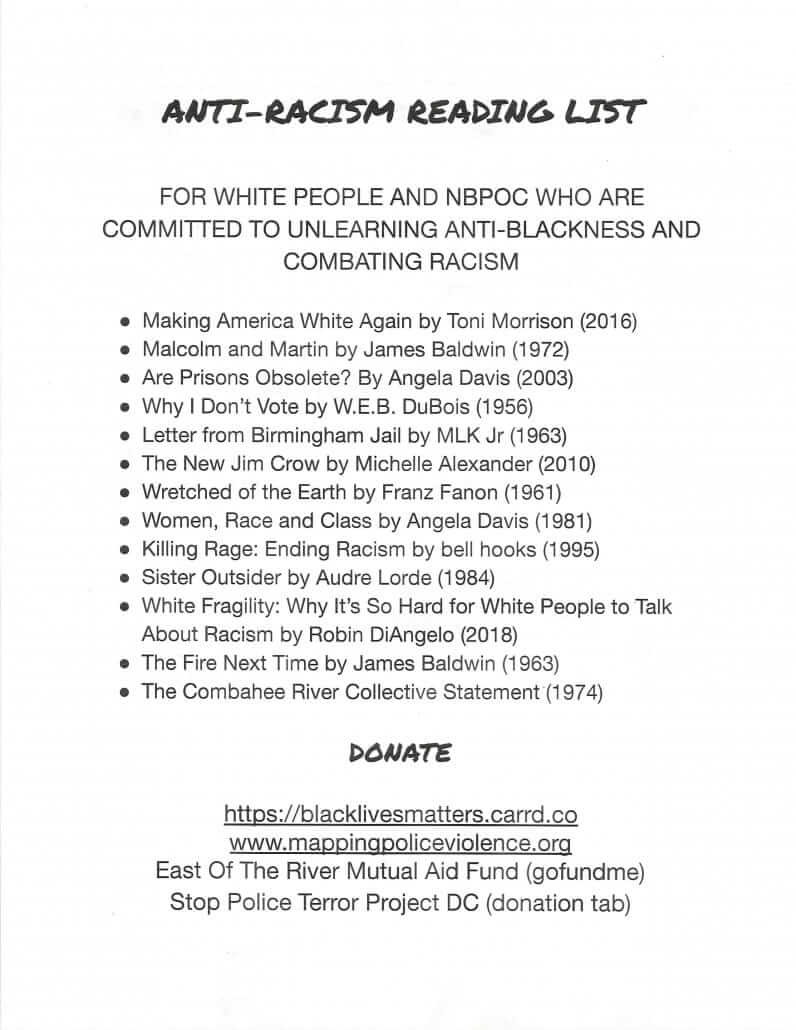 "How are you showing up for black people to tangible and responsible means? How are you interrogating state-sanctioned violence and the construct of whiteness? This is 100% about race. Recognizing Your Privilege is pointless if you don't put your money where your mouth is." (There are two websites where people are urged to "Donate + Learn.")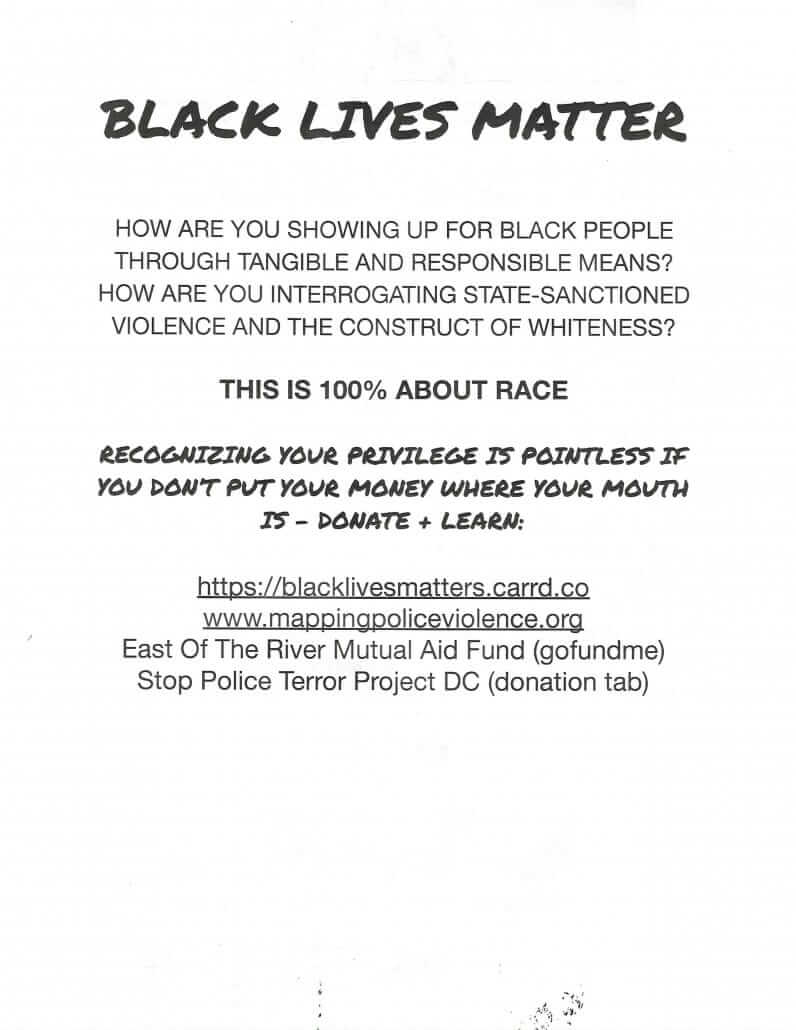 "It is imperative that you teach your children about the realities of white supremacy and anti-blackness…avoiding uncomfortable conversations about race, power, and anti-black violence with your children cost us our safety and our lives." "Reading list of children's books that discuss race (compiled by black educator…)." (A list of 13 books is provided.)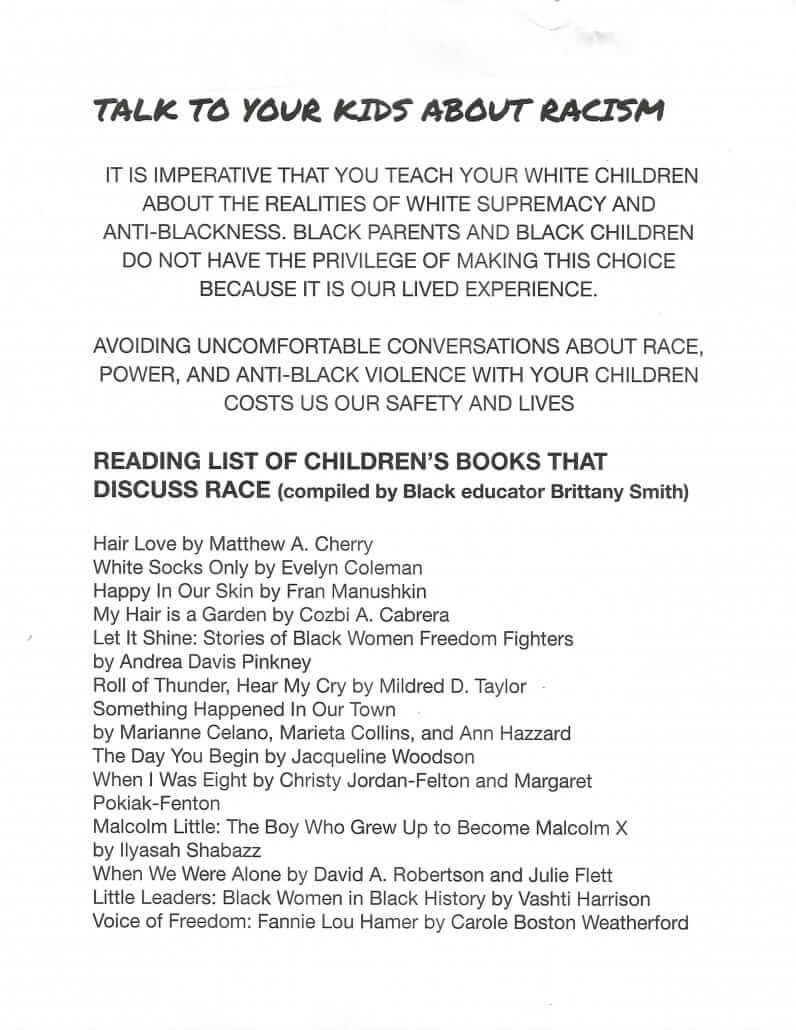 June 6:
"WAKE UP DC! WHITE SILENCE IS VIOLENCE! We NEED YOU FIGHTING WITH US!. Everyday (sic) people are putting their lives on the line for Racial Injustice! When you are silent you are being compliant (sic) to our plight!"
". . . We need bodies on the front line! . . . however if unable to commit, there are other ways to get involved! educate yourself! donate to BLM organizations! Demand action from the government!"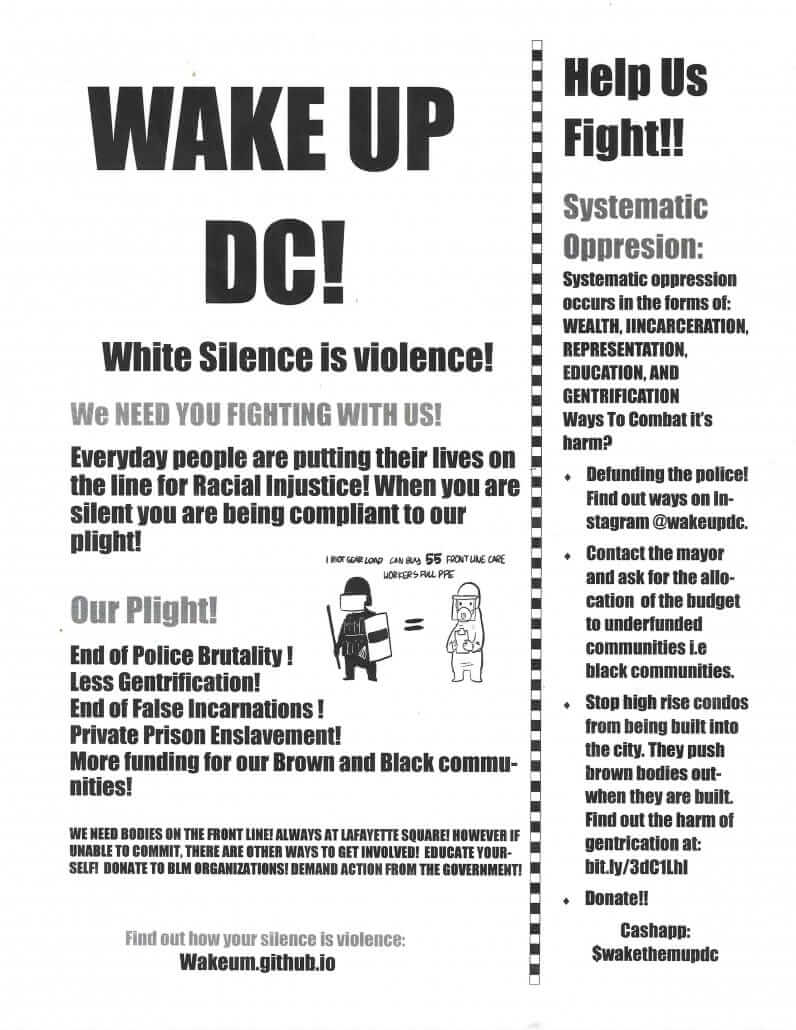 "Find out how your silence is violence." (A website to learn more is provided.)
"Help Us Fight!! Systemic Oppression: systemic oppression occurs in the forms of: wealth, incarceration, representation, education, and gentrification/ Ways To Combat it's (sic) harm?
Defunding the police! – Contact the mayor and ask for the allocation of the budget to underfunded communities i.e. black communities.

Stop high-rise condos from being built into the city. They push Brown bodies out when they are built…
Donate!!"
June 7:
"The 'discomfort' you say you felt over the past week is nothing compared to the terror black americans (sic) face everyday (sic). Until a black american (sic) can walk to the grocery store, bird watch, go on a jog, attend church, sit in their home without fearing for their life, no one should be able to be comfortable."
"Stop hiding behind your privilege. Stop putting your comfort before human life."
(This flyer is stapled to two trees in the neighborhood. So, while the Sierra Club is rushing to kneel to this movement, this movement does not seem concerned about the well-being of trees.)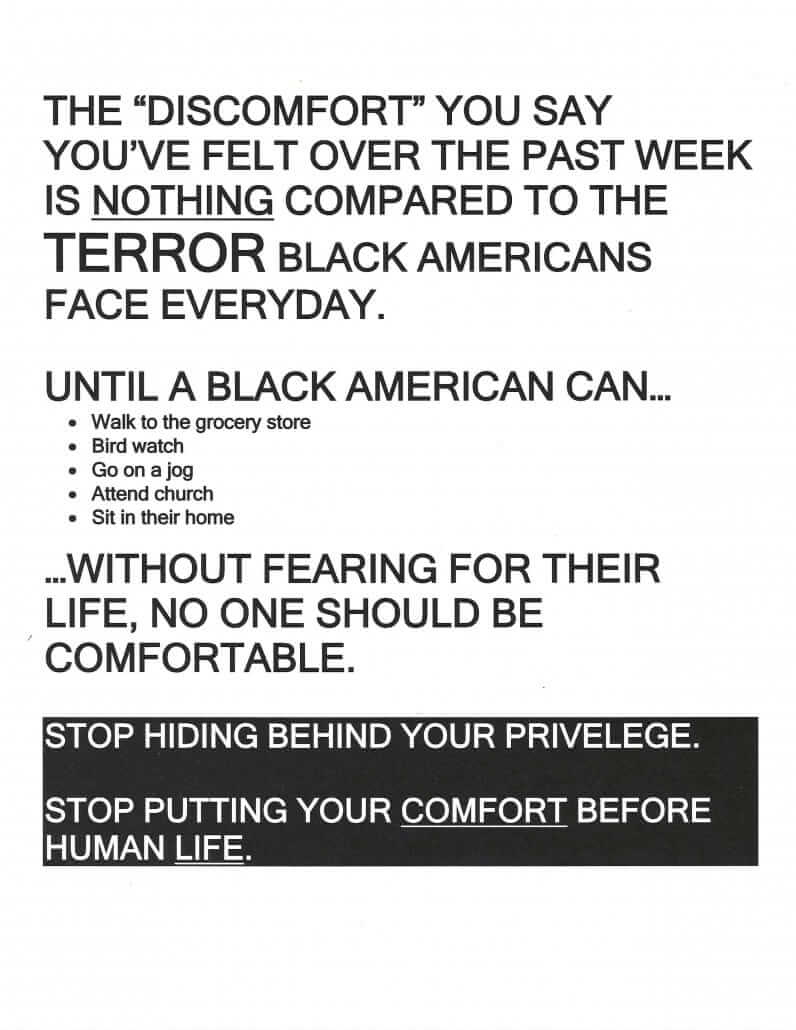 "Donald Trump fuels hatred and violence. You may not have voted for him, but you know someone who did. Talk to them. Talk amongst yourselves. Vote against him. Get others to vote against him. Fix this mistake and vote. Don't be on the wrong side of history. Vote him out."
June 10:
"Hashtags and texts are the easiest forms of allyship. More must be done. Donate your money + time [/] vote all the way down the ballot [/] educate yourself and those around you [/] tell others to do the same (this one has four QR codes) "for more information"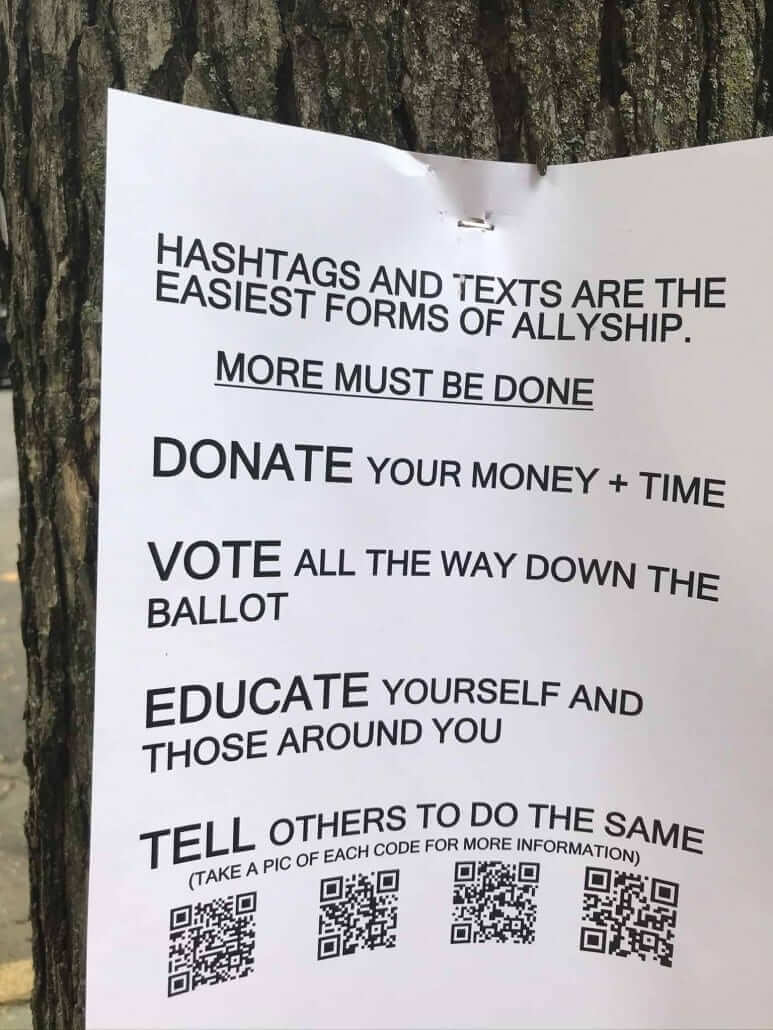 Ways to support the #blacklivesmatter movement (with a QR code to donate). 
And this particularly unsubtle one: "WHITE PEOPLE INSTITUTIONALIZED RACISM IN AMERICA. IT IS YOUR JOB TO DISMANTLE IT."
These are just some of the fliers I see day by day when I walk my dog in my neighborhood. The recurring themes of these fliers are:
"Anti-blackness": this is not about

racism

which could go in any direction, it is about "anti-blackness." This conceptual and linguistic shift means that being racist

against whites,

and potentially others too, is acceptable and consistent with the cause.

Threat of escalation: there are suggestions that if we don't do something to solve this (undefined) problem, the situation will get worse, e.g. "UNTIL . . . NO ONE SHOULD BE ABLE TO BE COMFORTABLE."

Guilt and redemption: white people are at fault, but there is still time to "use your privilege for good"; and through "dialogue" we can "garner feedback on how you can improve."

Ignorance: it is assumed residents in my neighborhood are ignorant people.

Anti-Trump, with irony. Ironically they say there are for "human life," even while Trump is taking concrete steps to reduce abortion, which disproportionately kills black babies, and voting him out of office would mean electing a pro-abortion Democrat.
After the hostile flyers started appearing, several homes in my neighborhood posted signs supporting Black Lives Matter hanging on their glass-paned front doors. Is the timing a coincidence? Is this the "protection payment," in the form of a virtue signal, that the rioters are going to demand to spare certain homes when they come to our neighborhood next?