Good Monday morning.
Here is what's on the president's agenda today:
The president meets with the Attorney General
President Trump hosts a video teleconference with governors, law enforcement, and national security officials on keeping American communities safe
The president has lunch with the Vice President
I have some good news and some bad news
Let me give you the good news first: we aren't really worried about the Chinese virus spreading through large public gatherings. Social distancing? Never heard of it. Well, some people are worried, but not that much.
The bad news is that the major American cities are on fire, full of violent protests/looting and the police can't/won't stop them.
The protests started when some African American dude (his name was George Floyd) who no one remembers because we are only talking about violence, arson and looting now, was murdered by a psychopath cop. Protesting began and then malefactors decided to take advantage of the opportunity and get violent, burn things and destroy property. So what began as universal disgust and outrage with police violence has now fractured society into people who support violence and destruction (Antifa, the Media, Democrats) and people who don't like civil unrest.
The current situation is that the media and pathetic Democrat politicos, who are in charge of all these cities that are burning and where police are accused of abusing the citizens, are pretending that these riots are really just protests. However, the violent Antifa crew are all over the riots and President Trump announced that Antifa will be declared a terrorist group. "The violence instigated and carried out by Antifa and other similar groups in connection with the rioting is domestic terrorism and will be treated accordingly," A.G. Barr said in a statement on Sunday following the president's announcement. The media and the Democrats are very upset because they are on board with the violence and destruction and they are on board with the Antifa agenda. All sorts of "smart" people were clucking about how the president can't make the terrorist declaration. "Terrorism is an inherently political label, easily abused and misused," said ACLU National Security Project Director Hina Shamsi. Of course. Now do the KKK.
Derp state clown and former senior Justice Department official Mary McCord said "no current legal authority exists for designating domestic organizations as terrorist organizations. Any attempt at such a designation would raise significant First Amendment concerns."
The purpose of this violence is to the break the "system" and because our economy was so devastated by the Coronavirus shut down, it's a perfect time to further inflict damage with a view towards total destruction. Hatred of the "system" is why businesses, monuments and churches were defaced and vandalized and set on fire, they are symbols of the "system." Take note: this is a war.
To take the heat off of the actual violent animals beating up innocent people and destroying their property, the accomplices are blaming the tried and true villains of RUSSIANS and white supremacists. Because many of Antifa are white people, social media celebrities, politicos and elected officials are pointing and saying "see white supremacists!" No. Very unlikely. Where's the evidence? Instead we are seeing the same tactics used by Antifa we've seen but the media has ignored for years. The media et al., like to pretend that Antifa are really anti-fascists and support the "anti-fascist" attacks. But just because they call themselves that doesn't mean that's what they really are. Oh, by the way, you are a fascist so watch out.
Apparently, Twitter has suspended the Antifa account. Why? I think it was this: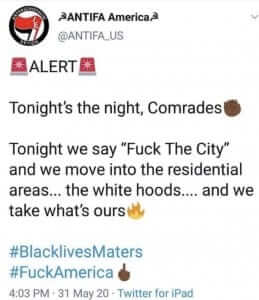 So like I said: this is a war.
The president has not yet decided to take control of the National Guard. "We're not going to federalize the Guard at this time. But, if necessary, we have further military assets that can be deployed," Robert O'Brien told reporters at the White House. "We'll do whatever the governors or mayors need to keep control of their cities."
Stay safe out there. Let's hope this mayhem ends soon.
Other morsels:
New video appears to show moments before George Floyd was pinned to ground
De Blasio now says some 'anarchist' protesters are local amid continued defense of NYPD
Uh huh. Minnesota officials believe there are white supremacists attending demonstrations
Beyoncé demands justice for George Floyd
Trump briefly taken to underground bunker during Friday's White House protests
Biden visits protest site in Delaware hometown
Michael Jordan releases statement on George Floyd
Famed DC monuments defaced after night of unrest
George Floyd's brother criticizes violent protesters: 'Don't tear up your town'
16 dead, at least 30 injured in second straight weekend of violence in Chicago
Mayor Bill de Blasio's daughter, Chiara, arrested at Manhattan protest
NYU-trained lawyer accused of hurling Molotov cocktail at marked NYPD vehicle
Secret Service agents wounded outside White House, car bombs feared; official says Trump was taken to bunker
Seattle Mayor Blames 'White Men' For 'Much Of The Violence And Destruction' At Riots
Ivy League Graduate Corporate Attorney And Another Lawyer Reportedly Charged For Throwing Molotov At NYPD During Riots
25-year-old arrested for allegedly setting fire to Nashville's historic courthouse
Oh dear. Minnesota AG Keith Ellison to take lead in George Floyd case: governor
Virginia declares state of emergency over protests
Arizona imposes statewide curfew for one week amid protests
Georgetown Professor Laments D.C. Rioters' Failure to Attack Trump Hotel
Omar: Minneapolis Protesters Were 'Terrorized' by National Guard and Police
Shocking moment Dallas rioters hurl ROCKS at 'business owner who tried to defend his store with a sword' then brutally beat him unconscious during night of violence in the city
MSNBC's Haake Near White House as St. John's Church Burns: 'This Is Still Peaceful Protesters'
Chaos Erupts in Philadelphia as Rioters Destroy Line of Police Vehicles
Black Federal Officer Patrick Underwood Shot And Killed in Oakland Riot
DC Protesters Tackle Rioter, Hand Him over to Police
Rochester, NY: Looters Pummel Woman with Fists, Lumber
Mayors urge constructive, not destructive, action over George Floyd's death
Longtime supporters dismayed at de Blasio's shift from police reformer to defender
Seattle cop removes colleague's knee from protester's neck, video shows
Ilhan Omar blames outside groups for fires at Minneapolis George Floyd protests
Disgusting. Chrissy Teigen doubles down, makes her pledge $200K to bail out George Floyd protesters
CVS closes stores across 20 states. Call ahead, if you're planning on visiting one.
Protests force Target, CVS and Walmart to close some stores
Atlanta mayor: Two police officers fired over excessive use of force during George Floyd protest
Semitrailer speeds toward crowd of George Floyd protesters on Minneapolis bridge; driver arrested
Family sues nursing home over death of Army veteran from coronavirus
So 10 minutes ago. Evidence Suggests Kids Are Extremely Low Risk For Coronavirus
Glamorous dummies enforce pandemic safety at Michelin-starred Virginia restaurant
SpaceX capsule successfully docks at space station
House, Senate panels to question ousted State Dept. inspector general on Wednesday: report
And that's all I've got, now go beat back the angry mob, literally.