A woman with "trauma visible on her body" was found dead in Minneapolis overnight in an area that was overrun with violent rioting.
A motorist reportedly flagged down Minneapolis police officers on patrol at 3:16 a.m. and told them they'd seen a car in the middle of the street in North Minneapolis. The battered woman, thought to be in her 30s, was found deceased in the back seat. Police say a suspicious death investigation has been initiated.
According to a Twitter account that monitors police and fire department activity in Hennepin County, there were reports of women being kidnapped Thursday night.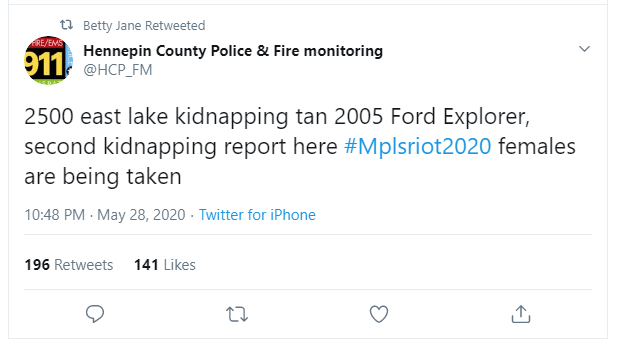 WCCO-TV said that the area became so dangerous last night, it could not send a crew to the scene to report on the riot "out of safety concerns."
The woman's death is the second fatality connected with the unrest following the death of George Floyd on Memorial Day.
On Wednesday night, a man was shot as looting broke out near the 3rd Precinct police headquarters, on the city's south side. A Lake Street business owner has been arrested.

Floyd, a black man, died Monday night after being arrested by police. Cellphone video of the incident showed a white officer pressing his knee into Floyd's neck for several minutes, until he lost consciousness. Floyd was pronounced dead at a hospital shortly after.
The officer who was videotaped kneeling on Floyd's neck for minutes before his death, was arrested on Thursday.
Minneapolis Police Officer Derek Chauvin has been arrested in the death of George Floyd in Minneapolis, Public Safety Commissioner John Harrington just announced. @kare11

— Lou Raguse (@LouRaguse) May 29, 2020
Floyd and Chauvin, it turns out, worked security at the same nightclub near Minneapolis' Third Precinct for a year, according to the club's owner. It's unclear whether the two men knew each other.
The police brutality sparked protests that devolved into violent rioting, property destruction and looting in Minneapolis both Wednesday and Thursday nights. Thursday night, according to WCCO, St. Paul was also affected by the unrest.
The St. Paul Police Department said more than 170 businesses were looted or damaged Thursday, and dozens of fires were set. But there were no serious injuries reported in the city. Fires continued to burn in the city early Friday morning, with the largest one at Big Top Liquor near Snelling and University avenues, nearby Allianz Field.
Looters didn't discriminate between white and black businesses.
The ease that so many politicians and commentators have at encouraging this anarchy signals a pathology and wickedness, in my opinion. People's lives are not yours to play with. If you support "burning it down," volunteer your home. Don't volunteer on behalf of others. pic.twitter.com/FhEAJNw6PH

— Andy Ngô (@MrAndyNgo) May 29, 2020
A woman in a wheelchair was attacked outside of the Minneapolis Target as it was being looted.
At the Target in Minneapolis that was being looted tonight during the BLM riot, a woman in a wheelchair was attacked. pic.twitter.com/JxsXTB30xI

— Andy Ngô (@MrAndyNgo) May 28, 2020
What remains of a Cub Foods grocery store. #BlackLivesMatter #antifa #GeorgeFloyd pic.twitter.com/3NPuMMbT6T

— Andy Ngô (@MrAndyNgo) May 29, 2020
At about 10:00 p.m. Thursday night, the lawless mob took over the police department's 3rd Precinct building, with rioters setting fires both inside and outside of the building.
Mob revels in the destruction of Minneapolis tonight. They celebrate with fireworks and alcohol. #antifa #BlackLivesMatter #GeorgeFloyd pic.twitter.com/TxYSip3mSW

— Andy Ngô (@MrAndyNgo) May 29, 2020
Rioters in Minnesota blast audio from The Purge on a loud speaker: "Any and all crime, including murder, will be legal for 12 continuous hours."#BlackLivesMatter #antifa #GeorgeFloyd pic.twitter.com/3h8zSLNMTS

— Andy Ngô (@MrAndyNgo) May 29, 2020
Person at Minneapolis BLM race riot makes it clear that this is revenge and that the worst is yet to come. "One of ours, two of yours," he shouts. "We comin' for ya'll n—! This is only the beginning, mother f—!" #BlackLivesMatter #GeorgeFloyd #antifa pic.twitter.com/5JNhq0qags

— Andy Ngô (@MrAndyNgo) May 29, 2020
Police released a statement shortly after 10 p.m., saying in part, "in the interest of the safety of our personnel, the Minneapolis Police Department evacuated the 3rd Precinct of its staff. Protesters forcibly entered the building and have ignited several fires."
This is the moment when Minneapolis police officers abandoned the 3rd precinct building. Rioters chased them as they left and continued to throw objects at the police vehicles. pic.twitter.com/KoxAAYiUIN

— Julio Rosas (@Julio_Rosas11) May 29, 2020
The Minneapolis Police Department's 3rd Precinct building was set on fire Thursday night during protests over the death of #GeorgeFloyd The mayor said the building was evacuated when it was clear "there were imminent threats to both officers and public."https://t.co/HMWUTqP0Nk pic.twitter.com/12FJWBOIIJ

— CBS4 Miami (@CBSMiami) May 29, 2020
More than 500 Minnesota National Guard soldiers arrived in Minneapolis, St. Paul and surrounding suburbs late Thursday night to "protect life, preserve property and the right to peacefully demonstrate."
We have activated more than 500 soldiers to St. Paul, Minneapolis and surrounding communities. Our mission is to protect life, preserve property and the right to peacefully demonstrate. A key objective is to ensure fire departments are able to respond to calls.

— MN National Guard (@MNNationalGuard) May 29, 2020
Early Friday, as the soldiers, and Minnesota State Patrol cleared people out of the area around the 3rd Precinct, troopers arrested a black CNN correspondent, Omar Jimenez, and his crew as they reported on the unrest in city live on air.
CNN reported that Jimenez was released before 7 a.m. Minnesota Gov. Tim Walz personally apologized to the network's president, accepting full responsibility.
CNN's @OmarJimenez and his crew have been released from police custody. He recounts getting arrested and what happened while they were in custody. https://t.co/v3kMq77Oro pic.twitter.com/JoqmwlTc5i

— CNN (@CNN) May 29, 2020
Protests and rioting also broke out in several other U.S. cities Thursday night, including Los Angeles, New York, Denver and Louisville.