Former national security advisor Susan Rice wrote her last minute and now infamous "by the book" email to herself upon the advice of the White House Counsel, a newly released letter reveals.
Rice's email purports to describe a Jan. 5  briefing in the Oval Office between Obama, then-Vice President Joe Biden, then-Deputy Attorney General Sally Yates, then-CIA Director John Brennan, then-Director of National Intelligence James Clapper, and fired former FBI Director James Comey.
Rice's attorney and former Obama White House Counsel Kathryn Ruemmler wrote the letter to Sens. Chuck Grassley, R-Iowa, Dianne Feinstein, D-Calif., Lindsey Graham, R-S.C., and Sheldon Whitehouse, D-R.I. on Feb. 23, 2018.  According to Ruemmler, Rice wrote the letter  "upon the advice of the White House Counsel's Office" and didn't get to it until Inauguration Day, 2017 because "that was the first opportunity she had to do so."
Rice's short email mentioned a desire to proceed "by the book" three times.
"Given the importance and sensitivity of the subject matter, and upon the advice of the White House Counsel's Office, Ambassador Rice created a permanent record of the discussion,"  Ruemmler wrote to the senators. "Ambassador Rice memorialized the discussion on January 20, because that was the first opportunity she had to do so, given the particularly intense responsibilities of the National Security Advisor during the remaining days of the administration and transition."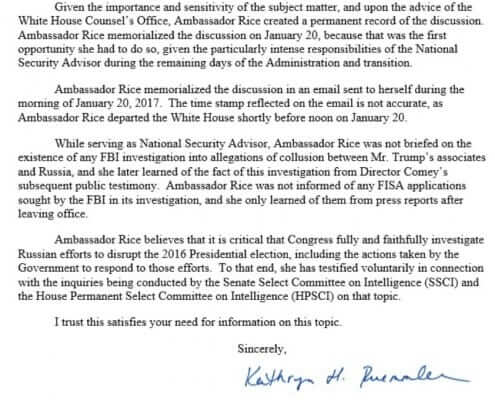 Erin Pelton, a spokeswoman for Rice, told Fox News on Wednesday that Rice penned the memo at the advice of Neil Eggleston, who was the White House counsel at the time.
According to Rice's email, Obama asked Yates and Comey to "stay behind" after the Russia briefing with the other Obama officials. The president told the two that he had "learned of the information about Flynn" and his conversation with Russian ambassador Sergey Kislyak about sanctions.
"From a national security perspective, President Obama said he wants to be sure that, as we engage with the incoming team, we are mindful to ascertain if there is any reason we cannot share information fully as it relates to Russia," Rice wrote.
Rice's email, declassified by acting Director of National Intelligence Richard Grenell, says that Comey then told Obama that he was doing everything "by the book" as it relates to law enforcement," but he had "concerns" about Flynn because he was "speaking frequently" with Kislyak.
"President Obama asked if Comey was saying that the NSC should not pass sensitive information related to Russia to Flynn," Rice wrote. According to the email, "Comey replied 'potentially,'" and "added that he has no indication thus far that Flynn has passed classified information to Kislyak, but he noted that 'the level of communication is unusual.'"
But Comey had no reason to be concerned about Flynn. Because they could find no damaging evidence against him, the FBI had moved to close their counterintelligence probe into Flynn on January 4, 2017, the very day before the "by the book" meeting at the White House. But on Comey's orders, the investigation was left open so an FBI counterintelligence team could set a perjury trap for Flynn over the phone call.
Flynn spoke by phone with Kislyak five times on December 29, 2016 after President Obama signed an executive order announcing sanctions against Russia for interfering in the 2016 presidential election. The reason there were so many calls in one day was because of a bad connection and the need to call back when the call was dropped. Comey, who had the transcripts to the calls, would have known this.
In those December 29 calls (Flynn had had to phone back a few times because reception was choppy), Flynn had urged Kislyak not to escalate tensions with the United States. Obama had just expelled 35 of Russia's spies and had levied minor sanctions against Putin's intelligence agencies as a rebuke for election meddling. According to the motion to drop his prosecution, Flynn's request was "consistent with him advocating for, not against, the interests of the United States." Moreover, Flynn's communications with Kislyak "gave no indication that Mr. Flynn was being directed and controlled by the Russian federation."
Former deputy national security adviser K.T. McFarland, who early on was also pushed out of the Trump administration and into Mueller's meat grinder, said nothing about Rice's email made sense.
McFarland told Fox News' Shannon Bream that sending an email to yourself like Rice did was an "odd thing to do."
"Why would you write a memorandum to the record for yourself unless you assumed that somebody was going to come and look for those clues, that somebody was potentially going to come after the fact and see that they've done something wrong," McFarland said. "So she was trying to make sure everything was done 'by the books.'"
McFarland also pointed out that she and Flynn had received intelligence briefings that left out Russia before the "By the Book" meeting, so Obama's question— "Is there any reason why we shouldn't bring the new team in on what we're doing with Russia?"—doesn't make sense.
During a briefing three weeks prior,  "every other topic was mentioned" including North Korea, China and ISIS," she said. "But they didn't mention anything about Russia and yet they knew, at that point, that they were about to sanction Russia for election interference."
"So none of it really [jibes] unless you look at it from the perspective of they knew they had done something wrong and now they were trying to cover their tracks," McFarland said.
"I mean, it's the most bizarre thing I've read," former congressman Trey Gowdy (R-S.C.) remarked on Fox News, Wednesday. "It is, 'Dear Diary, President Obama is perfect and Jim Comey says he's done everything by the book.' Well, I'd like to know what book he's following."