The 1619 Project—the New York Times campaign launched in August 2019 to transform American history into a tale of racial oppression and nothing but for the last 400 years—has attracted a great deal of critical attention. Much of this attention has come from professional historians who are nonplussed by the numerous misstatements of fact, the disappearance of key historical events, and the forced march of polemical interpretation that the Times attempted to hang on American history.
The dissenting historians themselves have found various outlets to express their views. Among the most intriguing of these platforms has been the World Socialist Website, which has featured interviews with such luminaries as Gordon Wood, university professor at Brown University, and James McPherson, professor emeritus of U.S. history at Princeton University.
The socialists, upset with the Times for preferring racial grievance to class grievance, rounded up other prominent historians, including Victoria Bynum, James Oakes, Dolores Janiewski, Richard Carwardine, and Clayborne Carson, to express their critiques of the Times' fanciful attempt to rewrite history.
The socialists' foray is welcome as it demonstrates that scholars who by no means can be classified as conservatives are eager to point out where the Times went wrong. But the field of Times critics isn't limited to those who have sat for interviews with the World Socialist Website. Others include Sean Wilentz of Princeton, who took to the pages of The Atlantic to explain how the 1619 Project "has been undermined by some of its claims;" and Lucas Morel, who explains that "America Wasn't Founded on White Supremacy," on The American Mind.
In fact, a small industry has grown up consisting of historians and historically minded social scientists who are, one by one, refuting all of the serious claims of the 1619 Project.
I've been printing these out and my stack is several inches thick. The reader who wishes to wade in deeper to these waters will get an assist from Philip Magness's bibliography on "The 1619 Project Debate," at least as it stood on January 3. Still more assistance can be found on John Fea's website, "The Way of Improvement Leads Home," which has been tracking "The 1619 Project: Debate Continues." And one shouldn't miss the efforts of Robert Woodson and the Woodson Center to counter the 1619 Project with its own "1776 Project."
For my part, I am working with my colleagues at the National Association of Scholars on what we call the "1620 Project," which suggests that if we are going to look for the founding of America in early years of the 17th century, the 1620 Mayflower Compact may have a better claim to our attention than the arrival of a pirate ship in Jamestown, Virginia with a handful of African captives in August 1619. I am working on a book about that right now—which has taken me deeper into the details of the Times' roll-out of its project than I expected to go.
The following adds nothing of substance to the scholarly critique of The 1619 Project, but it illuminates the attitudes of the Times towards its critics. Those attitudes were prominently displayed in late December when five prominent historians—Victoria Bynum, James M. McPherson, James Oakes, Sean Wilentz, and Gordon S. Wood—wrote a letter to the Times to "express our strong reservations about important aspects of The 1619 Project." The Times printed the letter and added a snarky rebuttal by editor-in-chief Jake Silverstein, who explained that the Times would be making no corrections, because—well, because it is all a matter of interpretation.
"Historical understanding is not fixed," and the Times was succeeding in what it really wants to do, which is to "expand the reader's sense of the American past." Expanding that sense in the direction of fictions and fabrications is, apparently, a worthwhile undertaking.
The Times has continued to promote The 1619 Project in this spirit, with full-page self-glorifying advertisements that explain that the project "sparks important dialogue."
Well, I am all for dialogue, though there hasn't been much visible response from the project's progenitors to those who have found fault with its methods and its conclusions. But I didn't want to rest on a mere impression. The key figure in The 1619 Project is Nikole Hannah-Jones, who leads it and who penned its lead manifesto, "Our Democracy's Founding Ideals Were False When They Were Written. Black Americans Have Fought to Make Them True." In this essay, Hannah-Jones contends that the Founding Fathers did not actually believe that "All men are created equal," because they wrote these words as slave owners.
Since the launch of The 1619 Project, Hannah-Jones has booked at least 40 speaking engagements at colleges, universities, and nonprofit organizations. At these events, she presents the "1619 Project-view" of history on her own or as part of a panel, often followed by a Q&A with the audience. Dialogue? Yes, but not with critics.
According to Hannah-Jones' personal website, at the scheduled 40 speaking engagements since The 1619 Project's launch, 18 of these featured her speaking solo. The other 22 events featured other speakers and were often marketed as a "dialogue" or a "conversation." These 22 events included a total of 49 interlocutors.
Exactly three of her interlocutors have been trained historians who hold a doctoral degree in the field. None of those three are known critics of the project. Speakers have received advanced, post-bachelor academic training in nonhistorical fields, including journalism, English, comparative literature, law, the arts, and public policy. If you squint hard, you can see the small slice labeled "history" representing a mere 6.1 percent of the total.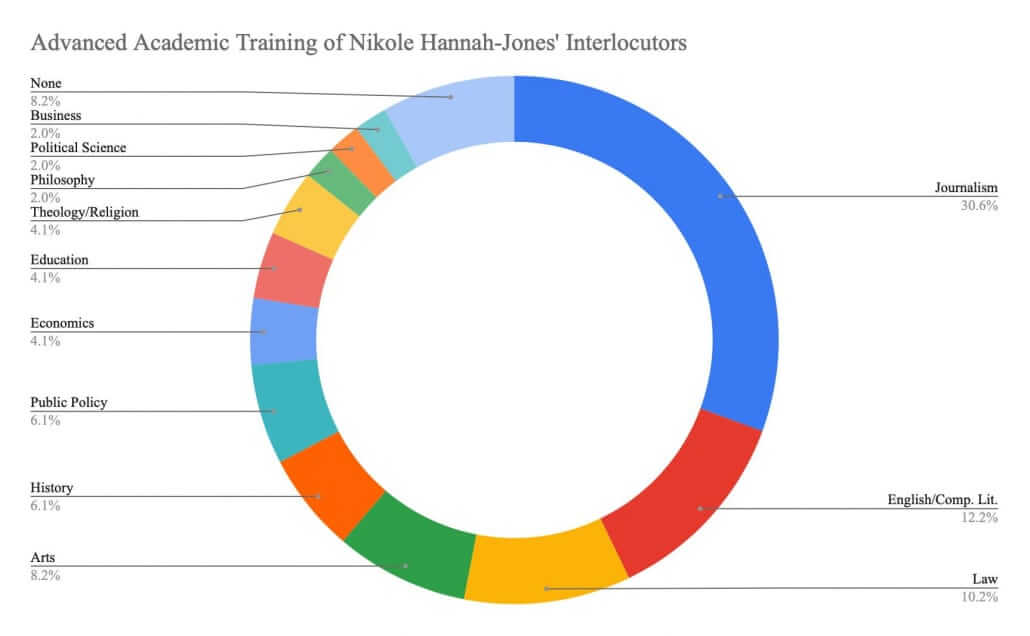 The interlocutors described above only appeared in a fraction of Hannah-Jones' speaking engagements. In the remaining 18 events, constituting nearly half of her talks, she speaks on her own. Figure 2 shows that over 90 percent of Hannah-Jones' events lack a single historian. The result is a series of overwhelmingly nonhistorical monologues and dialogues designed to achieve an overtly historical end.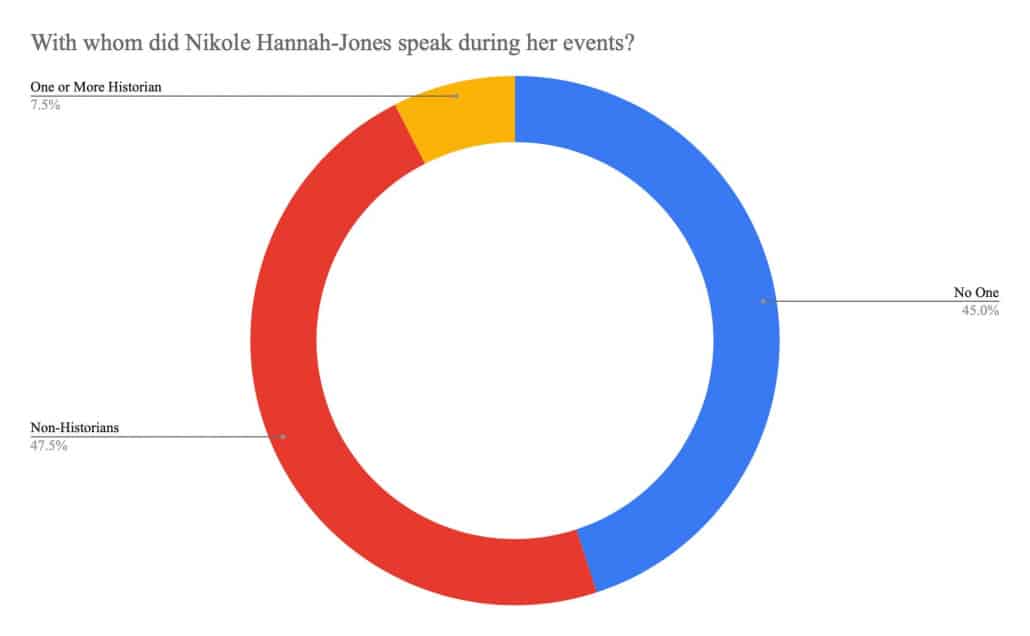 This is not to imply that nonhistorians cannot contribute to the historical discourse, but rather that an unambiguously historical project ought prominently to feature historians. Hannah-Jones, trained as a journalist, founded a project designed to reframe all of American history. She then goes on to engage with fewer historians than I can count on one hand. This is a mockery of authentic historical scholarship and exposes Hannah-Jones' ulterior motives.
To clarify, while the National Association of Scholars maintains that The 1619 Project's depiction of history is blatantly incorrect, we do not oppose Hannah-Jones' speaking engagements on these grounds. She and the New York Times have a right to propagate the views they choose to support, however wrong we believe they are.
Rather, our problem with Hannah-Jones' 1619 events is the combination of a nonhistorian founding a campaign with the explicit aim of "recasting all of American history;" and her demonstrated refusal to engage substantively with any of the myriad historians who criticize this recasting.
Nikole Hannah-Jones clearly has no interest in engaging with historians or having her historical arguments challenged. The 1619 Project's claims are unorthodox and controversial but are presented as unquestionable truths. A bevy of accomplished historians have come out against these ideas and have been all but entirely ignored by Hannah-Jones and the New York Times. Why are they so afraid?
If the writers of The 1619 Project are concerned with earnestly presenting a new historical theory, then they should gladly accept scrutiny and critique from credible sources. This is how history works, to separate truth from falsehood. Instead, Hannah-Jones leapfrogs straight from historical theory to established fact. The 1619 Project is not concerned with uncovering historical truths, but instead uses pseudo-history as a means to undermine rational, non-partisan historical inquiry.
After all, what is the ultimate implication of the "1619 view" of history? All of America was built upon a lie. Freedom, liberty, and natural rights are swept away with a broad brush. The real founding principles of America are oppression, inequality, and suffering. The country, therefore, needs to be torn down and rebuilt. By whom? The New York Times, their sympathizers, and the future generation indoctrinated with these ideas during their schooling. Only then can the true America be realized.
This is the endgame of The 1619 Project, a radical, political campaign thinly veiled behind a façade of dubious pseudo-scholarship.
Nikole Hannah-Jones should step up, be courageous, and debate the historians with whom she disagrees. They're waiting. All historical claims, particularly those with as wide-reaching and radical ramifications as these, must be discussed and scrutinized by trained scholars. The failure to  engage in this way will result in the widespread proliferation of lies that have disastrous consequences for the future of our country.