The New York Times on Thursday covered U.S. Army Lt. Col. Jim Hickman's explosive allegations against Democrat "star witness" Lt. Col. Alexander S. Vindman by casting aspersions on Hickman's character.
Last week, Hickman divulged on Twitter that Vindman "really talked up" President Barack Obama and ridiculed America and Americans in front of Russian military officers when Hickman worked with him in Grafenwoher, Germany in 2013. Hickman said that he "verbally reprimanded" then-Major Vindman after he heard some of his derisive remarks for himself. "Do not let the uniform fool you," Hickman wrote. "He is a political activist in uniform."
The Times characterized Hickman's account as "unsubstantiated," even though it was backed up by his boss at the time. And on Friday, a second individual who witnessed the incident, provided American Greatness with a statement saying Vindman "was uncomfortably supportive of Obama" and "almost self-hating of white Americans."
While Vindman is frequently described in the media as a patriot and a Purple Heart recipient, Hickman was described by Times reporters Mike McIntire and Nicholas Confessore as a "Florida man" and "fan of QAnon" in the story's fourth paragraph.
As American Greatness reported on Monday, Hickman is a wounded warrior who fought in Afghanistan and Iraq and received multiple combat medals—including the Purple Heart. He took medical leave from the service in 2017 due to complications from his injuries, and now resides near Tampa, Florida.
The picture below was taken of Hickman in a bunker in Kunar Valley, Afghanistan following a firefight in which he had lost some men.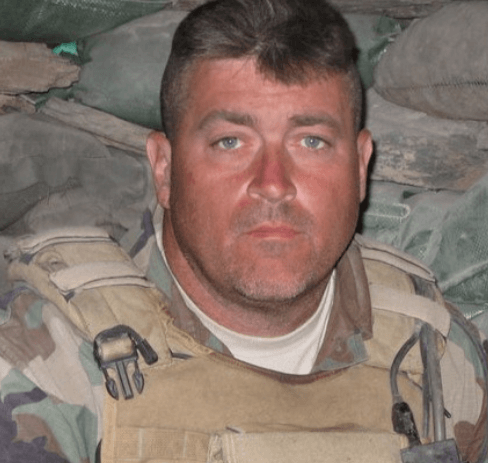 In addition to the Purple Heart, Hickman also received an Afghanistan Campaign Medal with two Stars, Iraq Campaign Medal with three Stars, Presidential Unit Citation, Combat Action Badge, Air Assault Badge, two Bronze Stars, Legion of Merit, four Meritorious Service Medals, five Army Commendation Medals, two Army Achievement Medals, Good Conduct Medal, National Defense Service Medal, Global War on Terror Expeditionary Medal, Global War on Terror Service Medal, Korea Defense Service Medal, and a NATO Medal.
McIntire and Confessore suggested that Hickman coordinated with the White House to smear Vindman, noting that President Trump hinted over the weekend that information regarding Vindman's partisanship would soon be coming out.
"You'll be seeing very soon what comes out," Mr. Trump told reporters on Saturday. The Times suggested that the information was coming out in "the dark corners" of the internet via Hickman.
Mr. Trump was not more specific. But an attack on Colonel Vindman's character and motives was already making its way from the dark corners of Mr. Trump's social media following to the front lines of the impeachment battle.

One day earlier, the right-wing commentator Jack Posobiec had retweeted a lengthy thread by a Florida man — a fan of QAnon, a fringe conspiracy about the "deep state" — claiming to have witnessed Colonel Vindman "bash America" in conversation with Russian officers during a joint military exercise in Germany in 2013.
Hickman shot down the insinuation that he was working with Trump, telling American Greatness: "I've never spoken to anyone in or associated with the White House, or the Trump campaign, or anyone associated with President Trump."
The Times article goes on to claim that Hickman's accusations were "unsubstantiated" and "rejected by some of the colonel's colleagues."
But Hickman's former boss, Thomas Lasch, a highly respected simulation strategist at the Joint Multinational Simulation Center in Grafenwoehr, Germany, corroborated his story on Twitter and to American Greatness.
"Jim, I remember exercise ATLAS VISION and this incident. I was your Boss at the time and was satisfied when you told me that you 'took care of it' (meaning then MAJ Vindman's disparaging comments about the U.S. to the Russians ) and I just put things together this past week," Lasch tweeted.