Is the Flynn case hurtling to a final reckoning? On October 24, former National Security Advisor Michael Flynn's attorney, Sidney Powell, filed a bombshell brief in which she accused the prosecution, led by Robert Mueller alumnus Brandon Van Grack, of spearheading a politically motivated prosecution characterized by shocking (alleged) misconduct on the part of the investigators and the prosecution team.
Amid the allegations of hiding evidence, even destroying evidence, came a new accusation that cast doubt on the viability of the prosecution itself. Michael Flynn pleaded guilty to the crime of making false statements to the FBI. But we now learn that Flynn's attorney has produced evidence that Flynn's statement was actually edited and doctored by a group of FBI officials who were not present during the interview. These include the infamous Lisa Page (implicated in the Office of Inspector General report of political corruption in the investigations of Donald Trump and Hillary Clinton) and Andrew McCabe (former deputy director of the FBI, fired for lying about leaking). 
Powell wrote, "Overnight, the most important substantive changes were made to the Flynn 302. Those changes added an unequivocal statement that 'Flynn stated he did not"—in response to whether Mr. Flynn had asked Kislyak to vote in a certain manner or slow down the UN vote." 
But, the original notes of the interviewing agents showed, "Mr. Flynn was not even sure he had spoken to Russia/Kislyak on the issue." She points out that additional material was added to the account of Flynn's statement that did not appear in the notes of the interviewing agents.
It's simply impossible to understand how an American can be held criminally liable for making a "false statement" when the account of his "lie" was manipulated and doctored without his participation. 
In response to the Powell brief, the court dramatically cancelled the planned hearing writing, "In view of the parties' comprehensive briefing concerning [109] Defendant's Motion to Compel Production of Brady Material, the Court cancels the motion hearing previously scheduled for November 7, 2019. Signed by Judge Emmet G. Sullivan on 10/28/2019."
The government responded with a short rebuff arguing that Flynn made these arguments at the wrong time and in the wrong form. It did not attempt to rebut the specific allegations or evidence and instead insisted that it should have the opportunity to address these charges in additional briefing.
In a shocking retort, the judge then fired back at the government with this order: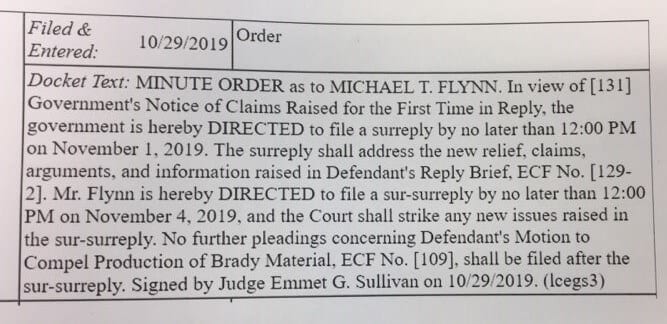 The gist of this order is that the government has less than three days to respond to Powell's bombshells. It's not enough time for a considered response which is an indication that the judge is frustrated and wants to move this case along. Along to what? Is he frustrated with Flynn's attorney for raising new complicating arguments? Or is he about to lower the boom on the government for failing to be transparent to the court and Flynn? Stay tuned.