As part of the House's impeachment "inquiry," an active duty officer on the National Security Council testified Tuesday that he'd had concerns about the July phone call between President Trump and Ukrainian President Volodymyr Zelensky and reported his concerns to the NSC's lead counsel.
Appearing at a closed door deposition before the House Permanent Select Committee on Intelligence, the House Committee on Foreign Affairs, and the House Committee on Oversight and Reform, Lt. Col. Alexander Vindman said that he "listened in on the call in the Situation Room with colleagues from the NSC and the office of the Vice President."
Vindman made a point of saying that the American people already have the most important piece of evidence, the transcript of the phone call.  "As the transcript is in the public record, we are all aware of what was said," he noted.
Vindman also admitted that he'd never had any contact or communication with President Trump, about Ukraine or anything else.
"I have never had direct contact or communications with the President," he said.
In his testimony, Vindman noted that the president made the call at the behest of the NSC after Zelenskyy's party won the Parliamentary elections in a landslide victory, undermining allegations that the call was part of a "quid pro quo" conspiracy.
"The NSC proposed that President Trump call President Zelenskyy to congratulate him," Vindman said.
He told lawmakers that he was concerned about Trump's request that Zelensky look into allegations of corruption involving Joe Biden and his son Hunter.
"I did not think it was proper to demand that a foreign government investigate a U.S. citizen, and I was worried about the implications for the U.S. government's support of Ukraine," Vindman said.
He added, " I realized that if Ukraine pursued an investigation into the Bidens and Burisma, it would likely be interpreted as a partisan play which would undoubtedly result in Ukraine losing the bipartisan support it has thus far maintained." After stating that he was primarily concerned about the political optics, he went on to say that the "partisan play" would "undermine U.S. national security."
"Following the call, I again reported my concerns to NSC's lead counsel," he said. The top NSC lawyer is 52-year-old John A. Eisenberg, who has emerged as a central figure in UkraineGate.
Democrats opened their impeachment inquisition against the president after an anti-Trump "whistleblower" alleged that Trump pushed Zelensky to investigate former Vice President Joe Biden and his son Hunter as part of a quid pro quo. Since then, a parade of witnesses have testified behind closed doors about the president's alleged effort to pressure Ukraine, and Intel Chairman Adam Schiff has leaked details deemed helpful to the Dems impeachment efforts to the media.
Meanwhile, the White House and the president's allies maintain there was no such quid pro quo and Trump disclosed everything anyone needed to know when he released the transcript of his July phone call with Zelensky.
Dear Media Lunatics,
You may have missed the "scoop" but WE ALREADY HAVE THE TRANSCRIPT!

— Dan Bongino (@dbongino) October 29, 2019
"We had a very good conversation with the Ukrainian president. The conversation was — was perfect. They don't ever talk about the conversation. It started with a whistleblower. Now they don't want the whistleblower. Then they had a second whistleblower. Now they don't want the second whistleblower," Trump said Monday.
The Federalist's Sean Davis suggested in a tweet that Vindman may have maliciously leaked details about the Trump-Zelensky phone call to help spark the "inquiry."
I have significant concerns about whether an active duty officer deliberately leaked top secret information as part of a deliberate effort to subvert the authority of his military command and potentially overthrow the elected commander-in-chief. https://t.co/BZDiq4Qpiq

— Sean Davis (@seanmdav) October 29, 2019
Meanwhile, ahead of his testimony on Capitol Hill, a few conservative pundits focused on the fact that Vindman immigrated to the U.S. from the Ukraine as a child and speaks fluent Ukrainian and Russian.
"Here we have a U.S. national security official who is advising Ukraine, while working inside the White House, apparently against the President's interest, and usually, they spoke in English," Fox News host Ingraham said on her show Monday night.  "Isn't that kind of an interesting angle on this story?!"
Her guest John Yoo, replied: "You know, some people might call that espionage."
On Fox & Friends, Tuesday morning, co-host Brian Kilmeade noted that Vindman had "an affinity to the Ukrainian people" and that "he tends to feel simpatico with Ukraine."
New CNN analyst Sean Duffy, a former Republican congressman used similar language to describe Vindman during a spot on CNN's New Day Tuesday morning. "It seems very clear that he is incredibly concerned about Ukrainian defense. I don't know that he's concerned about American policy … we all have an affinity to our homeland where we came from … he has an affinity for the Ukraine," he said.
These mild remarks have caused the corporate media to go into hyper overdrive to protect their latest deep state hero: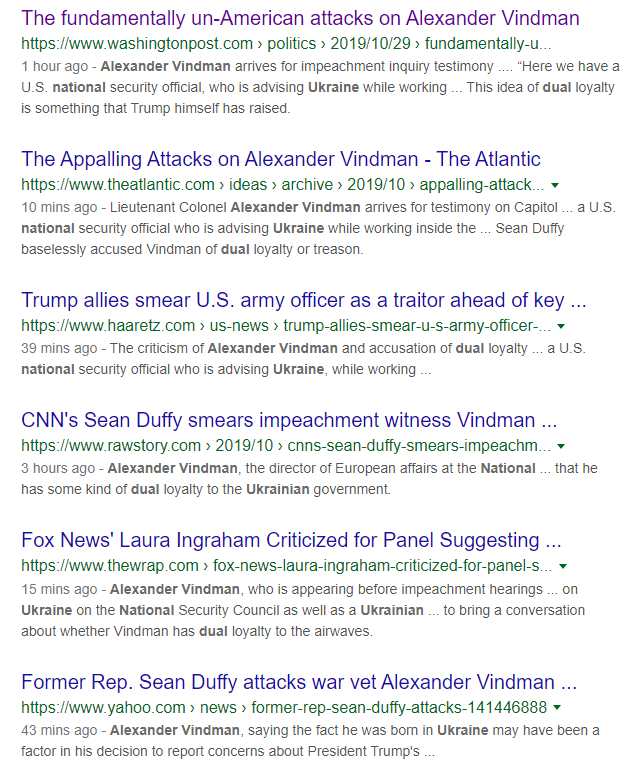 Much of the hyperventilating revolved around the unfounded implication that Vindman could be a Russian or Ukrainian spy, which is rich since the media has been smearing the president, his staff and his supporters as Russian agents for the past three years.
Take it up with the NYT; not @IngrahamAngle and @RepSeanDuffy. Maybe unleashing a Mueller-like SC on Vindman as was done to Flynn after he was sandbagged by McCabe/Strzok is now needed to sort out the facts. If he did nothing wrong, he should have no worries. Right? pic.twitter.com/gclwF2lEVx

— Yossi Gestetner (@YossiGestetner) October 29, 2019
Former NSC chief-of-staff Fred Fleitz noted on Twitter that there is nothing wrong with questioning Vindman's motives, but chastised conservatives for "needlessly and wrongly" smearing him.
"Is Alexander Vindman wrong in the allegations he has made to the House or acting for partisan reasons? I don't know, but it is legitimate to ask these questions. They're not off the table just because Vindman is an Army officer," Fleitz tweeted.
"However, I strongly agree with @Liz_Cheney that is is wrong to question Vindman's patriotism. There are many legitimate reasons why the Dem impeachment process is a fraud. The president's supporters are hurting their case by needlessly and wrongly smearing Vindman," he added in a follow-up tweet.
/2 However, I strongly agree with @Liz_Cheney that is is wrong to question Vindman's patriotism. There are many legitimate reasons why the Dem impeachment process is a fraud. The president's supporters are hurting their case by needlessly and wrongly smearing Vindman.

— Fred Fleitz (@FredFleitz) October 29, 2019
While Fleitz is certainly correct, it's always good to point out the gross hypocrisy of the corporate media.