A conservative, Trump-supporting beauty queen has been stripped of her Miss Michigan title over allegedly "offensive, insensitive and inappropriate" social media posts.
Kathy Zhu, 20 was born in China and immigrated to the US when she was five years old, according to news.com.au.
She is a University of Michigan student and vice chair of her campus Republican student group. Zhu is also a prominent online conservative known as @Political Kathy with over 60,000 followers on Twitter, and 11,200 followers on Instagram.
In 2016, Kathy was a very active volunteer for Chinese-Americans for Trump and spent hours going door-to-door during the election pic.twitter.com/Z5MR7CR79M

— Jack Posobiec ???????? (@JackPosobiec) July 19, 2019
Earlier this week, she became a 2019 national finalist in the Miss World Competition that will be held in Las Vegas in October.
In a tweet Thursday night, Zhu announced that she had been stripped of her Miss Michigan title "due to my refusal to try on a hijab in 2018, my tweet about black on black gun violence, and 'insensitive' statistical tweets."
BREAKING: The @MissWorldLtd competition has stripped Trump supporter @PoliticalKathy of her title as Miss Michigan pic.twitter.com/Io2rkEzeiY

— Jack Posobiec ???????? (@JackPosobiec) July 19, 2019
Zhu posted on Twitter text messages from Laurie DeJack, the state director of Miss World America, informing her that there was a problem with her social media and that they needed to talk. In the exchanges, DeJack repeatedly texted Zhu, telling her that there was a huge "problem" or "issue." This seemed to confuse and worry Zhu, the texts show. Finally, DeJack explained to the student that one of the problems was a tweet where Zhu had noted that the majority of black deaths are caused by other black citizens.
Zhu wrote in the tweet: "Did you know the majority of black deaths are caused by other blacks? Fix problems within your own community first before blaming others." While her sentiments may be politically incorrect, it is undeniably true that the majority of black deaths are caused by other blacks.
Trump supporter @PoliticalKathy stripped of Miss Michigan title over 'racist' tweets https://t.co/GNj8PRMlFv @newscomauHQ pic.twitter.com/r2mQz4UeeE

— Frank Chung (@franks_chung) July 19, 2019
Zhu posted DeJack's letter informing her of MWA's decision to yank her title, along with the text messages.
"It has been brought to the attention of Miss World America that your social media accounts contain offensive, insensitive and inappropriate content, and in violation of MWA's Rules and Conditions, specifically the contestant requirement of 'being of good character and whose background is not likely to bring into disrepute Miss World America or any person associated with the organisation,'" DeJack wrote.
She added, "Therefore, and effective immediately, MWA does not recognise you as a participant of any sort or in any capacity as it relates to any and all events of MWA. Furthermore, let this communication serve as official notice to remove any mention of yourself as a participant in MWA from all social media platforms (including photographs of you wearing the MWA Michigan sash and/or crown, and any text claiming to be a participant of MWA events)."
Zhu wrote in reply: "Statistics and facts are not always pleasant. It's disgusting how you would rather lie to the public's face than be supportive of someone that is trying to make a difference by talking about subjects that no one dares to say."
Regarding the hijab incident, she wrote that "a Muslim woman tried to forcibly put a hijab on my head without my permission."
"What's 'insensitive' is that women in the Middle East are getting stoned to death for refusing to obey their husband's orders to wear hijabs," Zhu added.
"I tweeted about it on my social media … Almost everyone was supportive of me refusing to be put in that situation. Are the people in MWA implying that they advocate for the punishment of women who refuse to wear a hijab?"
These are the text message exchanges between the state director and me. pic.twitter.com/HtHS1gns6X

— Kathy Zhu (@PoliticalKathy) July 19, 2019
The hijab controversy took place in early 2018 while Zhu was a student at the University of Central Florida.
Muslim students at the university were holding a "Try a Hijab" event to celebrate World Hijab Day on campus when Zhu walked by.
One of the Muslim students reportedly asked Zhu if she wanted to try on a hijab. She politely declined and posted her thoughts on Facebook.
Zhu, it turns out, is not a fan of hijabs:
One of the Muslim students in the photo took to Twitter to blast Zhu for taking a photo of her without her consent.
She later led an effort to get Zhu expelled from campus for being "Islamophobic."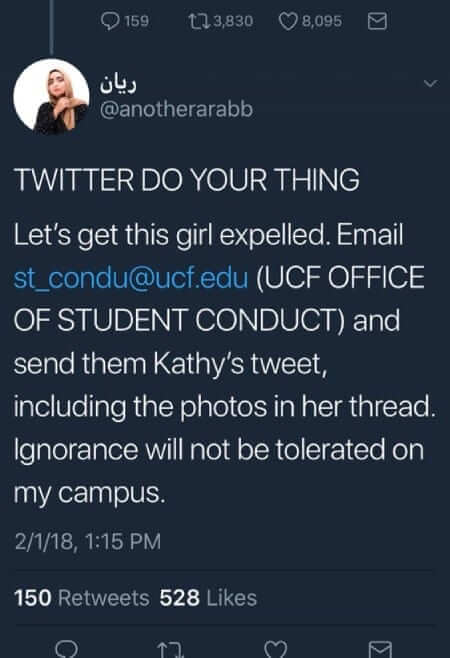 Zhu responded by noting that UCF is a public campus so she has a right to take photos. She also pointed out that declining to try on a hijab is not grounds for expulsion.
Mohammad Tawhidi, an Iranian Muslim scholar from Australia known as the "Imam of Peace," took Zhu's side in an email to UCF.
"Greetings,

My name is Imam Tawhidi, and I'm an Australian Muslim Scholar. You may read about me on my website, www.Tawhidi.com, or the attached document.

I'm writing regarding a tweet calling for the expulsion of one of your students, Kathy Zhu, due to her rejection to participating in wearing the Islamic dresscode on your school campus. She has been subjected to a wave of hate and criticism by Muslim campaigners; all calling for her expulsion. Should the administration of your university decide to expell Kathy, I request the opportunity to clarify to those concerned that what the Muslim students were doing is actually against their own Islamic teachings.

There is no compulsion in any religion, and the Hijab Day event was nothing more than a political statement – and not a religious presentation promoting diversity.

Lastly, your university should maintain equality and also provide platforms to the adherents of other religions to commemorate their religious practices, and stop providing special treatment to a certain group of students.

Thank you

Imam Tawhidi"
UCF also released a statement saying that no disciplinary action would be taken against either student, even though the Muslim student appeared to be leading a campaign of harassment against Zhu.
"The University of Central Florida has received a number of emailed complaints suggesting that disciplinary action be taken against students involved in a disagreement being played out via social media," the statement read. "Upon review, neither student's actions as reported to the university violate our Rules of Conduct."
For resources relating to this statement, please click here: https://t.co/aRu4VvHhnt pic.twitter.com/Ff5gdK0CyX

— UCF (@UCF) February 2, 2018
In one of her texts, DeJack asked Zhu why she left the University of Central Florida.
The student answered, "Because I transferred to UofM??"
After DeJack texted back "why?," the two apparently had a phone call that resulted in an emotional Zhu hanging up on DeJack.
"It's sad and disheartening that you're taking their side before even asking me what my side is," Zhu texted DeJack. "For you to assume that I came to UofM because of a 'suspension' is ridiculous. UofM WILL NOT ACCEPT ANY STUDENT WHO GOT SUSPENDED FROM ANOTHER COLLEGE because of something," she wrote.
Several noted conservatives rallied to Zhu's side on Twitter:
"This is unbelievable," BlazeTV host Lauren Chen tweeted. "@PoliticalKathy has been stripped of her pageant title for not wanting to wear a hijab and for highlighting crime rates in some black communities. The fact that these pageant people find her views offensive speaks more to their own bigotry than anything else."
RightWingNews' John Hawkins wrote, "A conservative woman isn't even allowed to enter a beauty pageant anymore without holding the right politically correct opinions. Whatever happened the land of the free and the home of the brave?"
Music video director Robby Starbuck added, "Apparently you can't even participate in a @MissWorldLtd pageant if you're *gasp* openly Republican. What a sorry bunch of bigots. @PoliticalKathy you're still Miss Michigan to anyone with a functioning frontal lobe in their brain."
Recording artist Joy Villa wrote: "This is insane. @MissWorldLtd Beauty Queen @PoliticalKathy stripped of her Miss Michigan title for…being a CONSERVATIVE? Unbelievable. #stopthebias"
"I stand with @PoliticalKathy," tweeted Muslim reformer Shireen Qudosi. "As a Muslim I'm offended @MissWorldLtd would FORCE any woman to wear a hijab. Islam does not force a hijab and encourages choice. Stop appropriating our religion to score intersectionality brownie points."
"I have no words," said @RedEaglePatriot, a podcast host and YouTuber. "Conservatives are being treated like second class citizens in this country."