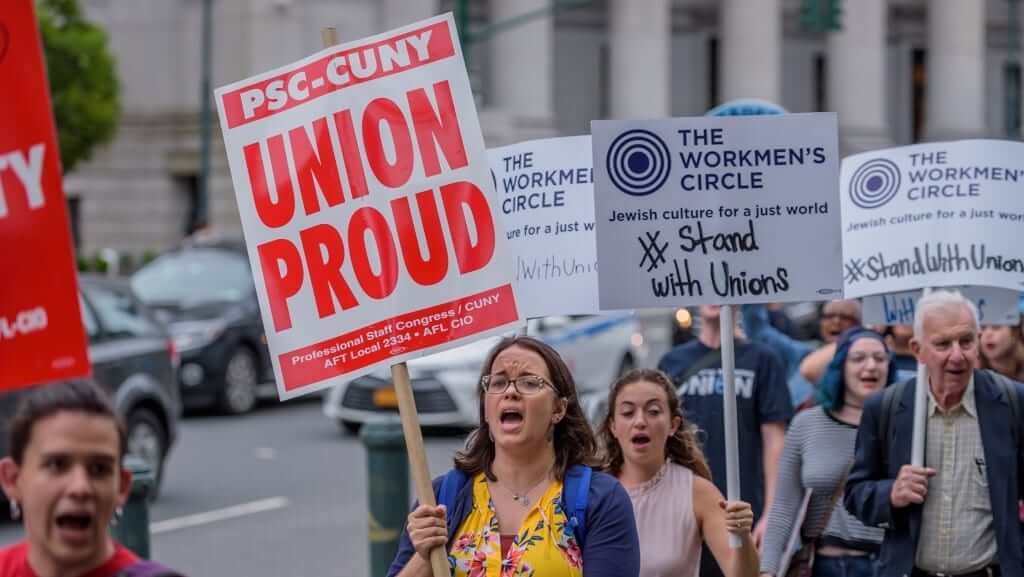 It seems like an awful lot of people didn't like paying their mandatory union "dues."
Two of the largest public sector unions in the country lost more than 210,000 so-called "agency fee members" in the wake of last year's Supreme Court ruling that said unions could no longer force non-members to pay partial dues. That case, Janus v. American Federation of State, County and Municipal Employees, effectively freed public workers from having to make "fair share" payments—usually totaling about 70 to 80 percent of full union dues—in lieu of joining a union as a full-fledged member.
The exact figures are astounding.
Now, annual reports filed with the federal Department of Labor show that the American Federation of State, County and Municipal Employees (AFSCME) lost 98 percent of it's agency fee-paying members during the past year. Another large public sector union, the Service Employees International Union (SEIU), lost 94 percent of their agency fee-paying members.

Even though unions were preparing for a mass exodus in the wake of the Janus ruling, the numbers are staggering. In 2017, AFSCME reported having 112,233 agency fee payers (compared to 1.3 million dues-paying members), but that figure dropped to just 2,215 in the union's 2018 report. The SEIU reported having 104,501 agency fee-payers in 2017 (compared to 1,919,358 dues-paying members), but just 5,812 of them at the end of 2018.
This exodus is hurting the union's bottom line. Between 2017 and 2018, AFSCME reported a $4.2 million drop in revenue. The SEIU did not report a similar loss although the latest reporting may not be updated. Regular union membership remained stable meaning only the people who were robbed by the unions opted out of the shake down fees. But as you can see, that's a respectable amount of coin.
"Most agency fee payers left," said Patrick Wright, vice president for legal affairs at the Mackinac Center for Public Policy, a conservative advocacy group. "The big question going forward is how many full members are going to join them."
An SEIU spokesman said the disclosure report shows "members are sticking together despite anti-worker extremists spending millions to divide us."
Here's some additional good news from Bloomberg Law, "outside of funds taken in, public sector unions have had to dish money out to defend against a slew of Janus-related lawsuits seeking fee refunds, and challenging unions' power to represent nonmembers and their ability to limit when former members stop paying dues."
Hopefully there's something to be done about the public-sector unions next.
(Photo by Erik McGregor/Pacific Press/LightRocket via Getty Images)