Last week, I received an email from Hillary Clinton's 2020 presidential campaign . . . er, I mean her political action committee, Onward Together, touting how 19 of the 23 Democrat women elected to the U.S. House of Representatives earlier this month have never before held office.
The same day, I stumbled upon this graphic from MoveOn.org: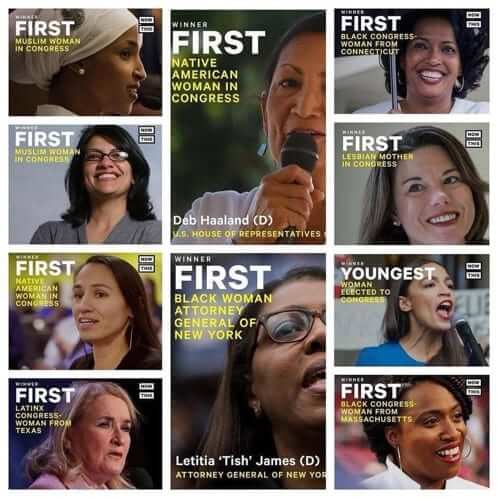 Muslims and Native Americans and lesbian mothers, oh my! Halal and gambling for all!
As an American whose life, family, and business are all potentially affected by these newly elected officials, I've got to ask: how do any of those "firsts" translate into lawmaking skills and qualifications?
In sales, you're only as good as your last sale. Well, politics is sales. This was confirmed with the midterm election's many Democrat "firsts," to which we will get in a moment.
Although Democrats have lost more than 900 state elections and 100 national elections in the past decade, I've never wavered in my belief that Democrats are just better at selling politics than Republicans are.
The Dishonesty of the Diversity Cult
Donald Trump's historic and glass-ceiling shattering election as our nation's first truly civilian president (he had no military or government experience before his election), was far more significant than Obama's election as our first black president. In Trump's case, Republicans weren't motivated to elect him for the sake of "making history," the way Obama voters were. Instead, they were motivated by the primal human emotion of fear. They were afraid of what a Hillary Clinton presidency would mean for our form of government and way of life.
Promoting the sexiness and allure of the "first" this or that is where Democrats have always thrived. As I discuss in my forthcoming book, 10 Warning Signs Your Child is Becoming a Democrat, Democrats are highly adept at marketing minority status, race, ethnicity, gender, lifestyle choices and sexual orientation as skills and qualifications. This is the grand illusion of the big diversity lie, in which numerous congresswomen- and governors-elect all look very different from straight white males, but in reality, think pretty much identical both to each other and to the left-wing males they are replacing—just like a cult.
So just how "diverse" are the districts and seats they won? If we define diversity as a stand-in for at least some degree of ideological and electoral balance, then most aren't diverse at all.
The Muslims
Ilhan Omar of Minnesota and Rashida Tlaib of Michigan are our first Muslim congresswomen.
Omar won her race by 56 percentage points. Minnesota's 5th Congressional District has been represented only by Democrats for the last 20,000 consecutive days. Before her win, Omar served in Minnesota's House of Representatives.
Tlaib, a member of the Democratic Socialists of America, won her race by a whopping 73 percentage points. Michigan's 13th Congressional District has been represented only by Democrats for the last 25,500 consecutive days. Before her win, Tlaib had served in the Michigan state House of Representatives.
How does being Muslim qualify somebody for political office? What is the unique skill set brought to the legislative table by virtue of one's Islamic faith? Do Omar and Tlaib perhaps have superpowers because they are women as well as Muslim? Did anyone in the Democrat Media-Industrial Complex (DMIC) ever once ask either candidate questions like these?
No. Instead these women were celebrated for their historic "first" with unquestioning nods of appreciation and celebration, even though their politics seem to reflect little more than standard-issue left-wing Democrat talking points.
The Native Americans
Sharice Davids of Kansas and Deb Haaland of New Mexico are our first Native American congresswomen.
Davids won her election by nine percentage points. Kansas's 3rd Congressional District has been red for 55 of the last 57 years. Davids, a former mixed martial arts fighter, has never held elected office.
Haaland won her election by 23 percentage points. New Mexico's 1st Congressional District has been represented only by Democrats for the last 3,500 consecutive days. She previously was elected as chairwoman of the Democratic Party of New Mexico.
I struggle to see how Native American genealogy confirms a priori lawmaking erudition; perhaps a Democrat reading this can enlighten me.
Gay and Lesbian
Angie Craig won Minnesota's 2nd Congressional District by five percentage points, in a district that's been Republican for 17 years; she has never held elected office.
Craig is the first openly lesbian mother to be elected to Congress. How, I wonder, is being a lesbian mother a political skill? I certainly think being a good mother is a skill; but is she a good lesbian mother, or just a lesbian mother? Though I cannot speak to her maternal abilities, I trust she's a loving mom to her four children. Whether one believes lesbianism is genetic, or a lifestyle choice, will her lesbianism result in policies that will bolster our nation's prosperity? Who can say?
Jared Polis, currently representing Colorado's 2nd Congressional District (a seat held only by Democrats for the last 16,000 consecutive days), is now the Centennial State's first openly gay elected governor. Polis loses some "first" points for being a white guy. Colorado has had only Democrats in the governor's office for the past 4,300 consecutive days. Openly gay was a crucial résumé selling point, which got me wondering: what special advantage will Polis bring to the job as his state's chief executive for being out of the closet? Does sexual liberation have a measurable positive effect on producing sound policy? For the sake of Coloradans, I certainly hope so. Polis is also the first Jew elected governor in Colorado, so I say to him: mazel tov!
Blacks and Latinas . . . Or Is It Latinx?
Veronica Escobar and Sylvia Garcia are officially Texas's first Latina congresswomen.
Escobar won her election by 41 percentage points. The Lone Star State's 16th Congressional District has been represented only by Democrats for the last 19,500 consecutive days. Escobar, a former elected El Paso County judge, is replacing Robert Francis O'Rourke—otherwise known as "Beto."
Garcia has an especial "first," as a self-identified "Latinx" representative. Latinx, pronounced La-teen-ex, is a gender-neutral term sometimes used in lieu of Latina or Latino. Garcia won her election by 51 percentage points. Texas's 29th Congressional District has been represented by only Democrats for the past 9,000 consecutive days. Garcia has served in the Texas State Senate since 2013.
Jahana Hayes and Ayanna Pressley are the first black women elected to the U.S. House of Representatives from Connecticut and Massachusetts, respectively.
Hayes won her election by 11 percentage points. Connecticut's 5th Congressional District has been a mix of Republican and Democrat over the last half-century, but solely Democrat for the past 4,000 consecutive days. She has never held elected office.
Pressley won her election by 17 percentage points. The 7th Congressional District in Massachusetts has been represented only by Democrats for the last 35,000 consecutive days. Pressley has been a Boston city councilwoman since 2010.
Honorable mention goes to the socialist schoolgirl, Alexandria Ocasio-Cortez, the youngest woman ever elected to Congress. She won her election by 64 percentage points. New York's 14th Congressional District has been represented only by Democrats for the last 9,000 consecutive days. Ocasio-Cortez, who has never held elected office but is expert at standing on tables, assembled her Alex's Angels #Squad for selfies on $1,000 iPhones during last week's freshman House orientation.
Absent from all the "first" enthusiasm was recognition of Marsha Blackburn, as Tennessee's first female U.S. Senator (take that, Taylor Swift!), and Kristi Noem, as South Dakota's first female governor. Both are Republicans, and both beat white dudes, so they don't count. Plus, who cares about South Dakota and Tennessee? They only have a combined 14 electoral votes.
What's Next?
With huge margins of victory in districts held by Democrats for decades, it's worth asking how is all of that "diverse"? While minority status, sex, religion, and ethnicity certainly can give one a different perspective, why are those perspectives more worthy than, say, the perspective of a Catholic, heterosexual Caucasian male born in America?
To Democrats, all perspectives are equal, but some are more equal than others.
The belief that certain racial or biological attributes make some superior to others was a cause of many of the 20th century's woes. No one could mistake these newly minted elected officials with the monsters of the Third Reich, but what do we make of an electorate that is so fervently willing to cast votes solely on physical characteristics and lifestyle choices? If you want diversity, strive for excellence . . . and diversity takes care of itself. Perhaps some of these new representatives will be excellent, but all were promoted on the basis of identity, not achievement.
Photo Credit:  Kerem Yucel/AFP/Getty Images