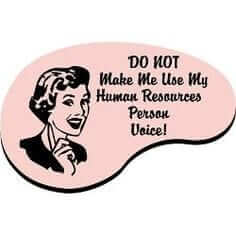 When did private rules overrule public rights? When did the Department of Human Resources become more powerful than the Police Department, minus the right to exercise deadly force, because bureaucrats can just as easily end a life by ending a person's livelihood? They do not have to fire a shot or strike a blow to inflict maximum damage against someone who breaks the rules, not when what is constitutional elsewhere is unacceptable within a place of work. Not when the hours are long, and grow longer still, until time outside the office is whatever time remains to sleep. Not when what you say or write as a citizen can compromise your status as a worker.
Welcome to the sound of silence in which it is safer to be quiet than it is to say something that may be offensive.
This environment, however, is not safe. It is a land of resentment, as combustible as any volcano and as volatile as any cascade of fire and lava.
When (not if) it erupts, the effects need not be violent. They must not be violent, though what ought to be is no guarantee against what is or will be.
As much as I abhor violence, I fear passivity even more. I fear compliance—I hate the quiet desperation of conformity—more than I worry about a physical confrontation.
Do not mistake my words about the possibility of violence as support for the use of fighting words. I think resignation is a more probable—and horrifying—outcome.
A worker who has less time to empty his office than a family has enough warning to flee their home and leave their country; a worker who must box his belongings—who no longer belongs in a building—while armed guards prepare to exit him from the premises; a worker who says or does nothing wrong at work, but posts the wrong thing when he is home from work—I fear that that man is Everyman.
I fear that his gray flannel suit is, in fact, a prison jumpsuit.
I fear for him as much as I fear for all of us.