It used to be cool to be cool in high school. "Grease" was the word, and Danny Zuko was the guy. He was the guy every other guy wanted to be like. And Olivia Newton John's Sandy was the girl the other girls wished they could infect with a severe case of the cooties, so they could take her place in Danny's arms.
But all that's changed. Danny's now a pariah for the way he treated these girls. He's being pilloried for what he did, and even more for what he didn't do. It doesn't matter that after high school he chucked all that teenage bravado, manned up, and became a responsible and productive adult.
Don't even ask about Joel Goodson. Dancing and lip-syncing his way through Bob Seger's "Old Time Rock and Roll" in a shirt and boxer shorts was captivating, and created a national pastime. No one second-guessed his plan to make a few bucks by helping some women ply their services―willingly―in his parents' home.
It might have been a bit of a "Risky Business," but everything seemed to work out just fine. The women earned some extra cash, and Joel was accepted by Princeton, and presumably lived happily ever after.
Until now.
Because all you're hearing is that Joel Goodson exploited these women and ruined their lives.
And so it goes for all the high school heroes of yesteryear. There's always someone ready and eager to unpack all their dirty laundry. From high school, where everyone―boys and girls, ever hear of "Mean Girls"?―accumulated piles and piles of dirty laundry.
Except for the nerds. But they're no longer safe either. Look what happened to Ferris Bueller. Ferris kept a low profile, and he was popular. Everything seemed to go his way.
Then came the bombshell. Most likely, it was Ferris Bueller's hapless principal who leaked that Ferris took too many days off.
The press quickly pounced on this seemingly insignificant bit of news. They started asking why would anyone need so many days off from school? And with so many days off, what was Ferris doing? Someone is said to have heard him say: "The question isn't what are we going to do. The question is what aren't we going to do?"
Soon they placed him at wild parties, drinking and carousing, and alleged that he was stealing fancy cars and joyriding through the streets of Chicago.
Now this leftist cabal―left-stream media types and card-carrying Democrats―has ensnared the biggest nerd of them all: Brett Kavanaugh. No, he didn't star in any movies, though he had more girlfriends than just about anyone, refuting Billy Kristol . . . er, Crystal's claim that men and women can't be friends.
Brett Kavanagh had dozens of friends who were women. And they were just friends. Boring, but true.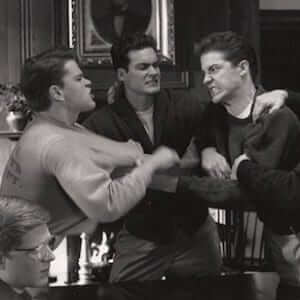 So how does this end? Not well it would seem.
"School Ties" was a different type of high school movie. Not silly and frivolous. It tackled a serious issue: anti-Semitism. A new kid arrives at an exclusive WASPy high school, recruited to be their star quarterback. From the get-go, it's clear that he's from the wrong side of the tracks. That's bad enough but not as bad as discovering that this new guy is Jewish. Now the hate fest begins.
After a while, the boys learn some valuable lessons about tolerance, regret their actions, and readily accept David as a classmate and teammate.
Except for one: Charlie, played by Matt Damon.
In the last scene, an unrepentant Charlie tells Brendan Fraser's David that no one will remember any of this in 10 years. "But you'll still be a god-damned Jew."
Without hesitating, David replies: "And you'll still be a prick."
In 10 years, we'll definitely remember the despicable conduct of the Senate Democrats and their media acolytes, and how they defamed a good man, permanently damaging not only Judge Kavanaugh, but also his wife and children, and his entire family.
Certainly, we remember what they did to Robert Bork 31 years ago, and how they treated Clarence Thomas 27 years ago.
Yes, in 10 years we'll remember Feinstein, Booker, Coons, Harris, Leahy, Blumenthal, Hirono and the rest. And they'll still be god-damned Democrats.
And they'll still be pricks.
Photo credit: Jim/AFP/Getty Images (top); Paramount publicity (middle)