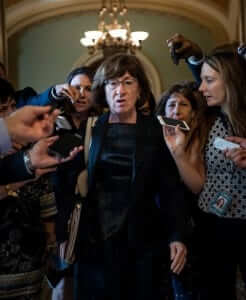 Most women, at one time or another, have faked it." So said Sally to Harry.
Sally never met Christine Blasey Ford, but she was exactly right.
Yet, when the Senate Judiciary Committee met Christine, all we heard—both from Democrats and Republicans—was how credible she was.
Why? Mainly because the loony #Resistance insisted that women never lie. And doubting Dr. Ford's claims would have hurt her feelings, which were still very raw because of the alleged altercation with Kavanaugh and three other boys—or maybe just one other boy—in a second floor bedroom precisely 36 years earlier. Or maybe it happened in the "mid 1980s," but more than likely the "early '80s."
It didn't take long before Ford's story was found to have more holes than the 4,000 holes in Blackburn, Lancashire. And these holes were not rather small.
As Senator Susan Collins (R-Maine) told us in her long dissertation before the Senate, she found Christine Ford's testimony to be to be "sincere, painful, and compelling." But not necessarily truthful. So Collins voted to confirm Judge Kavanaugh.
Collins wanted to believe Christine, but she also believed Sally. Collins understood that "most women, at one time or another, have faked it." Deep down. Collins knew that this time Christine was probably faking it.
And Collins wasn't about to have what she was having.
Photo credit: Drew Angerer/Getty Images