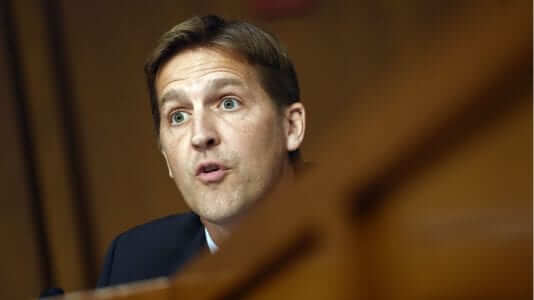 In many ways, Sen. Ben Sasse (R-NE) embodies everything wrong with Washington. He whines about the Senate's impotence, but has no legislative achievements of his own. He ridicules his colleagues for craving media attention, but is a regular on cable news and Sunday talk shows. As a member of the Judiciary Committee, he has been silent on Spygate and FISAgate and Justice Department corruption, but speaks up whenever he sees an opportunity to criticize a president he did not support. And he threatens to leave his own party while accepting millions of dollars in contributions from Republican donors.
But the first-term senator's speech on Wednesday night about the issues surrounding Brett Kavanaugh's nomination was a galling performance even by Sasse standards. Aside from a shaky 90-second interaction with Kavanaugh last week, Sasse has not said anything about the Left's political assassination attempt of President Trump's Supreme Court nominee. Speaking to an empty Senate chamber late in the evening, Sasse delivered a weepy, meandering, and self-aggrandizing monologue about our nation's "decline into tribalism." Without any sense of irony, he accused his colleagues of being "preening and grandstanding senators looking for soundbites." (Sasse is about to embark on his second book tour in as many years.)
The NeverTrumper humblebragged that he advised the president to nominate a woman because "the very important MeToo movement was very new and that this Senate is not at all well-prepared to deal with potential allegations of sexual harassment and assault." Sasse justified his recent absence from social media and cable news (he's been criticized for being MIA while other Republican senators have spoken out), claiming it was "good for his soul." Ew.
Then…it got weird. The senator unleashed an explainer about sex: "Sexuality is a gift. It is an intimacy, it is a oneness that is to be shared and given, never taken. Sex is big, not small, and you don't get to decide it for someone else." (CRINGE ALERT!) He commended the #MeToo movement because "women and girls have been told that they're meat. They've been told this in word and in deed, that they're parts to be consumed." (With fava beans?)
He read into the Senate record a story by Caitlin Flanagan, a writer for The Atlantic, about her sexual assault in high school. Clearly choking up, Gentle Ben then scolded his absentee colleagues: "If that doesn't make you cry, there is something wrong with you."
But he managed to pull himself together to take a shot at Trump: "We all know that the president cannot lead us through this time. We know that he is dispositionally unable to restrain his impulse to divide us." Yes, Senator, you nailed it. Trump is the one dividing the nation over this travesty.
Sasse's name has been floated by his fellow NeverTrumpers as a possible challenger to the president in 2020. My guess is that the presidential race will be one more fight he ducks.