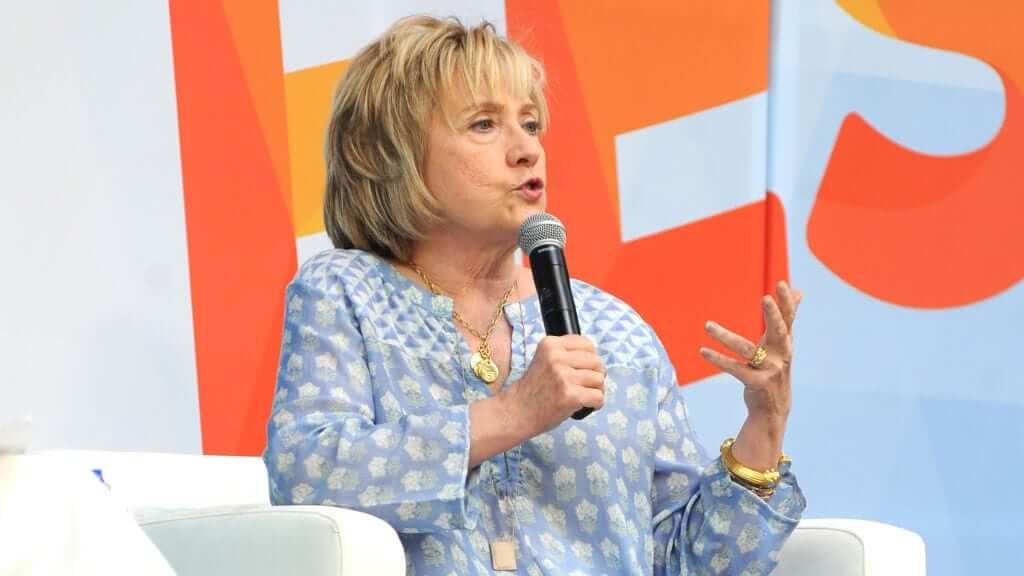 What do you call—rather, whom should you call when a 70-year-old woman in a house dress and slippers storms the stage at a conference in Central Park, a Woodstock for the wealthy, in which this gate-crasher, with her bedraggled hair and belligerent attitude, seizes a wireless microphone and proceeds to rant against Russia; while security guards stand backstage and whisper into their mouthpieces about a "Code Bravo," as an ambulance speeds toward 5th Avenue and 69th Street; while paramedics answer this call and the doctor, sitting atop a wheel well and next to a gurney in the back of the ambulance, fills a syringe with Thorazine?
The question answers itself, except when the woman is Hillary Clinton. How else to explain the appeal of someone so appalling? I speak of her makeup, not her lack thereof, because you should judge this book by its cover. Then again, Clinton is unlike the books that bear her name.
Without a stylist to dress her and an aide to guide her, Mrs. Clinton looks—and sounds—as raw as she is rageful. She is the physical manifestation of what it takes a ghostwriter of a villager to beautify, regarding the ugliness of her politics and the urgency of polishing her prose.
She is not ugly-looking, a point of clarification my critics will nonetheless ignore. Her wardrobe, on the other hand, makes her look more like a candidate for psychiatric care than a two-time presidential candidate.
Spare me any talk of double standards, unless or until Bernie Sanders is the Democratic nominee for president and the next president of the United States. When we elect a man who refuses to comb his hair—and wears a suit better suited for his internment than his inauguration—I will retract my words and apologize to Mrs. Clinton.
In the meantime, someone should buy Hillary Clinton a mirror.
Photo credit: Brad Barket/Getty Images for Ozy Media