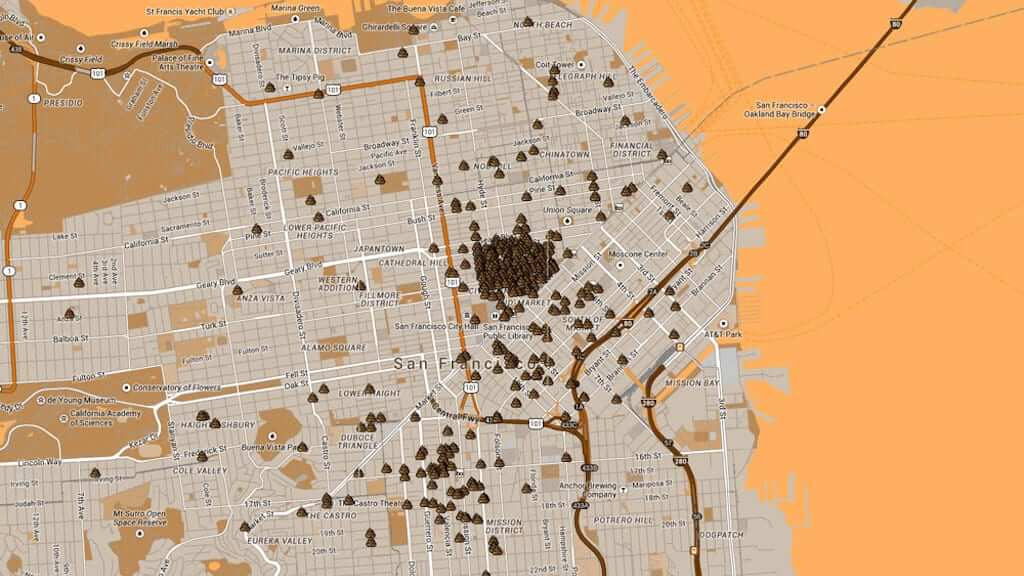 The San Francisco Chronicle on Sunday has a long feature on what the city's homelessness epidemic is doing to a particular residential block just south of Market Street. The headline sums up the situation nicely: "Poop. Needles. Rats. Homeless camp pushes SF neighborhood to the edge."
From the story:
Some of the city's biggest names — from San Francisco Travel to the Chamber of Commerce to the Hotel Council — have loudly protested the disastrous conditions on San Francisco's sidewalks in recent months, and regularly get meetings with City Hall politicians, but the voices of everyday residents aren't always heard.

The ones just trying to raise kids, work and, well, live. The ones with so little power, they can't get their supervisors to respond to their requests for help. The ones with the misery literally on their front doorsteps.

Those are the people who live on Isis Street, which should be everything that's good about San Francisco. Funky flats. A group of progressive neighbors, many of whom are artists, writers and other creative types. A walkable neighborhood where you can get to Rainbow Grocery and a host of bars and restaurants in a flash. There are about 30 units of housing on the block, and six kids younger than 5 are growing up there.
The "breaking point" for the main source for the story, a 46-year-old computer programmer named Ernst Schoen-Rene, was the discovery in April of "a black suitcase with wheels on the corner that had clearly been used as a toilet by homeless people."
"I actually started crying, I got so frustrated," Schoen-Rene tells the Chronicle reporter. "I flipped out. I started writing to everybody."
The trouble for these good San Francisco progressives is reconciling their ideology with reality.
"I really strongly believe San Francisco is for everybody, not just us, but the community should be livable for everybody," said Schoen-Rene's wife, Jill, an attorney and children's book author. "The suitcase is a symbol. Nobody should have to poop in a suitcase, and nobody should have to find a suitcase full of poop."
"We have all this wealth in the city, and then we have this huge homeless problem," said Annie Whiteside, a bar manager "well known in the city's punk scene." "It's so uneven. It's so unbalanced. They shouldn't have to live like that, and we shouldn't have to live like that."
As you read on in the story, you'll discover that the city finally took action and cleaned up Isis Street. The residents say they are relieved—but also confused. They don't know what the city did with the people who refused services and shelter. And they seem to feel a tinge of guilt.
"For months and months and months, nothing happens, and then they clean," Whiteside tells the reporter. "Now my street's clean this week, but those people aren't trash. It's a double-edged sword."
And that's why you can't have nice things.