Upstanding journalists, their fellow right-minded pundits, and progressive elected official friends are outraged!  align="right" Part one of two.
According to them, the Trump Administration's approach to immigration enforcement is cruel, un-American, inhumane, barbaric, and even medically dangerous.
NeverTrump's go-to former Bush official, General Michael Hayden, took the hand-wringing and hyperbole to a new level over the weekend, issuing a tweet comparing the separation of families illegally entering the United States to, you guessed it, the Holocaust.
I hereby invoke Godwin's Law.
The problem is the facts are at odds with the conventional media interpretation of existing legal precedent, prior administrations' practices, and even relevant federal statutes. You know, the law.
But being wrong on the facts has never stopped the media and their useful idiots in the commentariat from maligning the Trump Administration unfairly to suit their agenda. Now they're shrieking about "baby jails." It's insane.
Let's take a breath and assess what's really happening. To begin with, just counting April and May 2018 when the Trump Administration announced it would prosecute 100 percent of illegal border crossing cases, at least 78,622 individuals were apprehended at the southwest border. Of those taken into custody, only 19,138 consisted of people traveling as part of a family unit (parents and/or children) while another 10,707 were listed as "unaccompanied alien children" (UACs). Most of those apprehended are neither children nor accompanying parents.
Loopholes, Lies, and the Law
The issue at hand is the difference in the treatment that contiguous (i.e., the bordering countries of Mexico and Canada) and non-contiguous nations (mostly Central American nations including Honduras, Guatemala, and El Salvador) receive under the 2008 Wilberforce Act.
That law includes a provision to grant special recognition to minors (under 18 years old) from non-contiguous countries in immigration law. In effect, it made every Central American juvenile migrant an automatic asylum case, mandating they be transferred to the custody of the Department of Health and Human Services without a border patrol assessment of their circumstances.
As the New York Times explained in 2014:
[The Wilberforce Anti-Trafficking Act] required that [UACs] be given an opportunity to appear at an immigration hearing and consult with an advocate, and it recommended that they have access to counsel. It also required that they be turned over to the care of the Department of Health and Human Services, and the agency was directed to place the minor "in the least restrictive setting that is in the best interest of the child" and to explore reuniting those children with family members.
Canadian and Mexican children can be, upon the determination of DHS, immediately repatriated, but non-contiguous UACs must go before a hearing judge to be considered for asylum, with a lawyer provided.
So, what about adults and families with children?
According to the Congressional Research Service (CRS) in 2014:
Foreign nationals—specifically in this context adults and families with children—apprehended along the border or arriving at a U.S. port of entry who lack proper immigration documents or who engage in fraud or misrepresentation are placed in a procedure known as expedited removal; however, if they express a fear of persecution, they receive a "credible fear" hearing with a [DHS] asylum officer and—if found credible—are referred to [a DOJ] immigration judge for a hearing.
CRS's useful chart explains the process as of 2014: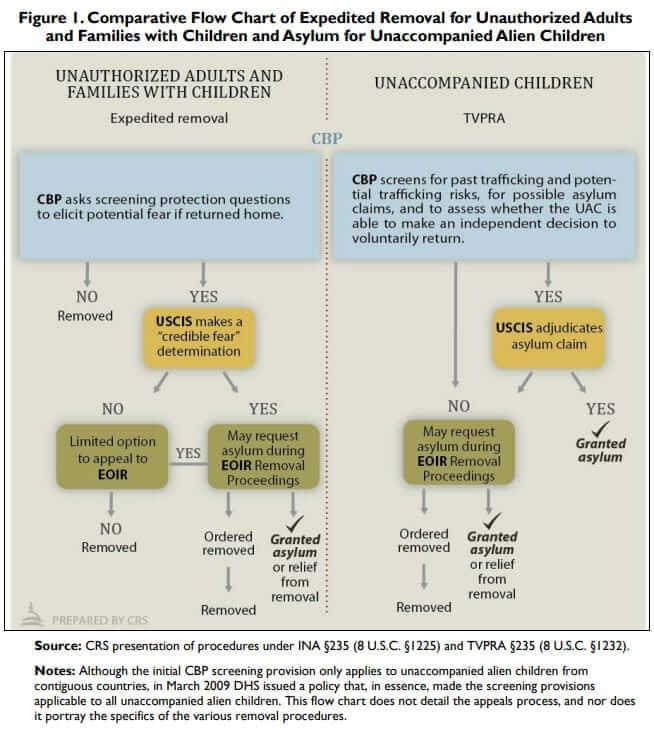 But the courts have complicated matters recently. The U.S. Supreme Court in February ruled the federal government may detain unlawful immigrants indefinitely, without a bond hearing, per the following statutes:
(1) INA § 235(b), which generally requires the detention of "arriving aliens," as well as certain other aliens who have not been admitted or paroled into the United States and are subject to removal;

(2) INA § 236(c), which generally requires the detention of aliens who are removable because of specified criminal activity or security grounds upon their release from criminal incarceration; and

(3) INA § 236(a), which generally authorizes the detention of aliens arrested pending removal proceedings, and permits (but does not require) aliens not subject to mandatory detention to be released on parole or bail.
CRS legal expert Hillel Smith notes a wrinkle in the court's ruling: "But while the Supreme Court affirmed the government's statutory authority to detain aliens for an indefinite period under the challenged statutes, the Court did not reach a fundamental question raised in the Jennings litigation—is the indefinite detention of aliens pending removal proceedings constitutional?"
In other words, the administration has the discretion to allow for the release of illegal border crossers but has no obligation to exercise it.
On the merits, that is a wise policy because of the high likelihood of aliens absconding and failing to appear before an immigration judge later. According to former immigration judge Mark Metcalf's analysis, 37 percent of all aliens free pending adjudication did not bother to show up to court. But the recent trend is more concerning: according to the Justice Department, "From FY 2012 to FY 2015 the number of in absentia orders for aliens who are not currently detained increased by 98 percent."
Though it dipped slightly in fiscal year 2016, the no-show rate has spiked again in the 2017 and 2018 fiscal years, reaching more than 40,000 disappeared aliens a year.
At the same time, immigration judges are rejecting the asylum claims made by migrants—granting less than one in five of all asylum petitions in the last few years.
Tellingly, the number of migrants from Honduras, El Salvador, and Guatemala have skyrocketed (up 470 percent to nearly 40,000) in the last five years of the Obama Administration. Yet only about one out of 25 of those Central American applicants (under 4 percent) were granted asylum.
Therefore, the immigration judges are not substantiating these claims often and rarely granting relief to many of the Central American migrants—who cannot be immediately deported if they claim asylum. Under the law, they are entitled to a hearing if they can merely utter the word: asylum. (You can follow the Byzantine appeals process in this handy flowchart or read up on the uses and abuses of the process here and here.)
And you should know these border crossers are being actively advised and coached on how to game the system with asylum claims by activists.
Courting Confusion: Flores, Flores, Flores!
In the meantime, the federal government must decide what to do with aliens not subject to immediate repatriation.
There, other courts have muddied the legal waters further.
For background, the much-discussed Flores Settlement in 1997, which, as an agreement between the courts and the Justice Department has the force of law, dictated how children in federal immigration custody were to be treated and processed.
As the Ninth U.S. Circuit Court of Appeals wrote in 2016:
Before 2001, "families apprehended for entering the United States illegally were most often released rather than detained because of a limited amount of family bed space; families who were detained had to be housed separately, splitting up parents and children…In the wake of September 11, 2001, however, immigration policy fundamentally changed," with "more restrictive immigration controls, tougher enforcement, and broader expedited removal of illegal aliens," which "made the automatic release of families problematic." (Emphasis added.)
So, contrary to media reports, children and their parents were separated for detention. A 2005 DHS Inspector General's report explicitly called out the practice: "Accompanied juveniles (those apprehended with their families) were separated from their families due to space limitations in 'family unity' shelters."
The watchdog continued:
[Detention and Removal Office, ICE (DRO)] attempts to keep families together by finding available space in a family shelter. However, on occasion, such as when criminal charges are filed against the parent or bed space is not available in a family shelter, DRO is unable to keep the juvenile with the adult relative. In these instances, the juvenile is separated from the adult relative and is treated as an unaccompanied juvenile under ORR's jurisdiction. Need for Additional Family Shelters Juvenile aliens who were accompanied when originally apprehended can become unaccompanied juveniles because of a lack of appropriate detention facilities. In these situations, accompanied juveniles, regardless of age, are separated from their family members because longer-term facilities are not readily available to accommodate the family. Juveniles ranging from babies to teenagers are transported to facilities without their parents.
But the 2008 Wilberforce Act and subsequent federal court directives complicated the Clinton-Bush II policy of occasional family separation.
A series of lawsuits and negative press coverage, spearheaded by the ACLU and immigrant rights' advocates, forced Obama to shut down one family detention center (Hutto) in 2009.
Another DHS report authored by Obama appointee Dora Schriro argued effectively for the wholesale release of all migrant families and children. Even the Obama White House balked at that one, and instead redoubled family detention while rejecting the appeals of legal activists and recommendations within the administration, even though conditions hadn't improved much.
According to the Obama Administration, and then-DHS Secretary Jeh Johnson, who declared publicly in 2014 that there would be "zero-tolerance for border-crossers":
In June 2014, the administration announced that it would pursue wide-scale detention of mothers and children to deter other families from seeking asylum in the United States. DHS Secretary Johnson told Congress, "Our message is clear to those who try to illegally cross our borders: You will be sent back home." Underscoring the department's resolve, he added that the government was "building additional space to detain these groups and hold them until their expedited removal orders are effectuated" . . . It was, he said, ". . . [a]n aggressive deterrence strategy focused on the removal and repatriation of recent border crossers. Immediately thereafter, when ICE agents apprehended families at the border, they assigned them to a [family detention center] for expedited processing…In keeping with this rationale, DHS insisted on continued detention during proceedings after families received a favorable decision following the "credible fear" screening interviews. Between June 2014 and February 2015, ICE denied release to nearly all detained families in its initial custody determination, even those who had passed their screening interviews.  When families sought reviews of decisions to continue detention before immigration judges, ICE attorneys opposed release, arguing that a "no bond" or "high bond" policy was necessary to "significantly reduce the unlawful mass migration of Guatemalans, Hondurans and Salvadorans.
A subsequent report, issued publicly in late 2016, again promoted the unfettered release of migrants and elimination of family detention facilities. That policy, too, was never implemented.  
At the same time, Obama's Justice Department was fighting tooth-and-nail in federal court against activists' broad readings of the Flores settlement that would have shuttered family detention centers and mandated the release of parents of minor children. The Holder-Lynch DOJ preferred to maintain a "deterrence" approach for detention decisions and apply the Flores settlement only to unaccompanied minors.
The ultra-liberal Ninth Circuit partially sided with the administration by ruling that parents were not eligible for release under Flores merely because they had children. At the same time, the court rejected the claim that Flores did not apply to all children and that its deterrence was rational.
By holding that all children are subject to Flores but allowing for the parents to be detained for adjudication, the courts created a "sticky wicket," since the accompanied Wilberforce-eligible children, cannot be deported immediately without a hearing, and their parents are subject to criminal sanction. It effectively created parallel immigration systems, one for the parents and one for their children. At the same time, the two-tiers render, for all intents and purposes, an accompanied child "unaccompanied"—placing them into HHS's jurisdiction.
In 2017, the Obama-appointed federal judge Dolly Gee explained that the government
may conclude that it is in the best interests of an accompanied minor to remain with a parent who is in detention . . . (The parties also do not address the situation where the mother chooses to stay in the detention facility or has been deemed a flight or safety risk. As a practical matter, [government] would be justified in detaining both mother and child in that case"). On the other hand, it may be the case that "in order to effectuate the least restrictive form of detention for the child, [government] must follow an order of preference for the minor's release to an available adult [not in detention]."
But if the parents are detained, who exactly do you release a bonded child to?
That's the conundrum the Ninth Circuit laid out in a 2017 decision:
[I]t permits a system under which unaccompanied minors will receive bond hearings, but the decision of the immigration judge will not be the sole factor in determining whether and to whose custody they will be released. Immigration judges may assess whether a minor should remain detained or otherwise in the government's custody, but there must still be a separate decision with respect to the implementation of the child's appropriate care and custody.
In other words, HHS, under the Wilberforce law, could in effect overrule the immigration judge if there is not an appropriate placement for the eligible child.
To recap: Legal loopholes are to blame for the differential treatment for different migrant groups; George W.  Bush did separate families and Obama fought hard to detain children and families; and recent federal court decisions have sown confusion and created a byzantine process that makes it impossible to enforce the law without the two-tier, separation policy.
Part two will address the alternatives to the status quo, both proposed and unexamined, and the implications for legislative action.
Photo credit: David McNew/Getty Images