Bill Kristol – the bitter, vindictive, and childish leader of NeverTrump  – sunk even lower in his public conduct Wednesday afternoon when he tweeted this: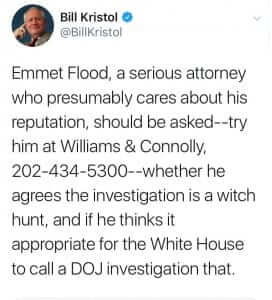 The editor-at-large of The Weekly Standard is now doxxing White House lawyer Emmet Flood because Kristol hates President Trump. ("Doxxing" is the act of releasing personal information online in order to incite harassment or violence against someone.) Posting Flood's office number is one thing, but asking 334,000 Twitter followers to call Flood's employer to smear his "reputation" as a "serious attorney" and hector him (or his co-workers) about the Mueller investigation clearly fits the definition of doxxing. It's grade-school level bullying at best; malicious, mob-style intimidation at worst.
Kristol's tweet may also violate Twitter's policy to prevent harmful or abusive behavior. While the law firm's phone number is easily obtainable, Kristol posted the number with ill intent. According to Twitter, "if the publicly available information is being shared to harass or incite harassment, then we will take enforcement action under our abusive behavior policy."
Feel free to report the tweet if you are so inclined. After all, Twitter is Kristol's lifeline: Retweets, subtweets and likes for his anti-Trump rants are his oxygen. Maybe he needs a temporary Twitter time-out, courtesy of Jack.