In the recent issue of Modern Age Frank Buckley has a fabulous essay detailing the many ways that the conservative establishment failed in 2016 (and is still failing today) to come to grips with the things Donald Trump has exposed about our politics. It bears a careful read because it is so comprehensive in covering the multitude of failures that explain the mystification and irrational reaction to the rise of Trump. Sure, there was plenty of cover for many of those who objected to him in Trump's personal peccadilloes. But upon examination, that cover is pretty gauzy. The heart of it was that he was a thumb in the eye of a movement with so many all too obvious failures to move people or, even, itself. It was a movement quite comfortable sitting on it's proverbial tush.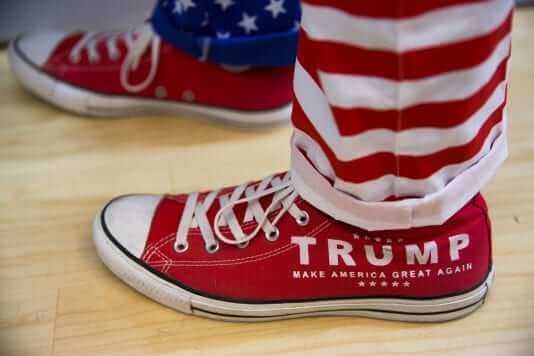 Buckley details all of these failures with aplomb, but he is at his best when talking about the failure of the movement to address the concern people rightly have about jobs. It's not just a mercenary thing tied to mere self-preservation or self-interest (though those matter, too). It's about human dignity.  It's the difference, as Buckley puts it, "between the purposeful and the purposeless life."
That is what Trump supporters knew when he talked about jobs. When he announced his candidacy, he said, "I will be the greatest jobs president that God ever created." When he complained about our trade deals, he said that our labor participation rate is so low "because China has our jobs and Mexico has our jobs." When he spoke of immigration, he told us that illegal immigrants were taking jobs away from Americans. When he promised to rebuild our infrastructure, he was talking about jobs for workers. When he mentioned his Republican opponents, he noted that "they don't talk jobs." Hillary Clinton despised ordinary Americans, but we supported the candidate who reached out to workers in jobless inner cities, to the unemployed coal miners. We voted for what Trump called the Republican Workers Party.
Indeed, a focus on jobs may be the Rosetta Stone for non-stupid Republicans seeking actually to move the ball forward in our politics. Again, this is not mercenary or merely about "winning" (though, honestly . . . what do people hope ever to accomplish by losing?). This is about doing the things conservatives, allegedly, have said they care about doing for decades. It's the means to the end of finally, in the words of conservatism's purported great hero, Ronald Reagan, "Make America Great Again."
With the sense of self-worth and purpose, with the social affection, comes the will to resist the temptation of unworthy choices. Culture matters, of course. Children need two-parent families; drug dependency holds people back. But culture can't be legislated, and David Hume wasn't far off the mark when he observed in "The Idea of a Perfect Commonwealth" that "all plans of government, which suppose great reformation in the manners of mankind, are plainly imaginary." The state can't do much to change things, except make them worse, and today the only moral rearmament crusade we need from the government is an economy that gives people jobs. After that we can take care of ourselves.

The NeverTrumper had assumed that the white working class had lost its jobs because it smoked Oxy, because of moral poverty. But there's another explanation. Maybe they smoked Oxy because they had lost their jobs. Maybe it was really about jobs after all and not a sudden loss of virtue. The highest death rates from mental disorders and substance abuse are in the counties with higher unemployment rates and fewer prime-age males in the labor force. A 2.6 percent increase in the state unemployment rate is associated with a 29 percent increase in suicides and an 84 percent increase in accidental poisonings.
I'm quoting at length here because it's too good to narrow down. Just do yourself a favor and go read the whole thing.
Photo credit:  Brooks Kraft/ Getty Images