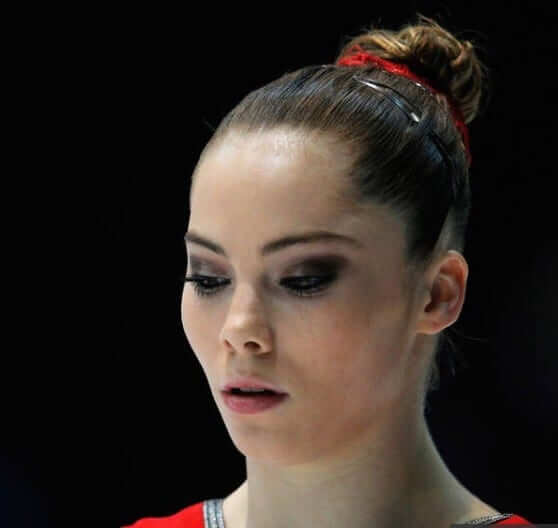 It is impossible to read today's front-page Wall Street Journal profile on McKayla Maroney and not feel ill.
The article details the sexual and physical abuse the two-time Olympic medalist—who sparked an internet meme for her scowl on the podium at the 2012 London Olympics—endured for years by Larry Nassar, the team's doctor. (Nassar has been convicted of possessing child pornography and sexually abusing seven girls. During his trial, Nassar was confronted in court by more than 150 of his victims.)
According to her teammates, McKayla was Nassar's favorite, "always treated her last, sometimes keeping her two or three times longer than others. He photographed her constantly." Adults in positions of authority—USA Gymnastics, the U.S. Olympic Committee, acclaimed gymnastic coaches Bela and Martha Karoli, Michigan State University, her own father—failed to protect Maroney from that monster.
But another powerful entity, one specifically tasked with protecting the most vulnerable, also betrayed Maroney: Jim Comey's Federal Bureau of Investigations. The agency dragged its feet on the Nassar case for nearly a year, taking action only after an Indianapolis newspaper ran a series of articles in August 2016 about sexual abuse in women's gymnastics. (Maroney will tell her story, including how the FBI bungled the investigation, on a special edition of "Dateline" this Sunday night.)
After an internal investigation confirmed the allegations against Nassar, top officials at USA Gymnastics met with FBI agents in Indianapolis on July 25, 2015 to present their evidence:  "So began a nine-month period in which abuse allegations against Nassar languished with federal law enforcement," the WSJ reports. "From July to September, [Steve] Penny emailed with FBI agents in Indianapolis, offering to arrange interviews and provide information, and seeking approval and advice on communications with third parties, including Nassar." (Penny was USA Gymnastics' president at the time.) The case was bounced months later to the Detroit FBI field office: Neither opened a formal investigation.
It wasn't until Penny went to the FBI's office in Los Angeles in the spring of 2016 that the agency finally started an investigation. Local police in Michigan arrested Nassar in November 2016 for sexual abuse charges; federal law enforcement officials arrested Nassar the following month for possession of child pornography. (Gee, if only the FBI hadn't been so worried about Carter Page.)
While James Comey's FBI botched this case for over a year, more than 40 girls—including some of his youngest victims—were abused by Nassar, according to the New York Times.
Comey might have done a lot of damage during his reign at the FBI: His biggest dereliction of duty was his failure to protect young girls from a known sexual predator.
"A Higher Loyalty," my ass.