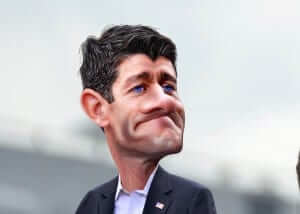 Failing to repeal Obamacare would be "the ultimate betrayal of the electorate." That's what Charles Krauthammer said just last month. He was right. Congressional Republicans have been defined by nothing so much as their opposition to Obamacare since 2009. That opposition has been the source of four successful elections that have seen Republicans gain 62 seats in the House, 12 seats in the Senate, and now control of the White House.
Given the dubious circumstances surrounding the passage of Obamacare in 2010, it should be no surprise that resistance to its mandates has proved so durable. Throughout the entire debate in 2009 and 2010 the legislation was wildly unpopular. So eager was Obama to pass the bill it required shady deals like the infamous "Cornhusker Kickback," false promises ("if you like your doctor you can keep your doctor"), and playing games with House rules to pass it under the reconciliation procedure reserved for tax measures. Even after all that, 34 Democrats joined every House Republican in voting against the bill. The story was the same in the Senate where not a single Republican voted for Obamacare.
Still, the healthcare bill offered by Speaker of the House Paul Ryan (R-Wis.) seems like a premeditated act of defiance against the expressed desires of his own base. And it is an obvious contradiction of Ryan's own rhetoric.
For seven years Republicans have campaigned against Obamacare. They've recited its manifold deficiencies and depredations so many times that voters know them by heart: It imposes an unworkable and morally objectionable requirement on Americans to buy health insurance whether they want it or not, it raises costs, reduces choice, and leads to rationing.
All of these things are true and ordinary Americans have felt the consequences. Premiums have skyrocketed, people have lost coverage, businesses have closed as a result of the Obamacare mandates, the exchanges have gone bankrupt, and insurance companies still haven't figured out how to make money in the individual market. Through it all the Republicans have promised to repeal "the government takeover of healthcare" if only voters would give them power.
And they did. Voters provided the money and the votes to give Republicans the power they said they needed to repeal Obamacare. Hundreds of millions of dollars flowed into Republican coffers. The 2010 midterm elections were an historic rebuke to the Democrats as a direct result of their Obamacare votes. But that wasn't enough. Republican leaders testified repeatedly that they wanted to repeal Obamacare and surely they would if only they controlled the Senate. Then Speaker John Boehner (R-Ohio) liked to remind impatient voters that Republicans only "controlled one-half of one-third of the government."
In 2014 voters gave Republicans what they said they needed—control of the Senate. But with that victory still fresh, Senate Majority Leader Mitch McConnell (R-Ky.) said even that wasn't enough. He wanted to repeal Obamacare but his hands were tied—the president would surely veto any such legislation. What they needed was a Republican president. And in 2016 they got one. Now voters want the Obamacare repeal they have been promised. But Ryan's healthcare bill does no such thing.
Warning signs were everywhere as soon as Congress got back to Washington. As early as January, Rep. Raul Labrador (R-Idaho) told The Hill, "I'm hearing a lot of members say that they want Obamacare-lite. That's not what we promised the American people."
No it's not, but that's what Paul Ryan has proposed. His bill leaves the infrastructure of Obamacare in place and creates a massive new federal healthcare entitlement program in the form of refundable tax credits. These credits are just camouflage for government checks to buy health insurance. They are unwise and unaffordable in their infancy under the Ryan plan but everyone knows the size and scope of the program will only grow over time.
The Republican leadership thinks that their half-measures and clever branding are a sign of moderation and prudence but they are courting disaster. They apparently learned nothing about the fury of scorned voters during the last election.
President Trump has signaled support for the Ryan plan but he has also been cagey in his wording and if it heads south he can be expected to blame Congress. Wavering legislators tempted to support the Ryan plan should recall that Barack Obama promised congressional Democrats that he had their back in 2010 before watching them lose 62 seats in the House.
The issue is simple—perhaps too simple for Washington: people want Obamacare repealed. The fact is that whatever its shortcomings (and there were many), American health care was better before Obamacare than it is today. Prices were lower, deductibles were lower, and there were more and better choices for both insurance and care.
Donald Trump promised to restore the good things about the pre-Obamacare system and to enact some common sense reforms. A week before the November election he said, "If we don't repeal and replace Obamacare, we will destroy American health care forever—it's one of the single most important reasons why we must win on November 8. Our replacement plan includes Health Savings Accounts, a nationwide insurance market where you can purchase across state lines, and letting states manage Medicaid dollars."
But that is not the Ryan plan.
There are no Health Savings Accounts, no nationwide insurance market, and even the Medicaid promise is suspect. When Republican voters heard repeal and replace they thought they were getting HSAs and the ability to buy insurance across state lines. What they're getting is expanded Medicaid and a budget busting new entitlement program. That wasn't the deal.
Whatever support President Trump has shown this bill it will be congressional Republicans who pay the price for supporting it. They will face the wrath of the base for turning their backs on the oft-repeated promise to repeal Obamacare. They've raised untold millions on the back of that promise. They've won election after election because voters were willing to trust—or at least take a chance—on that promise.
Having found a sure political winner, Republicans seem intent on snatching defeat from the jaws of victory. If they pass the bill currently under consideration they will own the healthcare disaster that, until now, had Barack Obama's name on it. And they will have betrayed the people who put them in office just months after returning to Washington.
Republican legislators eager to just pass something and claim victory would be wise to remember that their base agrees with former Louisiana Governor Bobby Jindal: "Republicans who want to retreat from repeal to repair should be replaced."