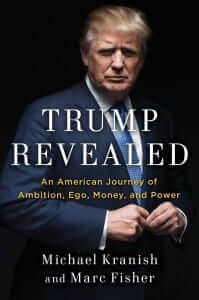 We talk to Marc Fisher, author of the excellent new biography of Trump Reveal: An American Journey of Ambition, Ego, Money & Power. Fisher spent many hours with Donald Trump, his family & friends, and he shares his insights into Donald Trump the man. Fisher is a Pulitzer Prize winning Senior Editor of The Washington Post.
This is emphatically not a quickie, election year book, but instead a well researched and fairly written biography that will stand the test of time. In the interview you'll get a feel for the passion and even empathy Fisher has for his subject. This is not to say that he is a political supporter of Trump's – I don't know whether he is or isn't and that, in itself, is an accomplishment. More important, he endeavored to introduce readers to the Donald Trump he met when the klieg lights went dark.
The entire episode can be played in your browser by clicking the link at the bottom of the post or in iTunes by clicking below.
Click here to subscribe in iTunes: