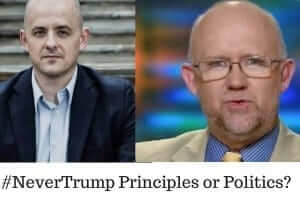 Trump is unqualified. He's no conservative. He's a vulgar, know-nothing boob who cannot be allowed to sit on the furniture in the White House.  At least that's what the smart guys tell us – the guys who know better than the voters, the guys who are "true conservatives" (just ask them).  And now they have offered up their own candidate.  Again.  This time the candidate is Jeb Bush, Marco Rubio, Ted Cruz, Mitt Romney, Ben Sasse, Mitt Romney, David French, Mitt Romney, wait for it…drumroll please…Evan McMullin.
Mr. McMullin, at 40 years old, is the posterboy for everything the neoconservative establishment loves and actual voters hate.  And his resume reads like an Infowars parody of a neocon Manchurian candidate.
Wharton School of Business (Trump's alma mater, so they have that in common)
UN Refugee Resettlement Worker processing Middle Eastern refugees for resettlement in third countries.
CIA Clandestine Service (It can't be too clandestine since it's on his LinkedIn profile)
Goldman Sachs (Does he have the transcripts of Hillary's speeches?)
Council on Foreign Relations (member)
Various policy positions for House GOP Conference (translation: He worked for Boehner & Ryan)
McMullin is offered for President by people who say Trump is unqualified.  They say Trump is not a conservative and doesn't know history or policy. But what about their guy?  What does he know?  We know he went to the right school, we know he likes Washington, D.C., and we know that he's a member of the Council on Foreign Relations.  He has credentials – respectable credentials.  And the credentialism of the Davoisie is the stuff of legend.  But what does he actually know?
McMullin did an interview on the Hugh Hewitt Show yesterday to discuss his candidacy and qualifications. Hewitt has a couple of questions he asks every first time guest.  He's asked the same questions for years.  They're not trick questions – they're things that any "true conservative" (especially one aspiring to high office) should be able to answer easily.  And if he couldn't answer them off the cuff, we would hope that someone in the campaign would do the advance research and get the questions and the answers before showtime.  Again, Hugh has asked new guests the same questions for years.  With all of this build-up you have probably guessed that McMullin couldn't answer either question.  If so, you're right.  He cratered.  Not even partial credit for showing his work.  Here's the transcript:
HH: Let me ask you as well, I always ask first time guests on the Hugh Hewitt, and Evan McMullin, you may be back often in the course of this campaign if you catch fire.
EM: I hope so.
HH: Have you read The Looming Tower by Lawrence Wright?
EM: I haven't, but I definitely should.
HH: And how about…
EM: It's on my list.
HH: Yeah, and do you believe, my other second question which is a GPS question, do you believe Alger Hiss was a communist spy?
EM: Oh, I don't know that I could comment on that either way. I guess these things, if we're going to keep talking, Hugh, I need to look into these things and I can give you an answer. I can give you an opinion.
This is who the #NeverTrumpers put forward as their guy to oppose Donald Trump who, they say, is unqualified. But Evan McMullin undermines that entire argument suggesting that it's really never been about qualifications, it's been about power politics.  Trump is not their guy, represents very different interests, and has an independent base of support.  As such he is not beholden to Republican gatekeepers.  And worst of all – from their perspective – he opposes the globalist agenda held dear by the ruling class elite of both parties, what Ace of Spades calls "unchastened neocon foreign adventurism, favors for corporate cronies, and official, explicit Open Borders policy."
What's worse is that there is speculation that McMullin was chosen not just because of his ruling class bona fides, but because of his Mormon faith.  The idea is that his candidacy could cost Trump victories in Arizona, Idaho, and Utah – the 3 states with the largest LDS populations.  Of course, this assumes that voters are too dumb to see they are being manipulated. This looks like a campaign consultant's idea of genius: try and play the Mormons out in the sticks like the Democrats play the black community and it's repellent.
We shouldn't be surprised.  Buzzfeed reports that Rick Wilson, the respectable Republican consultant who Tweeted this about Ann Coulter will be involved in the campaign: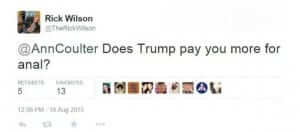 What about the NeverTrump argument that Trump has single-handedly debased our civic and political discourse, bringing it crashing down from Olympus?  Did he hijack Wilson's Twitter feed?  Does it not apply when it's their guy?  Or perhaps, it's never been about principle – just who gets to call the shots.
There's nothing wrong with competing groups striving for power through elections, that's politics.  But increasingly the #NeverTrump cabal in the Republican ranks – always a bit fishy – looks and acts like an arm of Clinton, Inc.  After close to a year trying to claim the moral high ground, calling Trump an unqualified candidate, a vulgarian, and a master manipulator of the unwashed masses (maybe with more than a hint of jealousy) they give us Evan McMullin and Rick Wilson.
There are principled people who will not vote for Trump.  They have their reasons.  But they're not involved in this.  The #NeverTrump faction behind the McMullin candidacy – funded, it would appear by billionaire hedge fund magnate Paul Singer – are not playing it straight with the American people.  (McMullin gave Hugh Hewitt an evasive answer about Singer's involvement).  In trying to game the system, they have claimed for themselves a status above voters and above politics.
It started with attempts to manipulate delegate selection in states where Trump had won the primary and continued with various theories about how the rules at the RNC could be massaged to deprive Donald Trump of the nomination he had won.  It is now playing out with the McMullin-Wilson campaign.  But, as Cicero asked, Cui bono?  Who profits? One word: Hillary.  It would appear, the current campaign is an effort to trick certain groups of voters and help Hillary win the Presidency.
The American people deserve better, especially from a group that claims conservative principles and therefore should respect the polity and practice that upholds the sovereignty of the people.  America deserves better from its conservatives.  And for once, I find myself agreeing with the New Republic's Jeet Heer: "By rallying behind an obscure establishment cog for president, anti-Trump Republicans show they don't understand their own party."